I have a piston that should announce a person when the enter the house. I have a Schlage Connect lock that is currently being controlled with the SmartLock app in ST. The lock is recognized in WebCoRE. In the piston, I reference the lock and the lock code. If it is equal, it should fire the other statements. I also found out there is an app by RBoy that I think is called Lock Management. It does a lot more then SmartLock app by ST.
The expected behavior should be to announce of the persons name that is entering the house. If the house is open and someone walks in, the it should say so and send a notification. It also flashes a light in the foyer
Nothing is happening. When I test the piston, the only thing that happens is the announcement.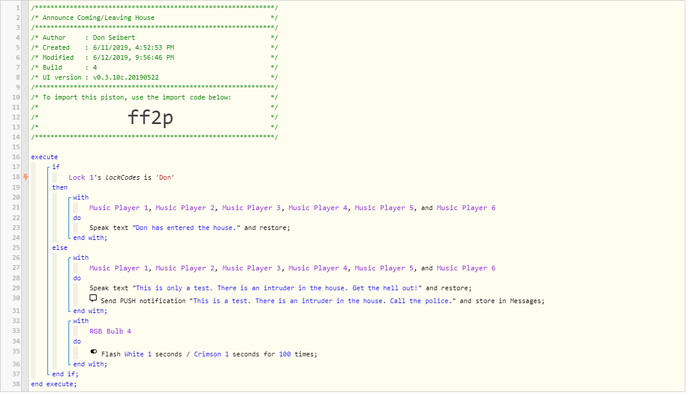 6/12/2019, 10:18:16 PM +686ms
+1ms ╔Starting piston… (v0.3.10c.20190522)
+178ms ║╔Subscribing to devices…
+190ms ║║Subscribing to Front Door Lock.lockCodes…
+319ms ║║Subscribing to Echo - Basement…
+321ms ║║Subscribing to Echo - Jenna Bedroom…
+322ms ║║Subscribing to Echo - Katie…
+324ms ║║Subscribing to Echo - Kitchen…
+326ms ║║Subscribing to Echo - Master Bedroom…
+327ms ║║Subscribing to Echo - Michael Bedroom…
+329ms ║║Subscribing to Stairs…
+330ms ║╚Finished subscribing (158ms)
+371ms ║Comparison (string) {"1":"Don","2":"Jenna","3":"Michael","4":"Katie","5":"Nina"} is (string) Don = false (3ms)
+393ms ╚Piston successfully started (393ms)