1) Give a description of the problem
I am new to WebCoRe and loving it, but I have been struggling a bit as the piston I have written seems to work about 90% of the time, but there are random times where it seems to stop working.
2) What is the expected behaviour?
I have a vacation rental, and my goal is to prevent renters from running the mini split A/C with the windows and/or doors open. Each window/door has an open/close sensor and the mini spit A/C can only be turned on/off using a Cielo Breez Plus controller. I want to cover two scenarios. (1) the windows/doors are open and they turn on the A/C using the Cielo. If they don't close the windows/doors within 5 minutes, it will turn the A/C back off using the Cielo. Scenario (2) the A/C is currently on via the Cielo and someone opens a window/door and doesn't close it within 5 minutes, I want the Cielo to turn the A/C off.
3) What is happening/not happening?
I have tested multiple the piston multiple times, and it seems to work 90-95% of the time, but there are occasions where it does not. A recent example is below. At 9:00:22, I closed the sliding door (event captured in log). One minute later at approximately 9:01 am, I turned the A/C on via the Cielo (no event captured in the log). At 9:08:22, I opened the sliding door (event captured) and as expected the piston shut off the A/C via the Cielo at 9:13:22. Without closing the sliding door, I turned the A/C back on via the Cielo a few minutes later. This event was not captured and the piston subsequently did not turn off the A/C.
**4) Post a Green Snapshot of the piston![image|45x37]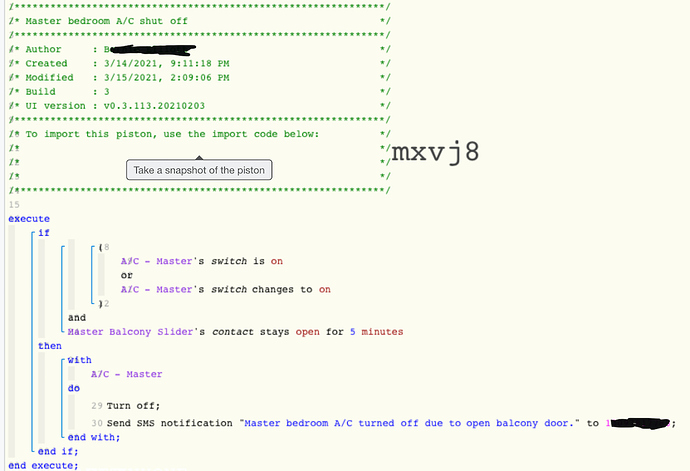 5) Attach logs after turning logging level to Full
3/18/2021, 9:13:22 AM +928ms
+0ms ╔Received event [Villa Tranquila].time = 1616080402759 with a delay of 169ms
+86ms ║RunTime Analysis CS > 61ms > PS > 6ms > PE > 18ms > CE
+89ms ║Runtime (38082 bytes) successfully initialized in 6ms (v0.3.113.20210203) (88ms)
+90ms ║╔Execution stage started
+96ms ║║Cancelling condition #12's schedules...
+97ms ║║Condition #12 evaluated true (2ms)
+98ms ║║Cancelling condition #1's schedules...
+99ms ║║Condition group #1 evaluated true (state changed) (5ms)
+101ms ║║Cancelling statement #6's schedules...
+125ms ║║Executed physical command [A/C - Master].off() (20ms)
+126ms ║║Executed [A/C - Master].off (21ms)
+1317ms ║║Executed virtual command [A/C - Master].sendSMSNotification (1184ms)
+1320ms ║╚Execution stage complete. (1230ms)
+1326ms ╚Event processed successfully (1326ms)

3/18/2021, 9:08:22 AM +671ms
+2ms ╔Received event [Master Balcony Slider].contact = open with a delay of 147ms
+55ms ║RunTime Analysis CS > 27ms > PS > 6ms > PE > 21ms > CE
+57ms ║Runtime (38083 bytes) successfully initialized in 6ms (v0.3.113.20210203) (54ms)
+58ms ║╔Execution stage started
+77ms ║║Comparison (enum) on is (string) on = true (1ms)
+78ms ║║Cancelling condition #10's schedules…
+79ms ║║Condition #10 evaluated true (17ms)
+80ms ║║Cancelling condition #9's schedules…
+81ms ║║Condition group #9 evaluated true (state changed) (19ms)
+85ms ║║Comparison (enum) open stays (string) open = true (1ms)
+87ms ║║Adding a timed trigger schedule for condition 12
+89ms ║║Cancelling condition #12's schedules…
+90ms ║║Condition #12 evaluated false (9ms)
+91ms ║║Condition group #1 evaluated false (state did not change) (30ms)
+93ms ║╚Execution stage complete. (36ms)
+94ms ║Setting up scheduled job for Thu, Mar 18 2021 @ 9:13:22 AM CST (in 299s)
+103ms ╚Event processed successfully (103ms)
3/18/2021, 9:00:22 AM +715ms
+1ms ╔Received event [Master Balcony Slider].contact = closed with a delay of 83ms
+56ms ║RunTime Analysis CS > 30ms > PS > 6ms > PE > 21ms > CE
+58ms ║Runtime (38078 bytes) successfully initialized in 6ms (v0.3.113.20210203) (56ms)
+59ms ║╔Execution stage started
+80ms ║║Comparison (enum) off is (string) on = false (1ms)
+82ms ║║Cancelling condition #10's schedules...
+83ms ║║Condition #10 evaluated false (19ms)
+98ms ║║Condition #11 evaluated false (13ms)
+99ms ║║Cancelling condition #9's schedules...
+99ms ║║Condition group #9 evaluated false (state changed) (36ms)
+100ms ║║Cancelling condition #1's schedules...
+101ms ║║Condition group #1 evaluated false (state changed) (38ms)
+103ms ║╚Execution stage complete. (44ms)
+104ms ╚Event processed successfully (105ms)