1) Give a description of the problem
I created this super simple piston to disable my thermostat when a window is opened. Too many times do I come home in the summer to me cooling the outside so this simple piston was the answer. Thermostat off when window is open but not returning to prior state when windows are closed.
2) What is the expected behavior?
When a window is opened the thermostat mode is captured and then the thermostat is turned off
3) What is happening/not happening?
The thermostat is turning off correctly when the window is opened but not turning back on when it is closed. I searched around and found a few people doing something similar and I copied it but for some reason mine isn't working.
4) Post a Green Snapshot of the piston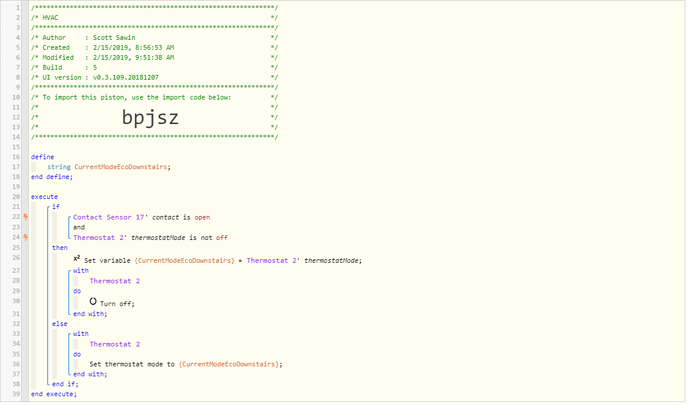 5) Attach any logs (From ST IDE and by turning logging level to Full)
2/15/2019, 9:56:40 AM +243ms
+1ms ╔Received event [zCS - All Windows].contact = closed with a delay of 56ms
+9856ms ║RunTime Analysis CS > 20ms > PS > 9815ms > PE > 20ms > CE
+9857ms ║Piston waited at a semaphore for 9771ms
+9860ms ║Runtime (37611 bytes) successfully initialized in 9815ms (v0.3.109.20181207) (9857ms)
+9861ms ║╔Execution stage started
+9873ms ║║Comparison (enum) closed is (string) open = false (2ms)
+9875ms ║║Cancelling condition #6's schedules…
+9877ms ║║Condition #6 evaluated false (9ms)
+9878ms ║║Condition group #1 evaluated false (state did not change) (11ms)
+9881ms ║║Cancelling statement #2's schedules…
+9894ms ║║Skipped execution of physical command [Ecobee Downstairs].setThermostatMode([]) because it would make no change to the device. (3ms)
+9895ms ║║Executed [Ecobee Downstairs].setThermostatMode (6ms)
+9898ms ║╚Execution stage complete. (38ms)
+9900ms ╚Event processed successfully (9899ms)
2/15/2019, 9:56:30 AM +821ms
+0ms ╔Received event [Ecobee Downstairs].thermostatMode = off with a delay of 68ms
+9089ms ║RunTime Analysis CS > 13ms > PS > 9058ms > PE > 18ms > CE
+9090ms ║Piston waited at a semaphore for 9019ms
+9092ms ║Runtime (37610 bytes) successfully initialized in 9058ms (v0.3.109.20181207) (9091ms)
+9093ms ║╔Execution stage started
+9107ms ║║Comparison (enum) open is (string) open = true (2ms)
+9109ms ║║Condition #6 evaluated true (9ms)
+9116ms ║║Comparison (enum) off is_not (string) off = false (2ms)
+9118ms ║║Cancelling condition #7's schedules…
+9119ms ║║Condition #7 evaluated false (8ms)
+9120ms ║║Cancelling condition #1's schedules…
+9121ms ║║Condition group #1 evaluated false (state changed) (22ms)
+9124ms ║║Cancelling statement #2's schedules…
+9962ms ║║Executed physical command [Ecobee Downstairs].setThermostatMode([]) (829ms)
+9964ms ║║Executed [Ecobee Downstairs].setThermostatMode (831ms)
+9967ms ║╚Execution stage complete. (874ms)
+9968ms ╚Event processed successfully (9969ms)
2/15/2019, 9:56:29 AM +806ms
+1ms ╔Received event [Ecobee Downstairs].thermostatMode = with a delay of 95ms
+103ms ║RunTime Analysis CS > 26ms > PS > 57ms > PE > 20ms > CE
+105ms ║Runtime (37541 bytes) successfully initialized in 57ms (v0.3.109.20181207) (102ms)
+107ms ║╔Execution stage started
+122ms ║║Comparison (enum) open is (string) open = true (2ms)
+124ms ║║Condition #6 evaluated true (11ms)
+131ms ║║Comparison (enum) is_not (string) off = true (2ms)
+133ms ║║Cancelling condition #7's schedules…
+135ms ║║Condition #7 evaluated true (8ms)
+136ms ║║Cancelling condition #1's schedules…
+137ms ║║Condition group #1 evaluated true (state changed) (24ms)
+140ms ║║Cancelling statement #8's schedules…
+148ms ║║Executed virtual command setVariable (3ms)
+151ms ║║Cancelling statement #4's schedules…
+966ms ║║Executed physical command [Ecobee Downstairs].off() (805ms)
+967ms ║║Executed [Ecobee Downstairs].off (807ms)
+970ms ║╚Execution stage complete. (864ms)
+972ms ╚Event processed successfully (972ms)
2/15/2019, 9:56:29 AM +138ms
+2ms ╔Received event [Ecobee Downstairs].thermostatMode = off with a delay of 80ms
+91ms ║RunTime Analysis CS > 23ms > PS > 45ms > PE > 22ms > CE
+93ms ║Runtime (37538 bytes) successfully initialized in 45ms (v0.3.109.20181207) (90ms)
+95ms ║╔Execution stage started
+111ms ║║Comparison (enum) open is (string) open = true (2ms)
+113ms ║║Condition #6 evaluated true (11ms)
+119ms ║║Comparison (enum) off is_not (string) off = false (2ms)
+121ms ║║Cancelling condition #7's schedules…
+122ms ║║Condition #7 evaluated false (9ms)
+124ms ║║Cancelling condition #1's schedules…
+125ms ║║Condition group #1 evaluated false (state changed) (23ms)
+128ms ║║Cancelling statement #2's schedules…
+590ms ║║Executed physical command [Ecobee Downstairs].setThermostatMode([]) (452ms)
+592ms ║║Executed [Ecobee Downstairs].setThermostatMode (454ms)
+595ms ║╚Execution stage complete. (501ms)
+596ms ╚Event processed successfully (596ms)
2/15/2019, 9:56:19 AM +98ms
+1ms ╔Received event [Ecobee Downstairs].thermostatMode = with a delay of 59ms
+9137ms ║RunTime Analysis CS > 18ms > PS > 9102ms > PE > 16ms > CE
+9138ms ║Piston waited at a semaphore for 9067ms
+9140ms ║Runtime (37610 bytes) successfully initialized in 9102ms (v0.3.109.20181207) (9138ms)
+9141ms ║╔Execution stage started
+9156ms ║║Comparison (enum) open is (string) open = true (2ms)
+9158ms ║║Condition #6 evaluated true (10ms)
+9164ms ║║Comparison (enum) is_not (string) off = true (2ms)
+9166ms ║║Condition #7 evaluated true (7ms)
+9167ms ║║Condition group #1 evaluated true (state did not change) (20ms)
+9170ms ║║Cancelling statement #8's schedules…
+9178ms ║║Executed virtual command setVariable (3ms)
+9181ms ║║Cancelling statement #4's schedules…
+9976ms ║║Executed physical command [Ecobee Downstairs].off() (787ms)
+9977ms ║║Executed [Ecobee Downstairs].off (789ms)
+9980ms ║╚Execution stage complete. (839ms)
+9982ms ╚Event processed successfully (9981ms)
2/15/2019, 9:56:18 AM +35ms
+1ms ╔Received event [Ecobee Downstairs].thermostatMode = off with a delay of 61ms
+172ms ║RunTime Analysis CS > 17ms > PS > 139ms > PE > 15ms > CE
+174ms ║Runtime (37543 bytes) successfully initialized in 139ms (v0.3.109.20181207) (172ms)
+175ms ║╔Execution stage started
+193ms ║║Comparison (enum) open is (string) open = true (2ms)
+195ms ║║Condition #6 evaluated true (13ms)
+201ms ║║Comparison (enum) off is_not (string) off = false (2ms)
+203ms ║║Condition #7 evaluated false (7ms)
+204ms ║║Condition group #1 evaluated false (state did not change) (23ms)
+207ms ║║Cancelling statement #2's schedules…
+1020ms ║║Executed physical command [Ecobee Downstairs].setThermostatMode([]) (803ms)
+1021ms ║║Executed [Ecobee Downstairs].setThermostatMode (806ms)
+1024ms ║╚Execution stage complete. (848ms)
+1025ms ╚Event processed successfully (1025ms)
2/15/2019, 9:56:16 AM +852ms
+1ms ╔Received event [Ecobee Downstairs].thermostatMode = with a delay of 69ms
+77ms ║RunTime Analysis CS > 19ms > PS > 41ms > PE > 16ms > CE
+79ms ║Runtime (37537 bytes) successfully initialized in 41ms (v0.3.109.20181207) (77ms)
+80ms ║╔Execution stage started
+94ms ║║Comparison (enum) open is (string) open = true (2ms)
+96ms ║║Condition #6 evaluated true (9ms)
+103ms ║║Comparison (enum) is_not (string) off = true (2ms)
+105ms ║║Cancelling condition #7's schedules…
+106ms ║║Condition #7 evaluated true (9ms)
+108ms ║║Cancelling condition #1's schedules…
+109ms ║║Condition group #1 evaluated true (state changed) (22ms)
+112ms ║║Cancelling statement #8's schedules…
+119ms ║║Executed virtual command setVariable (2ms)
+123ms ║║Cancelling statement #4's schedules…
+1139ms ║║Executed physical command [Ecobee Downstairs].off() (1007ms)
+1140ms ║║Executed [Ecobee Downstairs].off (1010ms)
+1143ms ║╚Execution stage complete. (1063ms)
+1145ms ╚Event processed successfully (1145ms)
2/15/2019, 9:56:15 AM +972ms
+1ms ╔Received event [Ecobee Downstairs].thermostatMode = off with a delay of 63ms
+71ms ║RunTime Analysis CS > 18ms > PS > 37ms > PE > 17ms > CE
+74ms ║Runtime (37535 bytes) successfully initialized in 37ms (v0.3.109.20181207) (72ms)
+75ms ║╔Execution stage started
+88ms ║║Comparison (enum) open is (string) open = true (2ms)
+90ms ║║Condition #6 evaluated true (10ms)
+96ms ║║Comparison (enum) off is_not (string) off = false (2ms)
+98ms ║║Cancelling condition #7's schedules…
+99ms ║║Condition #7 evaluated false (8ms)
+101ms ║║Cancelling condition #1's schedules…
+102ms ║║Condition group #1 evaluated false (state changed) (21ms)
+105ms ║║Cancelling statement #2's schedules…
+828ms ║║Executed physical command [Ecobee Downstairs].setThermostatMode([]) (714ms)
+830ms ║║Executed [Ecobee Downstairs].setThermostatMode (716ms)
+833ms ║╚Execution stage complete. (759ms)
+834ms ╚Event processed successfully (835ms)
2/15/2019, 9:56:14 AM +624ms
+2ms ╔Received event [Ecobee Downstairs].thermostatMode = with a delay of 99ms
+95ms ║RunTime Analysis CS > 25ms > PS > 53ms > PE > 17ms > CE
+97ms ║Runtime (37540 bytes) successfully initialized in 53ms (v0.3.109.20181207) (94ms)
+99ms ║╔Execution stage started
+113ms ║║Comparison (enum) open is (string) open = true (2ms)
+115ms ║║Condition #6 evaluated true (11ms)
+121ms ║║Comparison (enum) is_not (string) off = true (2ms)
+123ms ║║Cancelling condition #7's schedules…
+124ms ║║Condition #7 evaluated true (8ms)
+125ms ║║Cancelling condition #1's schedules…
+126ms ║║Condition group #1 evaluated true (state changed) (22ms)
+129ms ║║Cancelling statement #8's schedules…
+136ms ║║Executed virtual command setVariable (3ms)
+140ms ║║Cancelling statement #4's schedules…
+1304ms ║║Executed physical command [Ecobee Downstairs].off() (1155ms)
+1305ms ║║Executed [Ecobee Downstairs].off (1159ms)
+1308ms ║╚Execution stage complete. (1210ms)
+1310ms ╚Event processed successfully (1309ms)
2/15/2019, 9:56:13 AM +684ms
+1ms ╔Received event [zCS - All Windows].contact = open with a delay of 52ms
+76ms ║RunTime Analysis CS > 18ms > PS > 37ms > PE > 21ms > CE
+78ms ║Runtime (37537 bytes) successfully initialized in 37ms (v0.3.109.20181207) (76ms)
+79ms ║╔Execution stage started
+90ms ║║Comparison (enum) open is (string) open = true (2ms)
+92ms ║║Condition #6 evaluated true (7ms)
+106ms ║║Comparison (enum) off is_not (string) off = false (2ms)
+108ms ║║Condition #7 evaluated false (15ms)
+109ms ║║Condition group #1 evaluated false (state did not change) (25ms)
+112ms ║║Cancelling statement #2's schedules…
+858ms ║║Executed physical command [Ecobee Downstairs].setThermostatMode([]) (742ms)
+859ms ║║Executed [Ecobee Downstairs].setThermostatMode (744ms)
+862ms ║╚Execution stage complete. (784ms)
+864ms ╚Event processed successfully (863ms)