1) Give a description of the problem
Basic pistons not working. I've checked a lot of tutorials and forums, but not finding the answer. I'm sure I'm missing something obvious, but none of my pistons are firing and all have the "this piston is not subscribed to any events…" message.
2) What is the expected behaviour?
Anything! Right now I'm just trying to create basic on/off or dimming pistons.
3) What is happening/not happening?
None are firing.
4) Post a Green Snapshot of the piston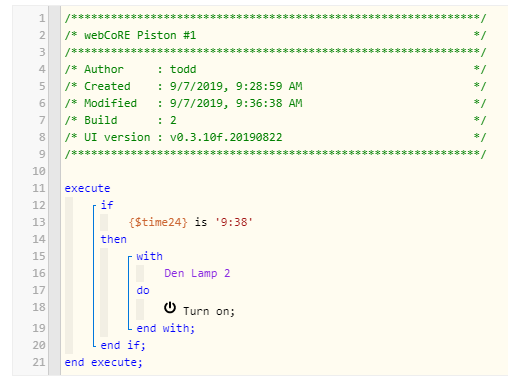 5) Attach logs after turning logging level to Full
9/7/2019, 9:36:38 AM +277ms +0ms ╔Starting piston... (v0.3.10f.20190822) +117ms ║╔Subscribing to devices... +178ms ║║Subscribing to Den Lamp 2... +180ms ║╚Finished subscribing (71ms) +213ms ╚Piston successfully started (213ms)