1) Give a description of the problem
Piston works, but generally can take about 30 seconds plus to execute.
2) What is the expected behavior?
I want 3 outdoor osram light strips to mirror the colour of three indoor hue light strips. There will be times when I don't want the behaviour mirrored hence not using smart lighting, other apps etc which are limited with regard to restrictions.
I'd like it to run faster. I had some 'waited at a semaphore' notices for 8-10secs, but then read a recommendation to turn on parallelism to aid with this, but I don't think it has.
3) What is happening/not happening?
It's too slow. Is this just cloud limitations? Or is it how I've built this piston?
4) Post a Green Snapshot of the piston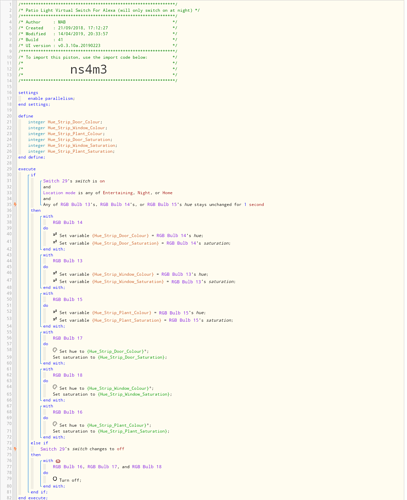 5) Attach any logs (From ST IDE and by turning logging level to Full)
Will post when back from work… Many thanks in advance for your help
REMOVE BELOW AFTER READING