Hey guys!
Let me start off with a small disclaimer:
my first post so go easy please

and i have a 5 week old princess at home thats slowing my brain down

I've been trying to figure this stuff out on my own but I can't seem to find the right phrases or keywords to google the solutions.
I somewhat grasp the tip of the iceberg of what's going on and what I want to do. But, lack the knowledge to make it happen and constantly wondering if I'm doing it remotely correctly.
I currently have my house set up to cycle between 4 modes (Dawn, Day, Dusk, Night).
These 4 modes dictate what light level the blubs should be set to if ON (Piston B).
A second piston that tells a bulb what level to come on at during certain times of the day (Piston A).
I also have actiontiles setup with 3 buttons for each bulb… "on/off", "low (setlevel 40%)", "high (setlevel 100%)."
1) Give a description of the problem
a) When I turn on a bulb and other lights are on, i.e bulb 1 @ 100%, bulb 2 @ 40% and I turn on bulb 3 my piston will dim all the lights to mode =level %.
b)If I press my actiontiles button for "low" and send a "setlevel 40%" command to a OFF bulb, Its getting turned ON thus triggering my piston and its automatically changing the level to "mode = level%"
2) What is the expected behavior?
a)I would like bulbs to behave singularly within a device group
b)Pressing a button would override an automation piston (Piston A)? ("setlevel" > "mode = level")
3) What is happening/not happening?
(PUT YOUR INFO HERE)
**4) Post a Green Snapshot of the piston!
Piston A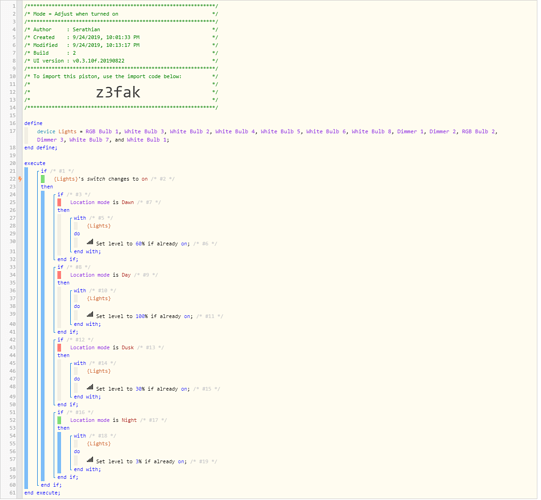 Piston B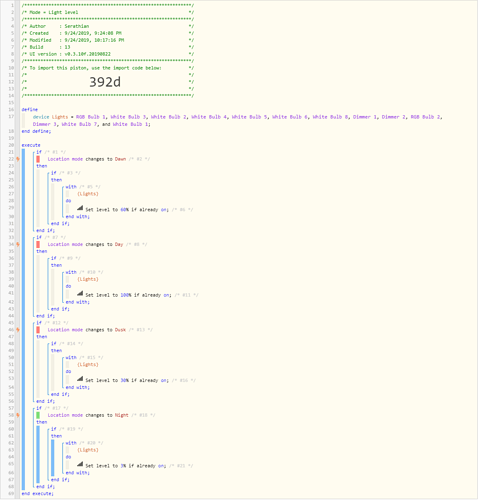 I feel way in over my head, thanks for taking the time to read and hope I managed to be clear.
-Serathian