1) Give a description of the problem
My piston that arms/disarms my Blink cameras when I leave/arrive at my Home suddenly stopped working.
2) What is the expected behaviour?
As shown in the code below, whenever I leave or arrive at my home, a webhook is sent to IFTTT that tells it to either arm or disarm Blink cameras, as well as send me a push notification that alerts me of the action.
3) What is happening/not happening?
According to the piston activity log, the piston does not firing when I leave or arrive at my Home.
4) Post a Green Snapshot of the piston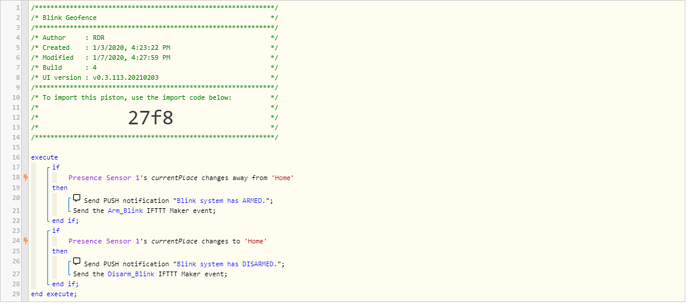 5) Attach logs after turning logging level to Full
(2/11/2021, 5:47:56 PM +53ms
+0ms ╔Received event [My home].test = 1613094476052 with a delay of 1ms
+73ms ║Runtime (38345 bytes) successfully initialized in 5ms (v0.3.113.20210203) (72ms)
+75ms ║╔Execution stage started
+118ms ║╚Execution stage complete. (44ms)
+119ms ╚Event processed successfully (119ms)
2/11/2021, 5:43:04 PM +312ms
+1ms ╔Received event [My home].test = 1613094184309 with a delay of 2ms
+99ms ║Runtime (38344 bytes) successfully initialized in 9ms (v0.3.113.20210203) (97ms)
+100ms ║╔Execution stage started
+136ms ║╚Execution stage complete. (36ms)
+138ms ╚Event processed successfully (138ms)
2/11/2021, 5:42:10 PM +256ms
+1ms ╔Received event [My home].test = 1613094130256 with a delay of 0ms
+80ms ║Runtime (38344 bytes) successfully initialized in 6ms (v0.3.113.20210203) (79ms)
+81ms ║╔Execution stage started
+109ms ║╚Execution stage complete. (28ms)
+111ms ╚Event processed successfully (111ms)
2/11/2021, 5:36:11 PM +822ms
+0ms ╔Received event [My home].test = 1613093771821 with a delay of 0ms
+77ms ║Runtime (38361 bytes) successfully initialized in 5ms (v0.3.113.20210203) (75ms)
+78ms ║╔Execution stage started
+103ms ║╚Execution stage complete. (25ms)
+105ms ╚Event processed successfully (104ms)
2/11/2021, 5:35:48 PM +143ms
+0ms ╔Received event [My home].test = 1613093748142 with a delay of 0ms
+79ms ║Runtime (38361 bytes) successfully initialized in 6ms (v0.3.113.20210203) (78ms)
+80ms ║╔Execution stage started
+108ms ║╚Execution stage complete. (28ms)
+110ms ╚Event processed successfully (109ms)
2/11/2021, 5:34:33 PM +906ms
+1ms ╔Received event [My home].test = 1613093673904 with a delay of 2ms
+76ms ║Runtime (38361 bytes) successfully initialized in 5ms (v0.3.113.20210203) (73ms)
+77ms ║╔Execution stage started
+101ms ║╚Execution stage complete. (24ms)
+103ms ╚Event processed successfully (102ms)
2/11/2021, 5:29:19 PM +163ms
+1ms ╔Starting piston… (v0.3.113.20210203)
+174ms ║╔Subscribing to devices…
+210ms ║║Subscribing to Rich.currentPlace…
+316ms ║╚Finished subscribing (145ms)
+370ms ╚Piston successfully started (370ms)
2/11/2021, 5:29:13 PM +458ms
+79ms ╔Stopping piston…
+155ms ╚Piston successfully stopped (76ms)
2/11/2021, 5:29:08 PM +248ms
+5ms ╔Starting piston… (v0.3.113.20210203)
+225ms ║╔Subscribing to devices…
+303ms ║║Subscribing to Rich.currentPlace…
+421ms ║╚Finished subscribing (199ms)
+491ms ╚Piston successfully started (490ms)
2/11/2021, 5:29:04 PM +24ms
+74ms ╔Stopping piston…
+148ms ╚Piston successfully stopped (75ms)
2/10/2021, 3:10:08 PM +910ms
+0ms ╔Received event [My home].test = 1612998608906 with a delay of 2ms
+102ms ║Runtime (38360 bytes) successfully initialized in 7ms (v0.3.110.20191009) (100ms)
+103ms ║╔Execution stage started
+140ms ║╚Execution stage complete. (38ms)
+142ms ╚Event processed successfully (141ms)
2/10/2021, 9:02:39 AM +935ms
+4ms ╔Starting piston… (v0.3.110.20191009)
+148ms ║╔Subscribing to devices…
+222ms ║║Subscribing to Rich.currentPlace…
+331ms ║╚Finished subscribing (186ms)
+395ms ╚Piston successfully started (393ms)
2/8/2021, 3:34:28 PM +803ms
+73ms ╔Stopping piston…
+144ms ╚Piston successfully stopped (72ms)
2/8/2021, 2:40:43 PM +212ms
+3ms ╔Received event [My home].test = 1612824043209 with a delay of 3ms
+68ms ║Runtime (38360 bytes) successfully initialized in 4ms (v0.3.110.20191009) (64ms)
+69ms ║╔Execution stage started
+93ms ║╚Execution stage complete. (23ms)
+94ms ╚Event processed successfully (94ms)
2/8/2021, 2:39:42 PM +445ms
+3ms ╔Received event [My home].test = 1612823982442 with a delay of 3ms
+90ms ║Runtime (38355 bytes) successfully initialized in 5ms (v0.3.110.20191009) (85ms)
+93ms ║╔Execution stage started
+121ms ║╚Execution stage complete. (28ms)
+123ms ╚Event processed successfully (123ms)
2/8/2021, 2:08:48 PM +508ms
+1ms ╔Received event [Rich].currentPlace = Home with a delay of 55ms
+67ms ║Runtime (38354 bytes) successfully initialized in 5ms (v0.3.110.20191009) (65ms)
+68ms ║╔Execution stage started
+86ms ║║Executed virtual command sendPushNotification (1ms)
+225ms ║║Executed virtual command iftttMaker (136ms)
+227ms ║╚Execution stage complete. (159ms)
+228ms ╚Event processed successfully (228ms)
2/8/2021, 1:42:57 PM +658ms
+0ms ╔Received event [Rich].currentPlace = with a delay of 47ms
+56ms ║Runtime (38350 bytes) successfully initialized in 4ms (v0.3.110.20191009) (55ms)
+57ms ║╔Execution stage started
+68ms ║║Executed virtual command sendPushNotification (1ms)
+178ms ║║Executed virtual command iftttMaker (107ms)
+185ms ║╚Execution stage complete. (129ms)
+186ms ╚Event processed successfully (186ms)
2/8/2021, 12:12:22 PM +714ms
+1ms ╔Received event [Rich].currentPlace = Home with a delay of 67ms
+73ms ║Runtime (38353 bytes) successfully initialized in 6ms (v0.3.110.20191009) (71ms)
+74ms ║╔Execution stage started
+92ms ║║Executed virtual command sendPushNotification (1ms)
+171ms ║║Executed virtual command iftttMaker (75ms)
+173ms ║╚Execution stage complete. (99ms)
+174ms ╚Event processed successfully (174ms)
2/8/2021, 10:34:26 AM +87ms
+1ms ╔Received event [Rich].currentPlace = with a delay of 58ms
+65ms ║Runtime (38349 bytes) successfully initialized in 6ms (v0.3.110.20191009) (62ms)
+65ms ║╔Execution stage started
+77ms ║║Executed virtual command sendPushNotification (1ms)
+137ms ║║Executed virtual command iftttMaker (57ms)
+144ms ║╚Execution stage complete. (79ms)
+145ms ╚Event processed successfully (146ms)
2/7/2021, 9:54:02 AM +299ms
+1ms ╔Received event [Rich].currentPlace = Home with a delay of 52ms
+76ms ║Runtime (38354 bytes) successfully initialized in 4ms (v0.3.110.20191009) (75ms)
+78ms ║╔Execution stage started
+97ms ║║Executed virtual command sendPushNotification (1ms)
+164ms ║║Executed virtual command iftttMaker (64ms)
+166ms ║╚Execution stage complete. (89ms)
+167ms ╚Event processed successfully (167ms)
2/7/2021, 9:11:59 AM +959ms
+0ms ╔Received event [Rich].currentPlace = with a delay of 51ms
+61ms ║Runtime (38350 bytes) successfully initialized in 4ms (v0.3.110.20191009) (60ms)
+62ms ║╔Execution stage started
+73ms ║║Executed virtual command sendPushNotification (0ms)
+281ms ║║Executed virtual command iftttMaker (204ms)
+288ms ║╚Execution stage complete. (226ms)
+289ms ╚Event processed successfully (289ms)
2/5/2021, 5:14:44 PM +589ms
+1ms ╔Received event [Rich].currentPlace = Home with a delay of 60ms
+72ms ║Runtime (38354 bytes) successfully initialized in 4ms (v0.3.110.20191009) (70ms)
+73ms ║╔Execution stage started
+93ms ║║Executed virtual command sendPushNotification (1ms)
+201ms ║║Executed virtual command iftttMaker (105ms)
+205ms ║╚Execution stage complete. (131ms)
+206ms ╚Event processed successfully (206ms)
2/5/2021, 4:20:12 PM +848ms
+2ms ╔Received event [Rich].currentPlace = with a delay of 65ms
+80ms ║Runtime (38355 bytes) successfully initialized in 6ms (v0.3.110.20191009) (76ms)
+81ms ║╔Execution stage started
+93ms ║║Executed virtual command sendPushNotification (0ms)
+208ms ║║Executed virtual command iftttMaker (111ms)
+215ms ║╚Execution stage complete. (135ms)
+217ms ╚Event processed successfully (216ms)
2/5/2021, 3:11:39 PM +200ms
+0ms ╔Received event [Rich].currentPlace = Home with a delay of 45ms
+63ms ║Runtime (38358 bytes) successfully initialized in 4ms (v0.3.110.20191009) (62ms)
+64ms ║╔Execution stage started
+78ms ║╚Execution stage complete. (14ms)
+79ms ╚Event processed successfully (80ms)
2/5/2021, 1:43:59 PM +24ms
+1ms ╔Received event [Rich].currentPlace = Home with a delay of 57ms
+10236ms ║Piston waited at a semaphore for 10136ms
+10239ms ║Runtime (38429 bytes) successfully initialized in 10140ms (v0.3.110.20191009) (10237ms)
+10240ms ║╔Execution stage started
+10259ms ║║Executed virtual command sendPushNotification (1ms)
+10337ms ║║Executed virtual command iftttMaker (74ms)
+10339ms ║╚Execution stage complete. (99ms)
+10340ms ╚Event processed successfully (10340ms)
2/5/2021, 1:43:59 PM +211ms
+2ms ╔Received event [Rich].currentPlace = with a delay of 56ms
+86ms ║Runtime (38350 bytes) successfully initialized in 9ms (v0.3.110.20191009) (83ms)
+87ms ║╔Execution stage started
+101ms ║║Executed virtual command sendPushNotification (1ms)
+197ms ║║Executed virtual command iftttMaker (93ms)
+206ms ║╚Execution stage complete. (119ms)
+207ms ╚Event processed successfully (207ms)
2/5/2021, 1:43:59 PM +0ms
+2ms ╔Received event [Rich].currentPlace = with a delay of 65ms
+81ms ║Runtime (38350 bytes) successfully initialized in 5ms (v0.3.110.20191009) (78ms)
+82ms ║╔Execution stage started
+94ms ║║Executed virtual command sendPushNotification (0ms)
+189ms ║║Executed virtual command iftttMaker (92ms)
+197ms ║╚Execution stage complete. (116ms)
+198ms ╚Event processed successfully (198ms)
2/5/2021, 11:57:29 AM +914ms
+1ms ╔Received event [Rich].currentPlace = Home with a delay of 60ms
+74ms ║Runtime (38354 bytes) successfully initialized in 5ms (v0.3.110.20191009) (72ms)
+75ms ║╔Execution stage started
+94ms ║║Executed virtual command sendPushNotification (1ms)
+226ms ║║Executed virtual command iftttMaker (129ms)
+228ms ║╚Execution stage complete. (153ms)
+229ms ╚Event processed successfully (229ms)
2/5/2021, 10:31:10 AM +50ms
+1ms ╔Received event [Rich].currentPlace = with a delay of 105ms
+66ms ║Runtime (38352 bytes) successfully initialized in 4ms (v0.3.110.20191009) (64ms)
+67ms ║╔Execution stage started
+81ms ║║Executed virtual command sendPushNotification (0ms)
+177ms ║║Executed virtual command iftttMaker (94ms)
+186ms ║╚Execution stage complete. (119ms)
+187ms ╚Event processed successfully (187ms)
2/4/2021, 5:20:57 PM +131ms
+1ms ╔Received event [Rich].currentPlace = Home with a delay of 48ms
+67ms ║Runtime (38354 bytes) successfully initialized in 5ms (v0.3.110.20191009) (65ms)
+68ms ║╔Execution stage started
+86ms ║║Executed virtual command sendPushNotification (0ms)
+177ms ║║Executed virtual command iftttMaker (87ms)
+179ms ║╚Execution stage complete. (111ms)
+180ms ╚Event processed successfully (180ms)
2/4/2021, 4:37:39 PM +889ms
+1ms ╔Received event [Rich].currentPlace = with a delay of 52ms
+64ms ║Runtime (38350 bytes) successfully initialized in 4ms (v0.3.110.20191009) (63ms)
+65ms ║╔Execution stage started
+77ms ║║Executed virtual command sendPushNotification (0ms)
+143ms ║║Executed virtual command iftttMaker (62ms)
+150ms ║╚Execution stage complete. (85ms)
+151ms ╚Event processed successfully (151ms)
2/4/2021, 12:51:38 PM +769ms
+1ms ╔Received event [Rich].currentPlace = Home with a delay of 49ms
+62ms ║Runtime (38354 bytes) successfully initialized in 4ms (v0.3.110.20191009) (60ms)
+63ms ║╔Execution stage started
+79ms ║║Executed virtual command sendPushNotification (0ms)
+174ms ║║Executed virtual command iftttMaker (91ms)
+176ms ║╚Execution stage complete. (113ms)
+177ms ╚Event processed successfully (177ms)
2/4/2021, 12:37:49 PM +818ms
+2ms ╔Received event [Rich].currentPlace = with a delay of 68ms
+82ms ║Runtime (38351 bytes) successfully initialized in 10ms (v0.3.110.20191009) (80ms)
+83ms ║╔Execution stage started
+96ms ║║Executed virtual command sendPushNotification (0ms)
+183ms ║║Executed virtual command iftttMaker (84ms)
+191ms ║╚Execution stage complete. (108ms)
+192ms ╚Event processed successfully (192ms)
2/3/2021, 12:38:02 PM +339ms
+0ms ╔Received event [Rich].currentPlace = Home with a delay of 45ms
+55ms ║Runtime (38352 bytes) successfully initialized in 4ms (v0.3.110.20191009) (54ms)
+56ms ║╔Execution stage started
+74ms ║║Executed virtual command sendPushNotification (0ms)
+131ms ║║Executed virtual command iftttMaker (54ms)
+133ms ║╚Execution stage complete. (77ms)
+134ms ╚Event processed successfully (134ms)
2/3/2021, 11:22:38 AM +474ms
+2ms ╔Received event [Rich].currentPlace = with a delay of 79ms
+84ms ║Runtime (38349 bytes) successfully initialized in 7ms (v0.3.110.20191009) (81ms)
+85ms ║╔Execution stage started
+101ms ║║Executed virtual command sendPushNotification (1ms)
+203ms ║║Executed virtual command iftttMaker (99ms)
+212ms ║╚Execution stage complete. (126ms)
+213ms ╚Event processed successfully (213ms)
2/2/2021, 1:48:30 PM +443ms
+1ms ╔Received event [Rich].currentPlace = Home with a delay of 51ms
+85ms ║Runtime (38354 bytes) successfully initialized in 5ms (v0.3.110.20191009) (84ms)
+87ms ║╔Execution stage started
+109ms ║║Executed virtual command sendPushNotification (1ms)
+193ms ║║Executed virtual command iftttMaker (81ms)
+195ms ║╚Execution stage complete. (109ms)
+197ms ╚Event processed successfully (196ms)
2/2/2021, 1:43:28 PM +176ms
+1ms ╔Received event [Rich].currentPlace = with a delay of 47ms
+67ms ║Runtime (38349 bytes) successfully initialized in 4ms (v0.3.110.20191009) (64ms)
+68ms ║╔Execution stage started
+81ms ║║Executed virtual command sendPushNotification (1ms)
+179ms ║║Executed virtual command iftttMaker (95ms)
+188ms ║╚Execution stage complete. (121ms)
+189ms ╚Event processed successfully (189ms)
2/2/2021, 1:17:50 PM +259ms
+2ms ╔Received event [Rich].currentPlace = Home with a delay of 71ms
+84ms ║Runtime (38354 bytes) successfully initialized in 5ms (v0.3.110.20191009) (82ms)
+85ms ║╔Execution stage started
+104ms ║║Executed virtual command sendPushNotification (0ms)
+201ms ║║Executed virtual command iftttMaker (94ms)
+204ms ║╚Execution stage complete. (118ms)
+205ms ╚Event processed successfully (205ms)
2/2/2021, 12:42:28 PM +40ms
+1ms ╔Received event [Rich].currentPlace = with a delay of 63ms
+82ms ║Runtime (38350 bytes) successfully initialized in 6ms (v0.3.110.20191009) (80ms)
+83ms ║╔Execution stage started
+96ms ║║Executed virtual command sendPushNotification (1ms)
+196ms ║║Executed virtual command iftttMaker (96ms)
+204ms ║╚Execution stage complete. (120ms)
+205ms ╚Event processed successfully (204ms)
2/2/2021, 10:28:47 AM +998ms
+2ms ╔Received event [Rich].currentPlace = Home with a delay of 73ms
+98ms ║Runtime (38353 bytes) successfully initialized in 6ms (v0.3.110.20191009) (95ms)
+99ms ║╔Execution stage started
+122ms ║║Executed virtual command sendPushNotification (0ms)
+216ms ║║Executed virtual command iftttMaker (91ms)
+219ms ║╚Execution stage complete. (120ms)
+221ms ╚Event processed successfully (221ms)
2/2/2021, 9:34:47 AM +883ms
+1ms ╔Received event [Rich].currentPlace = with a delay of 45ms
+60ms ║Runtime (38349 bytes) successfully initialized in 4ms (v0.3.110.20191009) (59ms)
+61ms ║╔Execution stage started
+73ms ║║Executed virtual command sendPushNotification (1ms)
+172ms ║║Executed virtual command iftttMaker (96ms)
+180ms ║╚Execution stage complete. (119ms)
+181ms ╚Event processed successfully (181ms)
2/1/2021, 3:38:40 PM +141ms
+1ms ╔Received event [Rich].currentPlace = Home with a delay of 66ms
+71ms ║Runtime (38354 bytes) successfully initialized in 4ms (v0.3.110.20191009) (69ms)
+72ms ║╔Execution stage started
+89ms ║║Executed virtual command sendPushNotification (0ms)
+138ms ║║Executed virtual command iftttMaker (46ms)
+140ms ║╚Execution stage complete. (69ms)
+141ms ╚Event processed successfully (141ms)
2/1/2021, 3:06:55 PM +766ms
+0ms ╔Received event [Rich].currentPlace = with a delay of 44ms
+70ms ║Runtime (38350 bytes) successfully initialized in 3ms (v0.3.110.20191009) (68ms)
+70ms ║╔Execution stage started
+83ms ║║Executed virtual command sendPushNotification (0ms)
+208ms ║║Executed virtual command iftttMaker (122ms)
+216ms ║╚Execution stage complete. (146ms)
+217ms ╚Event processed successfully (217ms)
2/1/2021, 1:40:47 PM +420ms
+1ms ╔Received event [Rich].currentPlace = Home with a delay of 60ms
+72ms ║Runtime (38354 bytes) successfully initialized in 5ms (v0.3.110.20191009) (70ms)
+73ms ║╔Execution stage started
+174ms ║║Executed virtual command sendPushNotification (1ms)
+294ms ║║Executed virtual command iftttMaker (116ms)
+297ms ║╚Execution stage complete. (223ms)
+298ms ╚Event processed successfully (298ms)
2/1/2021, 12:36:47 PM +110ms
+2ms ╔Received event [Rich].currentPlace = with a delay of 95ms
+95ms ║Runtime (38351 bytes) successfully initialized in 7ms (v0.3.110.20191009) (93ms)
+96ms ║╔Execution stage started
+113ms ║║Executed virtual command sendPushNotification (0ms)
+205ms ║║Executed virtual command iftttMaker (87ms)
+216ms ║╚Execution stage complete. (120ms)
+218ms ╚Event processed successfully (218ms)
2/1/2021, 11:41:54 AM +966ms
+2ms ╔Received event [Rich].currentPlace = Home with a delay of 64ms
+75ms ║Runtime (38354 bytes) successfully initialized in 6ms (v0.3.110.20191009) (72ms)
+76ms ║╔Execution stage started
+93ms ║║Executed virtual command sendPushNotification (0ms)
+212ms ║║Executed virtual command iftttMaker (116ms)
+214ms ║╚Execution stage complete. (138ms)
+215ms ╚Event processed successfully (215ms)
2/1/2021, 10:32:35 AM +488ms
+1ms ╔Received event [Rich].currentPlace = with a delay of 59ms
+76ms ║Runtime (38350 bytes) successfully initialized in 5ms (v0.3.110.20191009) (74ms)
+77ms ║╔Execution stage started
+91ms ║║Executed virtual command sendPushNotification (0ms)
+215ms ║║Executed virtual command iftttMaker (120ms)
+224ms ║╚Execution stage complete. (148ms)
+225ms ╚Event processed successfully (226ms)
2/1/2021, 10:19:44 AM +94ms
+1ms ╔Received event [Rich].currentPlace = Home with a delay of 63ms
+77ms ║Runtime (38354 bytes) successfully initialized in 5ms (v0.3.110.20191009) (75ms)
+78ms ║╔Execution stage started
+97ms ║║Executed virtual command sendPushNotification (0ms)
+179ms ║║Executed virtual command iftttMaker (79ms)
+183ms ║╚Execution stage complete. (105ms)
+184ms ╚Event processed successfully (184ms)
2/1/2021, 9:38:09 AM +24ms
+1ms ╔Received event [Rich].currentPlace = with a delay of 64ms
+78ms ║Runtime (38350 bytes) successfully initialized in 6ms (v0.3.110.20191009) (76ms)
+79ms ║╔Execution stage started
+92ms ║║Executed virtual command sendPushNotification (1ms)
+221ms ║║Executed virtual command iftttMaker (126ms)
+229ms ║╚Execution stage complete. (150ms)
+230ms ╚Event processed successfully (231ms)
1/31/2021, 6:35:44 PM +481ms
+1ms ╔Received event [Rich].currentPlace = Home with a delay of 64ms
+75ms ║Runtime (38354 bytes) successfully initialized in 6ms (v0.3.110.20191009) (73ms)
+76ms ║╔Execution stage started
+93ms ║║Executed virtual command sendPushNotification (0ms)
+193ms ║║Executed virtual command iftttMaker (97ms)
+196ms ║╚Execution stage complete. (120ms)
+198ms ╚Event processed successfully (198ms)
1/31/2021, 6:16:17 PM +284ms
+0ms ╔Received event [Rich].currentPlace = with a delay of 50ms
+64ms ║Runtime (38349 bytes) successfully initialized in 3ms (v0.3.110.20191009) (63ms)
+65ms ║╔Execution stage started
+78ms ║║Executed virtual command sendPushNotification (0ms)
+209ms ║║Executed virtual command iftttMaker (129ms)
+218ms ║╚Execution stage complete. (153ms)
+220ms ╚Event processed successfully (221ms)
1/31/2021, 3:03:41 PM +263ms
+2ms ╔Received event [Rich].currentPlace = Home with a delay of 74ms
+86ms ║Runtime (38354 bytes) successfully initialized in 6ms (v0.3.110.20191009) (83ms)
+87ms ║╔Execution stage started
+106ms ║║Executed virtual command sendPushNotification (1ms)
+193ms ║║Executed virtual command iftttMaker (84ms)
+196ms ║╚Execution stage complete. (109ms)
+197ms ╚Event processed successfully (197ms)
1/31/2021, 2:51:20 PM +484ms
+2ms ╔Received event [Rich].currentPlace = with a delay of 77ms
+93ms ║Runtime (38350 bytes) successfully initialized in 7ms (v0.3.110.20191009) (90ms)
+94ms ║╔Execution stage started
+110ms ║║Executed virtual command sendPushNotification (0ms)
+257ms ║║Executed virtual command iftttMaker (144ms)
+267ms ║╚Execution stage complete. (173ms)
+268ms ╚Event processed successfully (268ms)
1/31/2021, 1:43:42 PM +985ms
+2ms ╔Received event [Rich].currentPlace = Home with a delay of 63ms
+82ms ║Runtime (38353 bytes) successfully initialized in 6ms (v0.3.110.20191009) (80ms)
+83ms ║╔Execution stage started
+106ms ║║Executed virtual command sendPushNotification (1ms)
+184ms ║║Executed virtual command iftttMaker (74ms)
+186ms ║╚Execution stage complete. (103ms)
+187ms ╚Event processed successfully (187ms)
1/31/2021, 11:24:32 AM +88ms
+0ms ╔Received event [Rich].currentPlace = with a delay of 48ms
+60ms ║Runtime (38352 bytes) successfully initialized in 3ms (v0.3.110.20191009) (58ms)
+61ms ║╔Execution stage started
+73ms ║║Executed virtual command sendPushNotification (1ms)
+196ms ║║Executed virtual command iftttMaker (121ms)
+203ms ║╚Execution stage complete. (143ms)
+204ms ╚Event processed successfully (204ms)
1/30/2021, 2:32:06 PM +967ms
+2ms ╔Received event [Rich].currentPlace = Home with a delay of 61ms
+10142ms ║Piston waited at a semaphore for 10042ms
+10144ms ║Runtime (38430 bytes) successfully initialized in 10047ms (v0.3.110.20191009) (10142ms)
+10145ms ║╔Execution stage started
+10165ms ║╚Execution stage complete. (19ms)
+10166ms ╚Event processed successfully (10166ms)
1/30/2021, 2:32:06 PM +957ms
+1ms ╔Received event [Rich].currentPlace = Home with a delay of 46ms
+72ms ║Runtime (38353 bytes) successfully initialized in 5ms (v0.3.110.20191009) (70ms)
+73ms ║╔Execution stage started
+93ms ║║Executed virtual command sendPushNotification (0ms)
+222ms ║║Executed virtual command iftttMaker (125ms)
+225ms ║╚Execution stage complete. (152ms)
+227ms ╚Event processed successfully (226ms)
1/30/2021, 2:21:28 PM +804ms
+1ms ╔Received event [Rich].currentPlace = with a delay of 49ms
+63ms ║Runtime (38350 bytes) successfully initialized in 4ms (v0.3.110.20191009) (62ms)
+64ms ║╔Execution stage started
+76ms ║║Executed virtual command sendPushNotification (1ms)
+172ms ║║Executed virtual command iftttMaker (92ms)
+182ms ║╚Execution stage complete. (118ms)
+184ms ╚Event processed successfully (184ms)
1/30/2021, 11:37:25 AM +290ms
+1ms ╔Received event [Rich].currentPlace = Home with a delay of 55ms
+82ms ║Runtime (38356 bytes) successfully initialized in 5ms (v0.3.110.20191009) (80ms)
+83ms ║╔Execution stage started
+102ms ║║Executed virtual command sendPushNotification (0ms)
+208ms ║║Executed virtual command iftttMaker (104ms)
+211ms ║╚Execution stage complete. (128ms)
+212ms ╚Event processed successfully (212ms)
1/30/2021, 11:22:39 AM +721ms
+2ms ╔Received event [Rich].currentPlace = with a delay of 75ms
+10180ms ║Piston waited at a semaphore for 10093ms
+10182ms ║Runtime (38425 bytes) successfully initialized in 10098ms (v0.3.110.20191009) (10180ms)
+10183ms ║╔Execution stage started
+10198ms ║╚Execution stage complete. (14ms)
+10199ms ╚Event processed successfully (10199ms)
1/30/2021, 11:22:39 AM +711ms
+2ms ╔Received event [Rich].currentPlace = with a delay of 58ms
+71ms ║Runtime (38350 bytes) successfully initialized in 6ms (v0.3.110.20191009) (69ms)
+72ms ║╔Execution stage started
+85ms ║║Executed virtual command sendPushNotification (0ms)
+179ms ║║Executed virtual command iftttMaker (90ms)
+187ms ║╚Execution stage complete. (116ms)
+188ms ╚Event processed successfully (188ms)
1/29/2021, 4:16:30 PM +856ms
+1ms ╔Received event [Rich].currentPlace = Home with a delay of 61ms
+72ms ║Runtime (38353 bytes) successfully initialized in 5ms (v0.3.110.20191009) (70ms)
+73ms ║╔Execution stage started
+90ms ║║Executed virtual command sendPushNotification (1ms)
+180ms ║║Executed virtual command iftttMaker (86ms)
+182ms ║╚Execution stage complete. (110ms)
+184ms ╚Event processed successfully (183ms)
1/29/2021, 2:56:44 PM +972ms
+2ms ╔Received event [Rich].currentPlace = with a delay of 85ms
+165ms ║Runtime (38353 bytes) successfully initialized in 8ms (v0.3.110.20191009) (162ms)
+166ms ║╔Execution stage started
+179ms ║║Executed virtual command sendPushNotification (0ms)
+289ms ║║Executed virtual command iftttMaker (108ms)
+297ms ║╚Execution stage complete. (131ms)
+298ms ╚Event processed successfully (298ms)
1/29/2021, 11:36:31 AM +706ms
+2ms ╔Received event [Rich].currentPlace = Home with a delay of 65ms
+10103ms ║Piston waited at a semaphore for 10014ms
+10106ms ║Runtime (38429 bytes) successfully initialized in 10019ms (v0.3.110.20191009) (10103ms)
+10107ms ║╔Execution stage started
+10126ms ║║Executed virtual command sendPushNotification (0ms)
+10200ms ║║Executed virtual command iftttMaker (71ms)
+10203ms ║╚Execution stage complete. (97ms)
+10205ms ╚Event processed successfully (10204ms)
1/29/2021, 11:36:31 AM +217ms
+2ms ╔Received event [Rich].currentPlace = with a delay of 59ms
+10296ms ║Piston waited at a semaphore for 10214ms
+10298ms ║Runtime (38432 bytes) successfully initialized in 10218ms (v0.3.110.20191009) (10296ms)
+10299ms ║╔Execution stage started
+10312ms ║║Executed virtual command sendPushNotification (0ms)
+10404ms ║║Executed virtual command iftttMaker (89ms)
+10412ms ║╚Execution stage complete. (113ms)
+10413ms ╚Event processed successfully (10413ms)
1/29/2021, 11:36:31 AM +691ms
+0ms ╔Received event [Rich].currentPlace = Home with a delay of 45ms
+67ms ║Runtime (38354 bytes) successfully initialized in 5ms (v0.3.110.20191009) (66ms)
+68ms ║╔Execution stage started
+82ms ║╚Execution stage complete. (14ms)
+83ms ╚Event processed successfully (83ms)
1/29/2021, 11:36:31 AM +200ms
+2ms ╔Received event [Rich].currentPlace = Home with a delay of 66ms
+77ms ║Runtime (38354 bytes) successfully initialized in 7ms (v0.3.110.20191009) (74ms)
+78ms ║╔Execution stage started
+96ms ║║Executed virtual command sendPushNotification (1ms)
+186ms ║║Executed virtual command iftttMaker (87ms)
+189ms ║╚Execution stage complete. (111ms)
+190ms ╚Event processed successfully (190ms)
1/29/2021, 9:26:47 AM +714ms
+1ms ╔Received event [Rich].currentPlace = with a delay of 68ms
+81ms ║Runtime (38350 bytes) successfully initialized in 6ms (v0.3.110.20191009) (79ms)
+82ms ║╔Execution stage started
+95ms ║║Executed virtual command sendPushNotification (1ms)
+185ms ║║Executed virtual command iftttMaker (86ms)
+192ms ║╚Execution stage complete. (110ms)