1) Give a description of the problem
I want to write a temperature value to a fuel stream. I created the piston and it partially works (i.e., I get the push notification) but the fuel stream is never created. I do see "Executed virtual command writeToFuelStream" in the log but there are no fuel streams shown in the dashboard. For testing purposes, I created another piston that should be created and updated when a dimmer's value changes. That doesn't work either. I've updated WC with the latest code in the IDE. Also, pistons that used to create fuel streams no longer do.
2) What is the expected behaviour?
When my thermostat cycles, I want to write it's current temperature to a fuel stream.
3) What is happening/not happening?
No fuel stream is created when the piston is triggered.
**4) Post a Green Snapshot of the piston![image|45x37]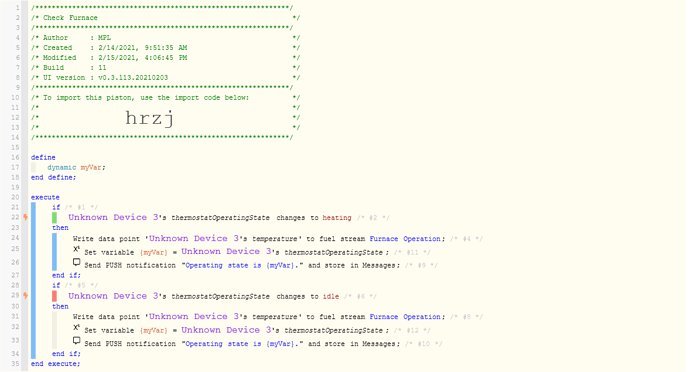 5) Attach logs after turning logging level to Full
2/15/2021, 9:14:37 PM +558ms
+1ms ╔Received event [Thermostat].thermostatOperatingState = pending heat with a delay of 52ms
+39ms ║RunTime Analysis CS > 14ms > PS > 5ms > PE > 20ms > CE
+42ms ║Runtime (39746 bytes) successfully initialized in 5ms (v0.3.110.20191009) (40ms)
+43ms ║╔Execution stage started
+50ms ║║Comparison (enum) pending heat changes_to (string) heating = false (1ms)
+51ms ║║Cancelling condition #2's schedules…
+52ms ║║Condition #2 evaluated false (5ms)
+53ms ║║Cancelling condition #1's schedules…
+54ms ║║Condition group #1 evaluated false (state changed) (8ms)
+59ms ║║Comparison (enum) pending heat changes_to (string) idle = false (0ms)
+61ms ║║Condition #6 evaluated false (3ms)
+62ms ║║Condition group #5 evaluated false (state did not change) (5ms)
+63ms ║╚Execution stage complete. (21ms)
+64ms ╚Event processed successfully (64ms)
2/15/2021, 9:00:37 PM +438ms
+1ms ╔Received event [Thermostat].thermostatOperatingState = heating with a delay of 53ms
+42ms ║RunTime Analysis CS > 17ms > PS > 6ms > PE > 18ms > CE
+44ms ║Runtime (39733 bytes) successfully initialized in 6ms (v0.3.110.20191009) (42ms)
+45ms ║╔Execution stage started
+52ms ║║Comparison (enum) heating changes_to (string) heating = true (0ms)
+54ms ║║Cancelling condition #2's schedules…
+55ms ║║Condition #2 evaluated true (6ms)
+56ms ║║Cancelling condition #1's schedules…
+57ms ║║Condition group #1 evaluated true (state changed) (7ms)
+59ms ║║Cancelling statement #3's schedules…
+75ms ║║Executed virtual command writeToFuelStream (6ms)
+81ms ║║Executed virtual command setVariable (2ms)
+86ms ║║Calculating (string) Operating state is + (string) heating >> (string) Operating state is heating
+89ms ║║Calculating (string) Operating state is heating + (string) . >> (string) Operating state is heating.
+101ms ║║Executed virtual command sendPushNotification (8ms)
+107ms ║║Comparison (enum) heating changes_to (string) idle = false (0ms)
+108ms ║║Cancelling condition #6's schedules…
+109ms ║║Condition #6 evaluated false (6ms)
+110ms ║║Cancelling condition #5's schedules…
+111ms ║║Condition group #5 evaluated false (state changed) (7ms)
+113ms ║╚Execution stage complete. (68ms)
+114ms ╚Event processed successfully (114ms)
2/15/2021, 8:41:02 PM +88ms
+1ms ╔Received event [Thermostat].thermostatOperatingState = idle with a delay of 54ms
+46ms ║RunTime Analysis CS > 22ms > PS > 6ms > PE > 19ms > CE
+49ms ║Runtime (39745 bytes) successfully initialized in 6ms (v0.3.110.20191009) (46ms)
+50ms ║╔Execution stage started
+57ms ║║Comparison (enum) idle changes_to (string) heating = false (1ms)
+59ms ║║Condition #2 evaluated false (4ms)
+59ms ║║Condition group #1 evaluated false (state did not change) (6ms)
+65ms ║║Comparison (enum) idle changes_to (string) idle = true (0ms)
+66ms ║║Cancelling condition #6's schedules…
+67ms ║║Condition #6 evaluated true (5ms)
+68ms ║║Cancelling condition #5's schedules…
+69ms ║║Condition group #5 evaluated true (state changed) (7ms)
+71ms ║║Cancelling statement #7's schedules…
+91ms ║║Executed virtual command writeToFuelStream (10ms)
+96ms ║║Executed virtual command setVariable (2ms)
+102ms ║║Calculating (string) Operating state is + (string) idle >> (string) Operating state is idle
+105ms ║║Calculating (string) Operating state is idle + (string) . >> (string) Operating state is idle.
+125ms ║║Executed virtual command sendPushNotification (18ms)
+127ms ║╚Execution stage complete. (78ms)
+129ms ╚Event processed successfully (128ms)
2/15/2021, 8:35:37 PM +608ms
+0ms ╔Received event [Thermostat].thermostatOperatingState = pending heat with a delay of 54ms
+42ms ║RunTime Analysis CS > 19ms > PS > 5ms > PE > 18ms > CE
+44ms ║Runtime (39746 bytes) successfully initialized in 5ms (v0.3.110.20191009) (43ms)
+45ms ║╔Execution stage started
+52ms ║║Comparison (enum) pending heat changes_to (string) heating = false (0ms)
+54ms ║║Cancelling condition #2's schedules…
+55ms ║║Condition #2 evaluated false (6ms)
+56ms ║║Cancelling condition #1's schedules…
+57ms ║║Condition group #1 evaluated false (state changed) (8ms)
+62ms ║║Comparison (enum) pending heat changes_to (string) idle = false (0ms)
+64ms ║║Condition #6 evaluated false (4ms)
+65ms ║║Condition group #5 evaluated false (state did not change) (6ms)
+67ms ║╚Execution stage complete. (22ms)
+68ms ╚Event processed successfully (68ms)
2/15/2021, 8:15:37 PM +583ms
+1ms ╔Received event [Thermostat].thermostatOperatingState = heating with a delay of 66ms
+47ms ║RunTime Analysis CS > 23ms > PS > 6ms > PE > 19ms > CE
+50ms ║Runtime (39733 bytes) successfully initialized in 6ms (v0.3.110.20191009) (48ms)
+50ms ║╔Execution stage started
+58ms ║║Comparison (enum) heating changes_to (string) heating = true (1ms)
+60ms ║║Cancelling condition #2's schedules…
+61ms ║║Condition #2 evaluated true (5ms)
+62ms ║║Cancelling condition #1's schedules…
+63ms ║║Condition group #1 evaluated true (state changed) (7ms)
+65ms ║║Cancelling statement #3's schedules…
+86ms ║║Executed virtual command writeToFuelStream (11ms)
+91ms ║║Executed virtual command setVariable (3ms)
+96ms ║║Calculating (string) Operating state is + (string) heating >> (string) Operating state is heating
+99ms ║║Calculating (string) Operating state is heating + (string) . >> (string) Operating state is heating.
+113ms ║║Executed virtual command sendPushNotification (10ms)
+119ms ║║Comparison (enum) heating changes_to (string) idle = false (0ms)
+120ms ║║Cancelling condition #6's schedules…
+121ms ║║Condition #6 evaluated false (5ms)
+122ms ║║Cancelling condition #5's schedules…
+123ms ║║Condition group #5 evaluated false (state changed) (8ms)
+125ms ║╚Execution stage complete. (75ms)
+126ms ╚Event processed successfully (126ms)
2/15/2021, 6:52:02 PM +327ms
+2ms ╔Received event [Thermostat].thermostatOperatingState = idle with a delay of 74ms
+47ms ║RunTime Analysis CS > 25ms > PS > 6ms > PE > 16ms > CE
+50ms ║Runtime (39745 bytes) successfully initialized in 6ms (v0.3.110.20191009) (47ms)
+50ms ║╔Execution stage started
+57ms ║║Comparison (enum) idle changes_to (string) heating = false (1ms)
+58ms ║║Condition #2 evaluated false (4ms)
+59ms ║║Condition group #1 evaluated false (state did not change) (5ms)
+64ms ║║Comparison (enum) idle changes_to (string) idle = true (0ms)
+66ms ║║Cancelling condition #6's schedules…
+67ms ║║Condition #6 evaluated true (4ms)
+68ms ║║Cancelling condition #5's schedules…
+68ms ║║Condition group #5 evaluated true (state changed) (7ms)
+70ms ║║Cancelling statement #7's schedules…
+85ms ║║Executed virtual command writeToFuelStream (6ms)
+91ms ║║Executed virtual command setVariable (3ms)
+96ms ║║Calculating (string) Operating state is + (string) idle >> (string) Operating state is idle
+99ms ║║Calculating (string) Operating state is idle + (string) . >> (string) Operating state is idle.
+117ms ║║Executed virtual command sendPushNotification (16ms)
+120ms ║╚Execution stage complete. (70ms)
+121ms ╚Event processed successfully (121ms)
2/15/2021, 6:46:37 PM +927ms
+1ms ╔Received event [Thermostat].thermostatOperatingState = pending heat with a delay of 60ms
+44ms ║RunTime Analysis CS > 19ms > PS > 6ms > PE > 19ms > CE
+46ms ║Runtime (39746 bytes) successfully initialized in 6ms (v0.3.110.20191009) (44ms)
+47ms ║╔Execution stage started
+54ms ║║Comparison (enum) pending heat changes_to (string) heating = false (0ms)
+55ms ║║Cancelling condition #2's schedules…
+56ms ║║Condition #2 evaluated false (5ms)
+58ms ║║Cancelling condition #1's schedules…
+58ms ║║Condition group #1 evaluated false (state changed) (7ms)
+64ms ║║Comparison (enum) pending heat changes_to (string) idle = false (0ms)
+65ms ║║Condition #6 evaluated false (4ms)
+66ms ║║Condition group #5 evaluated false (state did not change) (5ms)
+68ms ║╚Execution stage complete. (21ms)
+69ms ╚Event processed successfully (69ms)
2/15/2021, 6:33:47 PM +114ms
+1ms ╔Received event [Thermostat].thermostatOperatingState = heating with a delay of 61ms
+41ms ║RunTime Analysis CS > 21ms > PS > 5ms > PE > 14ms > CE
+43ms ║Runtime (39733 bytes) successfully initialized in 5ms (v0.3.110.20191009) (41ms)
+44ms ║╔Execution stage started
+50ms ║║Comparison (enum) heating changes_to (string) heating = true (0ms)
+52ms ║║Cancelling condition #2's schedules…
+53ms ║║Condition #2 evaluated true (4ms)
+54ms ║║Cancelling condition #1's schedules…
+54ms ║║Condition group #1 evaluated true (state changed) (7ms)
+57ms ║║Cancelling statement #3's schedules…
+82ms ║║Executed virtual command writeToFuelStream (17ms)
+87ms ║║Executed virtual command setVariable (3ms)
+92ms ║║Calculating (string) Operating state is + (string) heating >> (string) Operating state is heating
+95ms ║║Calculating (string) Operating state is heating + (string) . >> (string) Operating state is heating.
+106ms ║║Executed virtual command sendPushNotification (9ms)
+111ms ║║Comparison (enum) heating changes_to (string) idle = false (0ms)
+113ms ║║Cancelling condition #6's schedules…
+113ms ║║Condition #6 evaluated false (4ms)
+114ms ║║Cancelling condition #5's schedules…
+115ms ║║Condition group #5 evaluated false (state changed) (7ms)
+117ms ║╚Execution stage complete. (74ms)
+118ms ╚Event processed successfully (118ms)
2/15/2021, 5:29:02 PM +458ms
+1ms ╔Received event [Thermostat].thermostatOperatingState = idle with a delay of 50ms
+125ms ║RunTime Analysis CS > 14ms > PS > 6ms > PE > 13ms > CE
+128ms ║Runtime (39746 bytes) successfully initialized in 6ms (v0.3.110.20191009) (125ms)
+129ms ║╔Execution stage started
+136ms ║║Comparison (enum) idle changes_to (string) heating = false (1ms)
+138ms ║║Condition #2 evaluated false (5ms)
+139ms ║║Condition group #1 evaluated false (state did not change) (6ms)
+145ms ║║Comparison (enum) idle changes_to (string) idle = true (0ms)
+146ms ║║Cancelling condition #6's schedules…
+147ms ║║Condition #6 evaluated true (5ms)
+148ms ║║Cancelling condition #5's schedules…
+149ms ║║Condition group #5 evaluated true (state changed) (8ms)
+151ms ║║Cancelling statement #7's schedules…
+167ms ║║Executed virtual command writeToFuelStream (6ms)
+172ms ║║Executed virtual command setVariable (3ms)
+177ms ║║Calculating (string) Operating state is + (string) idle >> (string) Operating state is idle
+180ms ║║Calculating (string) Operating state is idle + (string) . >> (string) Operating state is idle.
+191ms ║║Executed virtual command sendPushNotification (8ms)
+194ms ║╚Execution stage complete. (66ms)
+195ms ╚Event processed successfully (195ms)
2/15/2021, 5:23:37 PM +873ms
+1ms ╔Received event [Thermostat].thermostatOperatingState = pending heat with a delay of 55ms
+138ms ║RunTime Analysis CS > 14ms > PS > 109ms > PE > 15ms > CE
+141ms ║Runtime (39751 bytes) successfully initialized in 109ms (v0.3.110.20191009) (138ms)
+142ms ║╔Execution stage started
+148ms ║║Comparison (enum) pending heat changes_to (string) heating = false (0ms)
+150ms ║║Cancelling condition #2's schedules…
+151ms ║║Condition #2 evaluated false (4ms)
+152ms ║║Cancelling condition #1's schedules…
+153ms ║║Condition group #1 evaluated false (state changed) (7ms)
+157ms ║║Comparison (enum) pending heat changes_to (string) idle = false (0ms)
+159ms ║║Condition #6 evaluated false (4ms)
+160ms ║║Condition group #5 evaluated false (state did not change) (5ms)
+162ms ║╚Execution stage complete. (20ms)
+163ms ╚Event processed successfully (163ms)
2/15/2021, 5:10:04 PM +807ms
+1ms ╔Received event [Thermostat].thermostatOperatingState = heating with a delay of 61ms
+34ms ║RunTime Analysis CS > 16ms > PS > 6ms > PE > 12ms > CE
+36ms ║Runtime (39733 bytes) successfully initialized in 6ms (v0.3.110.20191009) (35ms)
+37ms ║╔Execution stage started
+43ms ║║Comparison (enum) heating changes_to (string) heating = true (0ms)
+45ms ║║Cancelling condition #2's schedules…
+46ms ║║Condition #2 evaluated true (4ms)
+47ms ║║Cancelling condition #1's schedules…
+47ms ║║Condition group #1 evaluated true (state changed) (7ms)
+49ms ║║Cancelling statement #3's schedules…
+63ms ║║Executed virtual command writeToFuelStream (5ms)
+69ms ║║Executed virtual command setVariable (3ms)
+74ms ║║Calculating (string) Operating state is + (string) heating >> (string) Operating state is heating
+76ms ║║Calculating (string) Operating state is heating + (string) . >> (string) Operating state is heating.
+99ms ║║Executed virtual command sendPushNotification (19ms)
+104ms ║║Comparison (enum) heating changes_to (string) idle = false (1ms)
+105ms ║║Cancelling condition #6's schedules…
+106ms ║║Condition #6 evaluated false (5ms)
+107ms ║║Cancelling condition #5's schedules…
+108ms ║║Condition group #5 evaluated false (state changed) (7ms)
+110ms ║╚Execution stage complete. (74ms)
+111ms ╚Event processed successfully (111ms)
2/15/2021, 4:21:35 PM +682ms
+1ms ╔Received event [Thermostat].thermostatOperatingState = idle with a delay of 59ms
+34ms ║RunTime Analysis CS > 16ms > PS > 6ms > PE > 11ms > CE
+36ms ║Runtime (39578 bytes) successfully initialized in 6ms (v0.3.110.20191009) (34ms)
+37ms ║╔Execution stage started
+44ms ║║Comparison (enum) idle changes_to (string) heating = false (1ms)
+45ms ║║Condition #2 evaluated false (4ms)
+46ms ║║Condition group #1 evaluated false (state did not change) (5ms)
+52ms ║║Comparison (enum) idle changes_to (string) idle = true (0ms)
+53ms ║║Cancelling condition #6's schedules…
+54ms ║║Condition #6 evaluated true (5ms)
+55ms ║║Cancelling condition #5's schedules…
+56ms ║║Condition group #5 evaluated true (state changed) (8ms)
+58ms ║║Cancelling statement #7's schedules…
+69ms ║║Executed virtual command writeToFuelStream (2ms)
+74ms ║║Executed virtual command setVariable (2ms)
+80ms ║║Calculating (string) Operating state is + (string) idle >> (string) Operating state is idle
+82ms ║║Calculating (string) Operating state is idle + (string) . >> (string) Operating state is idle.
+94ms ║║Executed virtual command sendPushNotification (8ms)
+96ms ║╚Execution stage complete. (59ms)
+97ms ╚Event processed successfully (97ms)
2/15/2021, 4:16:21 PM +450ms
+1ms ╔Received event [Thermostat].thermostatOperatingState = pending heat with a delay of 48ms
+32ms ║RunTime Analysis CS > 13ms > PS > 6ms > PE > 13ms > CE
+35ms ║Runtime (39581 bytes) successfully initialized in 6ms (v0.3.110.20191009) (33ms)
+36ms ║╔Execution stage started
+44ms ║║Comparison (enum) pending heat changes_to (string) heating = false (0ms)
+45ms ║║Condition #2 evaluated false (5ms)
+46ms ║║Condition group #1 evaluated false (state did not change) (6ms)
+52ms ║║Comparison (enum) pending heat changes_to (string) idle = false (1ms)
+53ms ║║Condition #6 evaluated false (4ms)
+54ms ║║Condition group #5 evaluated false (state did not change) (6ms)
+56ms ║╚Execution stage complete. (21ms)
+58ms ╚Event processed successfully (57ms)