1) Give a description of the problem
I am trying to create a simple piston to turn on my amplifiers (on an extension lead wired into a single smart plug for now - I may split them in future) when any one of 3 chromecast audios, or 2 groups of chromecast audios are playing. I then want to turn the amplifiers off if there is no music playing on any of the chromecasts/groups for a period of 5 minutes. Currently the amplifier will turn on when music starts playing but does not turn off. I can review the status of the devices through the cast-web-api and confirm that none are playing (as confirmed in the piston logs too).
Any help gratefully received!
2) What is the expected behaviour?
Any chromecast changes to 'playing' - amplifiers turn on
All chromecasts are not playing music and the amplifier is still on - turn it off
3) What is happening/not happening?
The amplifier is not turning off
**4) Post a Green Snapshot of the piston![image|45x37]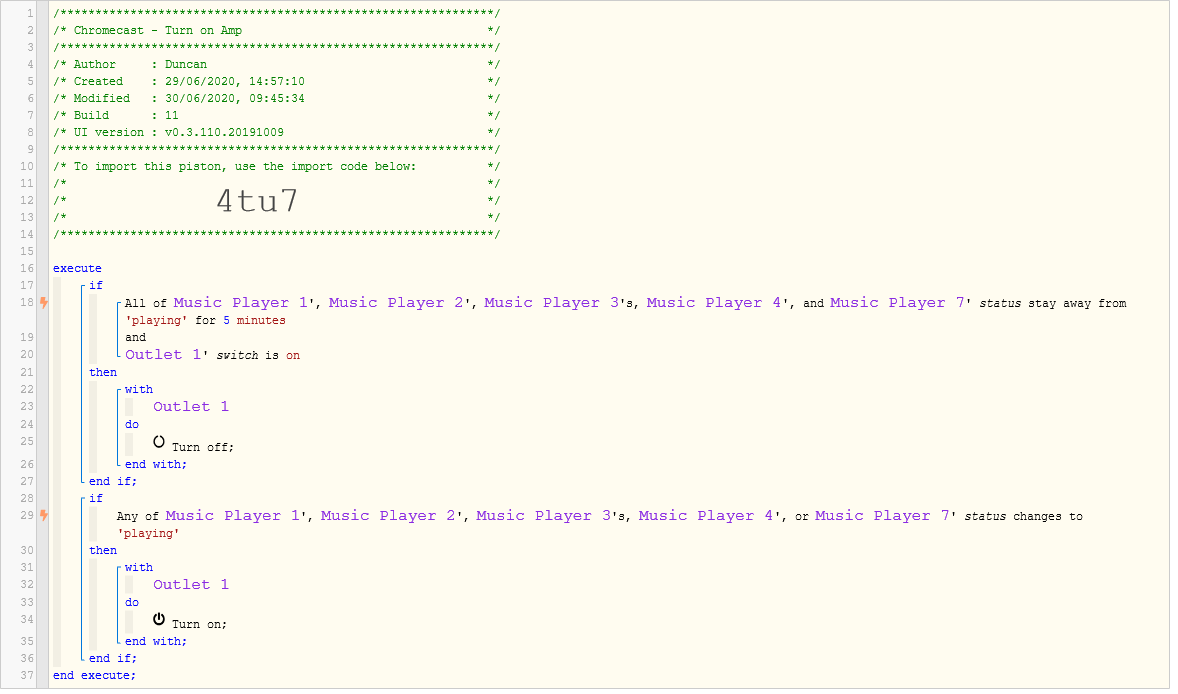 5) Attach logs after turning logging level to Full
30/06/2020, 09:45:34 +960ms
+1ms ╔Starting piston… (v0.3.110.20191009)
+256ms ║╔Subscribing to devices…
+291ms ║║Subscribing to Bathroom speakers.status…
+305ms ║║Subscribing to Downstairs.status…
+317ms ║║Subscribing to Everywhere.status…
+327ms ║║Subscribing to Kitchen Diner Speakers.status…
+338ms ║║Subscribing to Living Room speakers.status…
+401ms ║║Subscribing to Amplifiers…
+402ms ║╚Finished subscribing (162ms)
+446ms ║Comparison (string) ready stays_away_from (string) playing = true (1ms)
+448ms ║Comparison (string) ready stays_away_from (string) playing = true (1ms)
+451ms ║Comparison (string) ready stays_away_from (string) playing = true (2ms)
+454ms ║Comparison (string) ready stays_away_from (string) playing = true (1ms)
+456ms ║Comparison (string) ready stays_away_from (string) playing = true (1ms)
+465ms ║Comparison (enum) on is (string) on = true (2ms)
+498ms ╚Piston successfully started (497ms)