1) Give a description of the problem
I am trying to work out a piston that will check critical components every 15 minutes. I know I'm missing something. Specifically with the variables removing devices from the list.
I need help designing this and pointing out what is wrong. I'm new to WC, but really enjoying it.
2) What is the expected behavior?
Notify me by SMS and email when any of the components have a status of 'offline'.
Before notifying me, I want to do a refresh. If it fails, notify me that it is down. If it is back online, I want it to notify me with a different message.
3) What is happening/not happening?
It is working as far as I can test it… but I believe if a device is online, put into 'devices_responding', it will remain in there, even if it fails.
4) Post a Green Snapshot of the piston!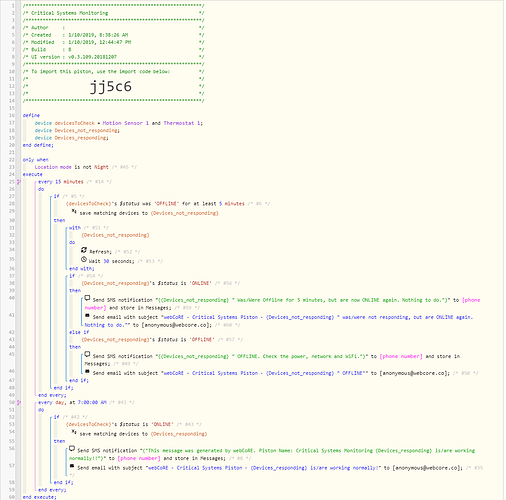 5) Attach any logs (From ST IDE and by turning logging level to Full)
I don't really have logs yet. I'm looking for advice on how this should be designed/fixed up…