1) Give a description of the problem
I am trying to build up my own thermostat piston. Device is a CT101 which is paired to my v2 hub and appears to work fine when manually changing the mode or setpoints. But webcore does not appear to be able to make changes to the device. I have created 2 simulated buttons (here they are called keypad 1 & keypad 2, but in reality 'colder' and 'hotter'). I went this route because I eventually want custom Alexa responses to "it's hot in here" or "it's cold in here" and I believe it will need to virtually press the virtual buttons.
In any case, if I press the button through the app, the button press is registered and it tells me that it is carrying out the actions. But if I go back to the thermostat device (or look in the API) I can see that the setpoints are not changed. (see log below)
Finally, if instead of using the lower__Setpoint(2) or raise__Setpoint(2) action I use a variable and an expression which evaluates the current setpoint and then adds 2, the expression evaluates as 0, as if each of the setpoints is 0.
I need this basic piston logic to work before I go adding additional logic or sensor inputs from the doors & windows. Please help.
2) What is the expected behavior?
Expected behavior is to change the temperature setpoints.
3) What is happening/not happening?
Setpoints are not changing despite "executed" in the log.
**4) Post a Green Snapshot of the piston![image|45x37]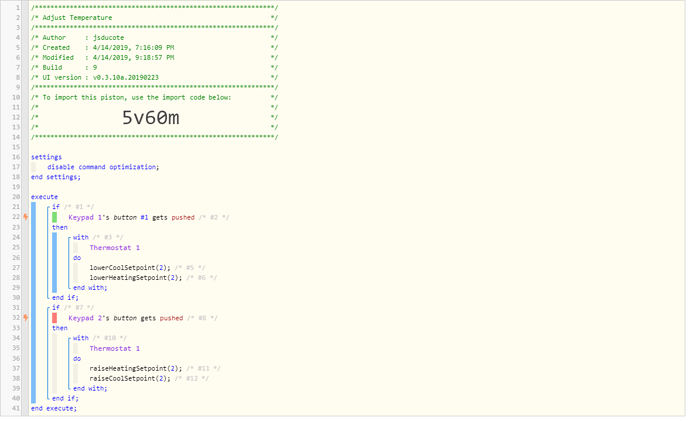 5) Attach any logs (From ST IDE and by turning logging level to Full)
( 4/14/2019, 9:37:38 PM +954ms
+1ms ╔Received event [Colder].button = pushed with a delay of 53ms
+70ms ║RunTime Analysis CS > 13ms > PS > 43ms > PE > 14ms > CE
+73ms ║Runtime (38564 bytes) successfully initialized in 43ms (v0.3.10a.20190223) (70ms)
+74ms ║╔Execution stage started
+84ms ║║Comparison (enum) pushed gets (string) pushed = true (1ms)
+86ms ║║Condition #2 evaluated true (6ms)
+87ms ║║Condition group #1 evaluated true (state did not change) (8ms)
+90ms ║║Cancelling statement #3's schedules…
+214ms ║║Executed physical command [Thermostat].lowerCoolSetpoint([2]) (117ms)
+215ms ║║Executed [Thermostat].lowerCoolSetpoint (119ms)
+242ms ║║Executed physical command [Thermostat].lowerHeatingSetpoint([2]) (22ms)
+243ms ║║Executed [Thermostat].lowerHeatingSetpoint (24ms)
+253ms ║║Condition #8 evaluated false (7ms)
+254ms ║║Condition group #7 evaluated false (state did not change) (8ms)
+257ms ║╚Execution stage complete. (184ms)
+258ms ╚Event processed successfully (258ms))