1) Give a description of the problem
I am trying to create a notification when any of my entry doors are left open for 5 minutes on my echo devices. I know Echo Speaks is working because I can trigger announcements from the ST app so I think it is something with my WebCore code.
2) What is the expected behaviour?
If any of the entry door contacts are open for more than 5 minutes it should announce on my echo that the door is open. I am only use one door and one echo as proof of concept, but I am having trouble getting it to work.
3) What is happening/not happening?
I see the contact open, but nothing is coming out of my echo.
**4) Post a Green Snapshot of the piston![image|45x37]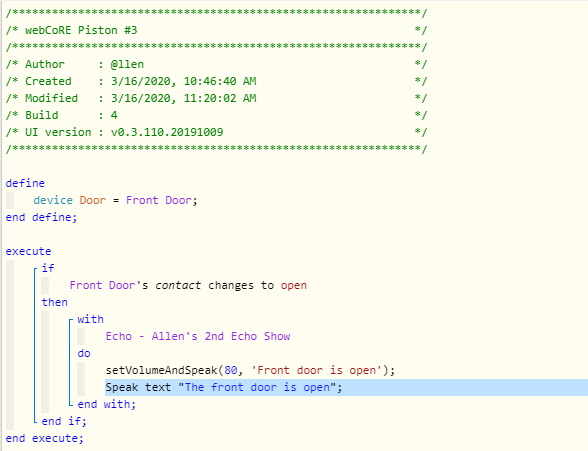 3/16/2020, 11:20:46 AM +479ms
+1ms ╔Received event [Front Door].contact = closed with a delay of 97ms
+94ms ║RunTime Analysis CS > 24ms > PS > 59ms > PE > 11ms > CE
+97ms ║Runtime (37613 bytes) successfully initialized in 59ms (v0.3.110.20191009) (95ms)
+98ms ║╔Execution stage started
+105ms ║║Comparison (enum) closed changes_to (string) open = false (1ms)
+106ms ║║Cancelling condition #2's schedules...
+107ms ║║Condition #2 evaluated false (5ms)
+108ms ║║Cancelling condition #1's schedules...
+109ms ║║Condition group #1 evaluated false (state changed) (7ms)
+111ms ║╚Execution stage complete. (13ms)
+112ms ╚Event processed successfully (112ms)
3/16/2020, 11:20:40 AM +276ms
+2ms ╔Received event [Front Door].contact = open with a delay of 106ms
+102ms ║RunTime Analysis CS > 22ms > PS > 63ms > PE > 16ms > CE
+105ms ║Runtime (37620 bytes) successfully initialized in 63ms (v0.3.110.20191009) (102ms)
+106ms ║╔Execution stage started
+114ms ║║Comparison (enum) open changes_to (string) open = true (1ms)
+116ms ║║Cancelling condition #2's schedules...
+117ms ║║Condition #2 evaluated true (5ms)
+118ms ║║Cancelling condition #1's schedules...
+118ms ║║Condition group #1 evaluated true (state changed) (7ms)
+121ms ║║Cancelling statement #3's schedules...
+204ms ║║Executed physical command [Echo - Allen's 2nd Echo Show].setVolumeAndSpeak([80, Front door is open]) (76ms)
+205ms ║║Executed [Echo - Allen's 2nd Echo Show].setVolumeAndSpeak (78ms)
+231ms ║║Executed physical command [Echo - Allen's 2nd Echo Show].playText([The front door is open]) (22ms)
+232ms ║║Executed [Echo - Allen's 2nd Echo Show].playText (24ms)
+235ms ║╚Execution stage complete. (129ms)
+236ms ╚Event processed successfully (236ms)