1) Give a description of the problem
Thermostat keeps changing to auto
2) What is the expected behavior?
If door sensor 1 or/and door sensor 2 are open longer than x minutes then turn thermostat off. when they are then closed after that time then set thermostat mode to auto.
3) What is happening/not happening?
When changing to mode to heat/cool, then opening/closing the door for a second, it changes the mode to auto. How would I make it only set the mode to auto if the doors sensor were open longer than x minutes?
**4) Post a Green Snapshot of the piston![image|45x37]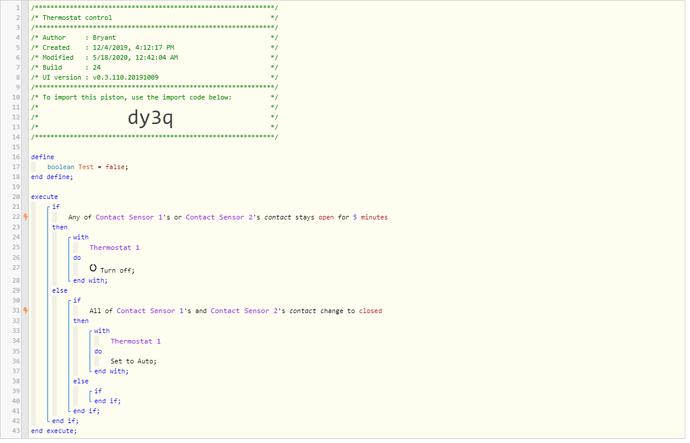 5) Attach logs after turning logging level to Full
5/18/2020, 12:42:15 AM +597ms
+1ms ╔Received event [Home].test = 1589780535597 with a delay of 0ms
+106ms ║RunTime Analysis CS > 16ms > PS > 38ms > PE > 52ms > CE
+108ms ║Runtime (38512 bytes) successfully initialized in 38ms (v0.3.110.20191009) (106ms)
+110ms ║╔Execution stage started
+126ms ║║Comparison (enum) closed stays (string) open = false (2ms)
+128ms ║║Comparison (enum) closed stays (string) open = false (1ms)
+131ms ║║Cancelling any timed trigger schedules for device :d555817f4e557d30dfb49c548a333963: for condition 9
+132ms ║║Cancelling statement #9's schedules...
+133ms ║║Cancelling any timed trigger schedules for device :10f0955ba23128adbea491e8d586499c: for condition 9
+133ms ║║Cancelling statement #9's schedules...
+134ms ║║Condition #9 evaluated false (20ms)
+136ms ║║Condition group #1 evaluated false (state did not change) (21ms)
+146ms ║║Condition #4 evaluated false (8ms)
+148ms ║║Condition group #3 evaluated false (state did not change) (9ms)
+151ms ║║Condition group #12 evaluated true (state did not change) (0ms)
+154ms ║╚Execution stage complete. (45ms)
+156ms ╚Event processed successfully (156ms)