1) Give a description of the problem
Random results.
2) What is the expected behavior?
Very simple piston. Turn the ceiling fan on when the ecobee heat turns on
3) What is happening/not happening?
If manually raise the temp on the thermostat it seems to work. If the schedule kicks on because its too cool it doesn't work all the time. I did catch it once and quickly opened webcore and clicked trace and shortly after it turned back on. Is there a better way I can do this?
**4) Post a Green Snapshot of the piston!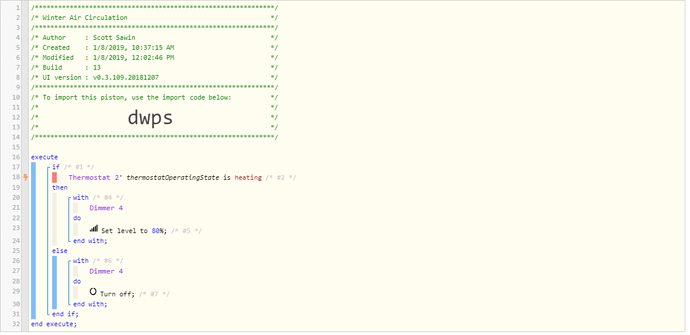 5) Attach any logs (From ST IDE and by turning logging level to Full)
|+1ms|╔Received event [Ecobee Downstairs].thermostatOperatingState = heating with a delay of 51ms|
|—|---|
|+71ms|║RunTime Analysis CS > 17ms > PS > 45ms > PE > 9ms > CE|
|+73ms|║Runtime (37023 bytes) successfully initialized in 45ms (v0.3.109.20181207) (71ms)|
|+74ms|║╔Execution stage started|
|+86ms|║║Comparison (enum) heating is (string) heating = true (2ms)|
|+87ms|║║Cancelling condition #2's schedules…|
|+89ms|║║Condition #2 evaluated true (8ms)|
|+90ms|║║Cancelling condition #1's schedules…|
|+91ms|║║Condition group #1 evaluated true (state changed) (11ms)|
|+94ms|║║Cancelling statement #4's schedules…|
|+582ms|║║Executed physical command [Family Room Fan].setLevel([80]) (482ms)|
|+583ms|║║Executed [Family Room Fan].setLevel (483ms)|
|+586ms|║╚Execution stage complete. (512ms)|
|+588ms|╚Event processed successfully (587ms)|