1) Give a description of the problem
I have a sense device that has finally detected my dryer. I have sense integrated with Smartthings. I would like ti use WebCore to announce when the clothes are dry. If I test this then it announces on my google homes using the relay version 2 and @brayton device handler for the relay (https://community.smartthings.com/t/release-google-assistant-relay-smartapp-and-device-handler/142931) I'm not a WebCore expert by far and since the update to webcore most of my old announcements now state the piston does not subscribe to any events.
Also I wanted to mention my kid's are actually young adults so it is ok to curse them at this point.
2) What is the expected behavior?
If the dryer has been on for at lease one minute then google home should announce the clothes are dry.
3) What is happening/not happening?
No announcement is being played unless I do a manual test
**4)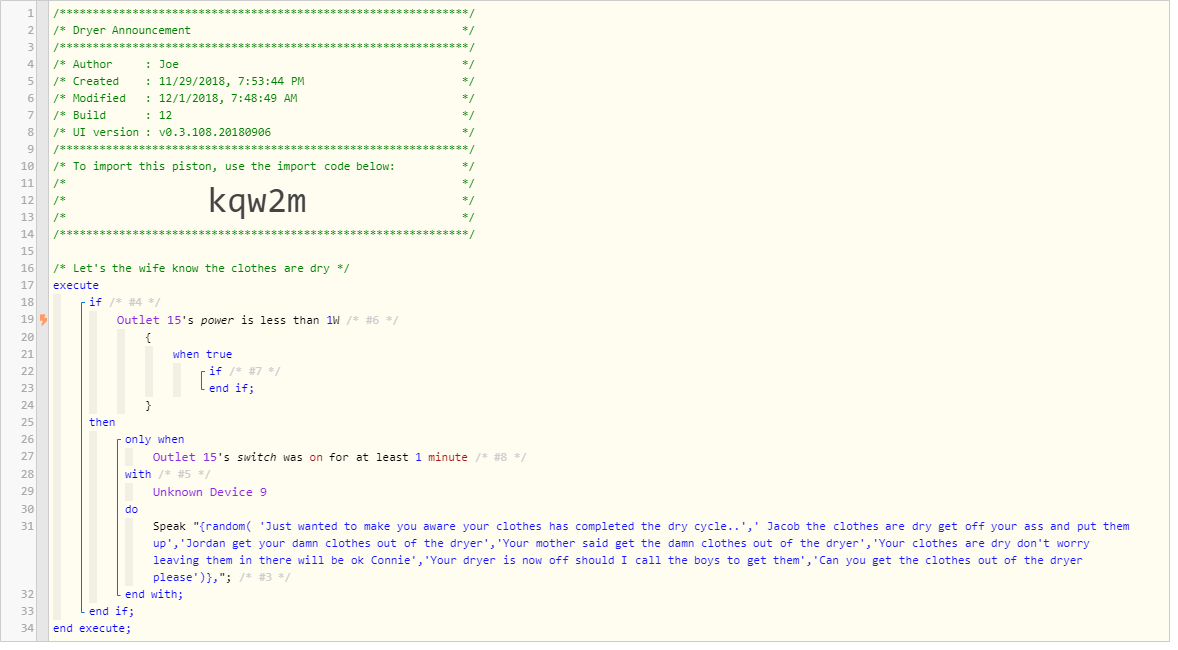 5) Attach any logs (From ST IDE and by turning logging level to Full)
( 12/1/2018, 7:42:32 AM +107ms
+1ms ╔Received event [Home].test = 1543668152107 with a delay of 1ms
+275ms ║RunTime Analysis CS > 21ms > PS > 196ms > PE > 58ms > CE
+279ms ║Runtime (40447 bytes) successfully initialized in 196ms (v0.3.108.20180906) (276ms)
+281ms ║╔Execution stage started
+301ms ║║Comparison (decimal) 357.0643005371094 is_less_than (integer) 1 = false (2ms)
+303ms ║║Condition #6 evaluated false (12ms)
+305ms ║║Condition group #4 evaluated false (state did not change) (14ms)
+308ms ║╚Execution stage complete. (28ms)
+310ms ╚Event processed successfully (310ms))
REMOVE BELOW AFTER READING