1) Give a description of the problem
When using a conditional group connected by a "followed" by, the first consition evaluates as false even though it had been triggered within the follow by timeframe.
2) What is the expected behaviour?
I'd expect the conditions to evaluate to true and execute the the "then".
3) What is happening/not happening?
The logs indicate that the first condition is not (or no longer?) true.
**4) Post a Green Snapshot of the piston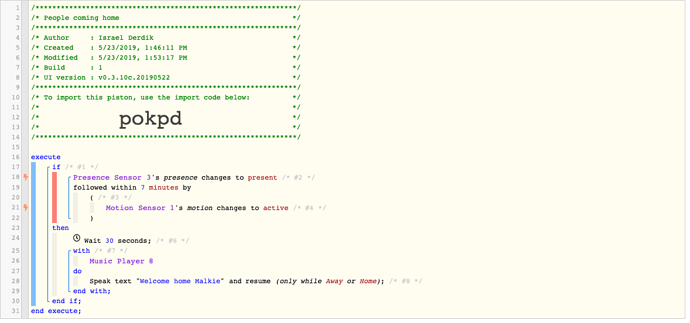 5) Attach logs after turning logging level to Full
5/23/2019, 5:33:48 PM +715ms
+1ms ╔Received event [Mudway motion].motion = active with a delay of 100ms
+83ms ║RunTime Analysis CS > 15ms > PS > 47ms > PE > 21ms > CE
+85ms ║Runtime (37697 bytes) successfully initialized in 47ms (v0.3.10a.20190223) (83ms)
+86ms ║╔Execution stage started
+104ms ║║Comparison (enum) active changes_to (string) active = false (1ms)
+106ms ║║Condition #4 evaluated false (7ms)
+107ms ║║Cancelling statement #3's schedules…
+108ms ║║Condition group #3 evaluated false (state did not change) (11ms)
+112ms ║╚Execution stage complete. (26ms)
+114ms ║Setting up scheduled job for Thu, May 23 2019 @ 5:37:11 PM EDT (in 202.464s)
+127ms ╚Event processed successfully (127ms)
5/23/2019, 5:30:11 PM +199ms
+1ms ╔Received event [Malkie].presence = present with a delay of 64ms
+72ms ║RunTime Analysis CS > 17ms > PS > 43ms > PE > 12ms > CE
+74ms ║Runtime (37684 bytes) successfully initialized in 43ms (v0.3.10a.20190223) (72ms)
+75ms ║╔Execution stage started
+86ms ║║Comparison (enum) present changes_to (string) present = true (1ms)
+88ms ║║Cancelling condition #2's schedules…
+89ms ║║Condition #2 evaluated true (8ms)
+90ms ║║Cancelling statement #1's schedules…
+91ms ║║Condition group #1 made progress up the ladder, currently at step 1 of 2
+98ms ║╚Execution stage complete. (22ms)
+99ms ║Setting up scheduled job for Thu, May 23 2019 @ 5:37:11 PM EDT (in 419.994s)
+108ms ╚Event processed successfully (108ms)