1) Give a description of the problem
I have a Sensibo Sky unit and it controls my Fujitsu Heat Pump perfectly. I have it integrated in ST and able to control it there as well. I created a Webcore Piston for it and the piston works great as well. However I would like to add a delay to the piston for certain temperatures but am not sure how to. I currently have all of the IFs set to ASYNC and have a No Cancellation policy for the WITH commands. I can change these if need be, they just work that way for me now.
2) What is the expected behavior?
The piston works great for all ASYNC IF conditions. It changes the heat pump temperature as expected. My issue is that the temp sensor I use at the other end of my house keeps toggling back and forth between 19C and 20C so the piston runs and changes the heat pump multiple times per hour during those changes. I've attached a screen shot to show this.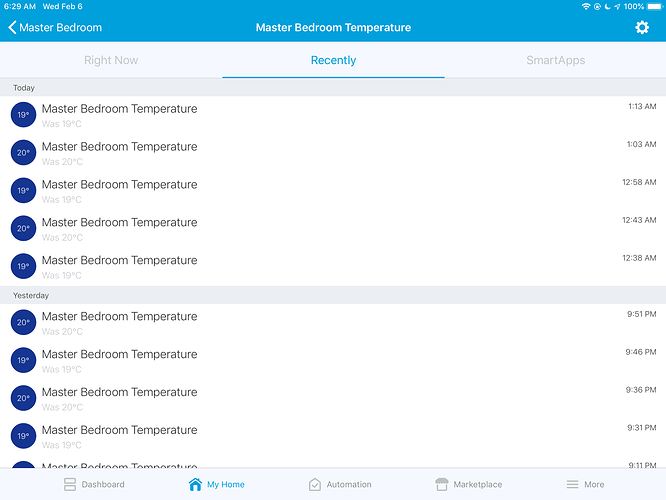 3) What is happening/not happening?
I would like to modify the piston so that if the room temp rises above 20C the heat pump sets to 20C but stays there for an hour. Even during this hour if it goes back to 19C and then back to 20C, etc, I would like to keep the set point at 20C in the piston for an hour. Then the process can start again. If it drops down to 18C I would like to continue to piston where it will turn up the heat pump based on the ASYNC IF commands.
4) Post a Green Snapshot of the piston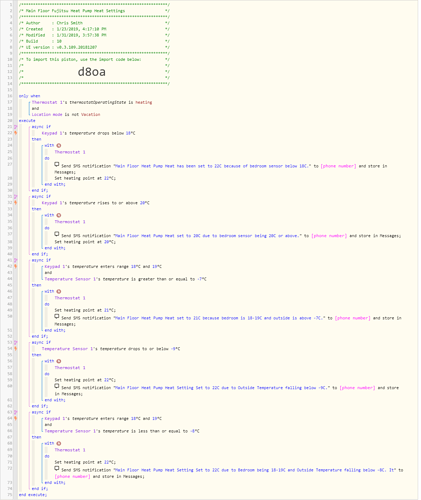 5) Attach any logs (From ST IDE and by turning logging level to Full)
The logs are correct for the piston I have now, I want to add to my piston.