1) Give a description of the problem
I have two actions to carry out at different times depending on the day of the week. The first part (monday, tuesday, wednesday and friday) fires as it is supposed to except when restriction "presence" have not been met. Then nothing happens. Action two (Smart switch) fires as intended. Last part (thursday) doesn´t fire at all.
2) What is the expected behavior?
Monday, tuesday, wednesday and friday when it is 07.45 turn off the mentioned devices, bur only if I am not present and the Switch is off (the switch is for turning off this piston during holidays). When sun rises turn off the smart switch (christmas lights).
On thursdays do as above but at 06.45 in the morning
3) What is happening/not happening?
At 07.45 the action fires if the switch is off and I am not present. But if I stay home until after 07.45 the action doesn´t fire when I leave.
At 06.45 on thursddays nothing is happening.
**4) Post a Green Snapshot of the piston!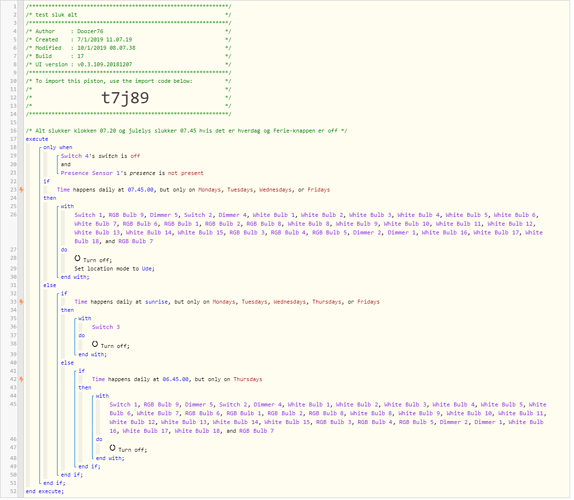 Any help is appreciated