1) Give a description of the problem
I have several GE/Jasco Dimmers all running the NuttyTree DTH to allow for double tap. I didn't want to write a Piston for each one, so I was trying to have them all behave the same with a single Piston.
2) What is the expected behaviour?
For each of these six dimmers, I would like them to be set to 100% if they were double tapped up (button #1). This worked when I first set it up with one specified device.
3) What is happening/not happening?
I tried to convert the Piston to use a 'for each' to handle all of my devices, and now it isn't picking up on the event. It is even telling me that is does not subscribe to any events now. I'm guessing I can't use 'for each' this way. Is there another/better way?
**4) Post a Green Snapshot of the piston!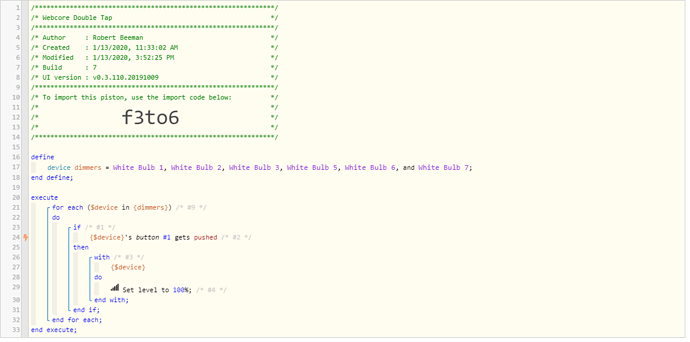 5) Attach logs after turning logging level to Full
None