1) Give a description of the problem
Hello there everyone, i'm new at webCoRe and need your help. I am living in The Netherlands where i rent out rooms to students. I have currently installed Tado smart heating so the tempertures in the building and rooms stay even.
We have motion sensors hanging around and when they sense motion the heating will turn for 1 hour everytime its triggerd. (Students go in and out and most of the time heaters where on when nobody was around so we wanted a solution for this)
However at night i dont wont this to happend when somebody goes to the toillet.
Here is my Aplet now running in IFTTT:


2) What is the expected behaviour?
Turn off motion sensor between 12PM and 7AM
3) What is happening/not happening?
cant figure out how to turn it off
4) Post a Green Snapshot of the piston

5) Attach logs after turning logging level to Full
(PASTE YOUR LOGS HERE THEN HIGHLIGHT ALL OF THE LOGS AND CLICK ON THE </> ICON TO FORMAT THEM CORRECTLY)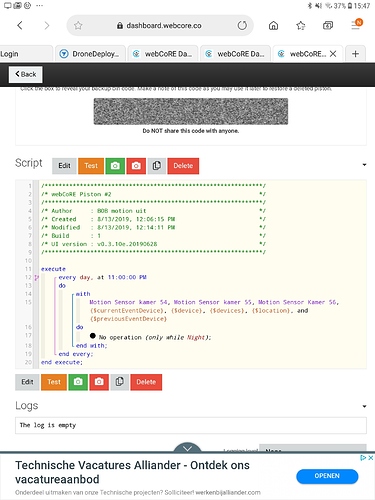 This is what i tried.
Sorry for my English
And thanks already
REMOVE BELOW AFTER READING
If a solution is found for your question then please mark the post as the solution.