1) Give a description of the problem
So i have been reading many posts and trying different things to get this piston working right. Overall all of my pistons that turn lights on and off are intermittent. When i had simple automations for the light set up in smart things they worked everytime. Now that they are pistons they work half the time. But to just focus on this particular situation the issue is at night i have it set to turn on to 10% brightness during a set time. Now that the time period is over the lights are still on 10%. Also when i set a certain time for the light to turn off it is also intermittent. But now that i have it turning off when there is no motion it works more often. But still not as desired.
2) What is the expected behaviour?
The way i would like for this to work is everytime there is motion the light turns on. If there is no motion for 5 minutes the light turns off. Between the hours of 3 am -7 am if any motion the light turns on at 10% and should turn off after 3 minutes of no motion.
3) What is happening/not happening?
The light turns on about 50% of the time when i walk past the motion sensor. Also now that it is during the regular daylight hours the light is still turning on to only 10%. It didn't reset back to 100%.
**4) Post a Green Snapshot of the piston![image|45x37]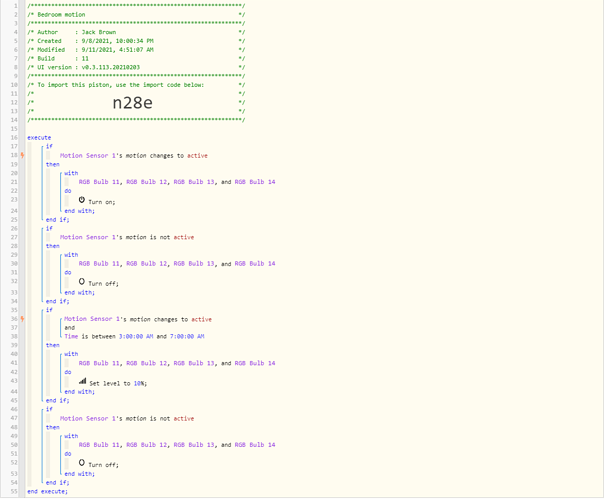 5) Attach logs after turning logging level to Full
It says the logs are empty after i changed the level to full.
REMOVE BELOW AFTER READING
If a solution is found for your question then please mark the post as the solution.