1) Give a description of the problem
(PUT YOUR INFO HERE)
This piston triggers and outputs the announcement to the Echos; however, the loop controls don't work. I don't see in the trace where the loop counter is being decremented, nor is the loop flag being set TRUE.
Please note that several of the conditions set are just for testing (loop count = 3 => 20, Disarmed =>Armed)
2) What is the expected behavior?
(PUT YOUR INFO HERE)
I expected the loop to expire after a count of 3 OR if changed from Disarmed. Also, the loop would persist even when the contact sensor was closed.
3) What is happening/not happening?
(PUT YOUR INFO HERE)
None of these conditions executed as planned.
4) Post a Green Snapshot of the piston


(UPLOAD YOUR IMAGE HERE)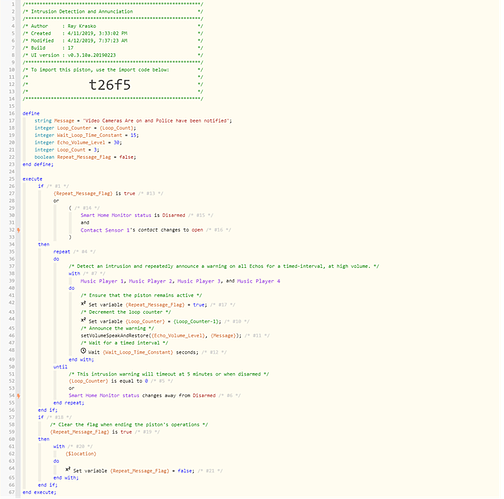 **5) Attach any logs:
4/12/2019, 7:39:13 AM +83ms
    +1ms	╔Received event [Home].time = 1555069154703 with a delay of -1620ms
    +125ms	║RunTime Analysis CS > 31ms > PS > 59ms > PE > 34ms > CE
    +129ms	║Runtime (43147 bytes) successfully initialized in 59ms (v0.3.10a.20190223) (127ms)
    +131ms	║╔Execution stage started
    +133ms	║╚Execution stage complete. (3ms)
    +136ms	╚Event processed successfully (135ms)
    4/12/2019, 7:39:04 AM +353ms
    +1ms	╔Received event [Desk Chair].contact = closed with a delay of 825ms
    +185ms	║RunTime Analysis CS > 14ms > PS > 145ms > PE > 26ms > CE
    +188ms	║Runtime (43141 bytes) successfully initialized in 145ms (v0.3.10a.20190223) (186ms)
    +190ms	║╔Execution stage started
    +203ms	║║Comparison (boolean) false is (boolean) true = false (2ms)
    +207ms	║║Condition #13 evaluated false (8ms)
    +216ms	║║Comparison (string) off is (string) off = true (2ms)
    +218ms	║║Condition #15 evaluated true (9ms)
    +224ms	║║Comparison (enum) closed changes_to (string) open = false (1ms)
    +226ms	║║Cancelling condition #16's schedules...
    +227ms	║║Condition #16 evaluated false (8ms)
    +229ms	║║Cancelling condition #14's schedules...
    +230ms	║║Condition group #14 evaluated false (state changed) (21ms)
    +231ms	║║Cancelling condition #1's schedules...
    +232ms	║║Condition group #1 evaluated false (state changed) (37ms)
    +242ms	║║Comparison (boolean) false is (boolean) true = false (2ms)
    +244ms	║║Condition #19 evaluated false (8ms)
    +245ms	║║Condition group #18 evaluated false (state did not change) (10ms)
    +249ms	║╚Execution stage complete. (59ms)
    +250ms	╚Event processed successfully (250ms)
    4/12/2019, 7:38:59 AM +87ms
    +1ms	╔Received event [Home].time = 1555069140832 with a delay of -1745ms
    +94ms	║RunTime Analysis CS > 18ms > PS > 51ms > PE > 24ms > CE
    +97ms	║Runtime (43138 bytes) successfully initialized in 51ms (v0.3.10a.20190223) (95ms)
    +98ms	║╔Execution stage started
    +127ms	║║Comparison (integer) 3 is_equal_to (integer) 0 = false (2ms)
    +129ms	║║Condition #5 evaluated false (10ms)
    +136ms	║║Comparison (string) off changes_away_from (string) off = false (1ms)
    +138ms	║║Condition #6 evaluated false (8ms)
    +139ms	║║Condition group #4 evaluated false (state did not change) (21ms)
    +143ms	║║Cancelling statement #7's schedules...
    +152ms	║║Executed virtual command [Echo - Living Room Echo, Echo - Master Bath Echo, Echo - Master Bedroom Echo, Echo - Small Bedroom Echo Dot].setVariable (1ms)
    +162ms	║║Calculating (integer) 3 - (integer) 1 >> (integer) 2
    +167ms	║║Executed virtual command [Echo - Living Room Echo, Echo - Master Bath Echo, Echo - Master Bedroom Echo, Echo - Small Bedroom Echo Dot].setVariable (2ms)
    +305ms	║║Executed physical command [Echo - Living Room Echo].setVolumeSpeakAndRestore([30, Video Cameras Are on and Police have been notified]) (129ms)
    +307ms	║║Executed [Echo - Living Room Echo].setVolumeSpeakAndRestore (131ms)
    +408ms	║║Executed physical command [Echo - Master Bath Echo].setVolumeSpeakAndRestore([30, Video Cameras Are on and Police have been notified]) (97ms)
    +410ms	║║Executed [Echo - Master Bath Echo].setVolumeSpeakAndRestore (99ms)
    +507ms	║║Executed physical command [Echo - Master Bedroom Echo].setVolumeSpeakAndRestore([30, Video Cameras Are on and Police have been notified]) (93ms)
    +509ms	║║Executed [Echo - Master Bedroom Echo].setVolumeSpeakAndRestore (95ms)
    +606ms	║║Executed physical command [Echo - Small Bedroom Echo Dot].setVolumeSpeakAndRestore([30, Video Cameras Are on and Police have been notified]) (93ms)
    +607ms	║║Executed [Echo - Small Bedroom Echo Dot].setVolumeSpeakAndRestore (95ms)
    +614ms	║║Executed virtual command [Echo - Living Room Echo, Echo - Master Bath Echo, Echo - Master Bedroom Echo, Echo - Small Bedroom Echo Dot].wait (1ms)
    +615ms	║║Requesting a wake up for Fri, Apr 12 2019 @ 7:39:14 AM EDT (in 15.0s)
    +621ms	║╚Execution stage complete. (524ms)
    +623ms	║Setting up scheduled job for Fri, Apr 12 2019 @ 7:39:14 AM EDT (in 14.994s)
    +631ms	╚Event processed successfully (631ms)
    4/12/2019, 7:38:45 AM +121ms
    +1ms	╔Received event [Home].time = 1555069126054 with a delay of -933ms
    +116ms	║RunTime Analysis CS > 30ms > PS > 63ms > PE > 23ms > CE
    +119ms	║Runtime (43138 bytes) successfully initialized in 63ms (v0.3.10a.20190223) (117ms)
    +120ms	║╔Execution stage started
    +148ms	║║Comparison (integer) 3 is_equal_to (integer) 0 = false (2ms)
    +150ms	║║Condition #5 evaluated false (10ms)
    +157ms	║║Comparison (string) off changes_away_from (string) off = false (1ms)
    +159ms	║║Condition #6 evaluated false (7ms)
    +160ms	║║Condition group #4 evaluated false (state did not change) (21ms)
    +163ms	║║Cancelling statement #7's schedules...
    +174ms	║║Executed virtual command [Echo - Living Room Echo, Echo - Master Bath Echo, Echo - Master Bedroom Echo, Echo - Small Bedroom Echo Dot].setVariable (1ms)
    +185ms	║║Calculating (integer) 3 - (integer) 1 >> (integer) 2
    +189ms	║║Executed virtual command [Echo - Living Room Echo, Echo - Master Bath Echo, Echo - Master Bedroom Echo, Echo - Small Bedroom Echo Dot].setVariable (2ms)
    +374ms	║║Executed physical command [Echo - Living Room Echo].setVolumeSpeakAndRestore([30, Video Cameras Are on and Police have been notified]) (174ms)
    +375ms	║║Executed [Echo - Living Room Echo].setVolumeSpeakAndRestore (177ms)
    +489ms	║║Executed physical command [Echo - Master Bath Echo].setVolumeSpeakAndRestore([30, Video Cameras Are on and Police have been notified]) (110ms)
    +491ms	║║Executed [Echo - Master Bath Echo].setVolumeSpeakAndRestore (113ms)
    +601ms	║║Executed physical command [Echo - Master Bedroom Echo].setVolumeSpeakAndRestore([30, Video Cameras Are on and Police have been notified]) (103ms)
    +603ms	║║Executed [Echo - Master Bedroom Echo].setVolumeSpeakAndRestore (107ms)
    +701ms	║║Executed physical command [Echo - Small Bedroom Echo Dot].setVolumeSpeakAndRestore([30, Video Cameras Are on and Police have been notified]) (92ms)
    +702ms	║║Executed [Echo - Small Bedroom Echo Dot].setVolumeSpeakAndRestore (95ms)
    +709ms	║║Executed virtual command [Echo - Living Room Echo, Echo - Master Bath Echo, Echo - Master Bedroom Echo, Echo - Small Bedroom Echo Dot].wait (0ms)
    +710ms	║║Requesting a wake up for Fri, Apr 12 2019 @ 7:39:00 AM EDT (in 15.0s)
    +717ms	║╚Execution stage complete. (597ms)
    +719ms	║Setting up scheduled job for Fri, Apr 12 2019 @ 7:39:00 AM EDT (in 14.993s)
    +728ms	╚Event processed successfully (727ms)
    4/12/2019, 7:38:30 AM +342ms
    +1ms	╔Received event [Desk Chair].contact = open with a delay of 810ms
    +89ms	║RunTime Analysis CS > 16ms > PS > 37ms > PE > 36ms > CE
    +91ms	║Runtime (43144 bytes) successfully initialized in 37ms (v0.3.10a.20190223) (89ms)
    +93ms	║╔Execution stage started
    +106ms	║║Comparison (boolean) false is (boolean) true = false (2ms)
    +108ms	║║Condition #13 evaluated false (9ms)
    +117ms	║║Comparison (string) off is (string) off = true (2ms)
    +119ms	║║Condition #15 evaluated true (9ms)
    +125ms	║║Comparison (enum) open changes_to (string) open = true (1ms)
    +127ms	║║Cancelling condition #16's schedules...
    +128ms	║║Condition #16 evaluated true (8ms)
    +130ms	║║Cancelling condition #14's schedules...
    +131ms	║║Condition group #14 evaluated true (state changed) (21ms)
    +132ms	║║Cancelling condition #1's schedules...
    +133ms	║║Condition group #1 evaluated true (state changed) (35ms)
    +138ms	║║Cancelling statement #7's schedules...
    +147ms	║║Executed virtual command [Echo - Living Room Echo, Echo - Master Bath Echo, Echo - Master Bedroom Echo, Echo - Small Bedroom Echo Dot].setVariable (1ms)
    +158ms	║║Calculating (integer) 3 - (integer) 1 >> (integer) 2
    +162ms	║║Executed virtual command [Echo - Living Room Echo, Echo - Master Bath Echo, Echo - Master Bedroom Echo, Echo - Small Bedroom Echo Dot].setVariable (1ms)
    +417ms	║║Executed physical command [Echo - Living Room Echo].setVolumeSpeakAndRestore([30, Video Cameras Are on and Police have been notified]) (244ms)
    +418ms	║║Executed [Echo - Living Room Echo].setVolumeSpeakAndRestore (248ms)
    +519ms	║║Executed physical command [Echo - Master Bath Echo].setVolumeSpeakAndRestore([30, Video Cameras Are on and Police have been notified]) (96ms)
    +521ms	║║Executed [Echo - Master Bath Echo].setVolumeSpeakAndRestore (98ms)
    +614ms	║║Executed physical command [Echo - Master Bedroom Echo].setVolumeSpeakAndRestore([30, Video Cameras Are on and Police have been notified]) (87ms)
    +615ms	║║Executed [Echo - Master Bedroom Echo].setVolumeSpeakAndRestore (91ms)
    +702ms	║║Executed physical command [Echo - Small Bedroom Echo Dot].setVolumeSpeakAndRestore([30, Video Cameras Are on and Police have been notified]) (82ms)
    +703ms	║║Executed [Echo - Small Bedroom Echo Dot].setVolumeSpeakAndRestore (84ms)
    +709ms	║║Executed virtual command [Echo - Living Room Echo, Echo - Master Bath Echo, Echo - Master Bedroom Echo, Echo - Small Bedroom Echo Dot].wait (1ms)
    +711ms	║║Requesting a wake up for Fri, Apr 12 2019 @ 7:38:46 AM EDT (in 15.0s)
    +718ms	║╚Execution stage complete. (625ms)
    +719ms	║Setting up scheduled job for Fri, Apr 12 2019 @ 7:38:46 AM EDT (in 14.993s)
    +729ms	╚Event processed successfully (728ms)