1) Give a description of the problem
Trying to get a Leviton VRCS4 Scene controller working with a very basic piston and is not working.
2) What is the expected behavior?
Hit button 1 - turn on light, set a variable, hit button 1 a second time and turn off light, change variable
3) What is happening/not happening?
Doesn't work at all?
4) Post a Green Snapshot of the piston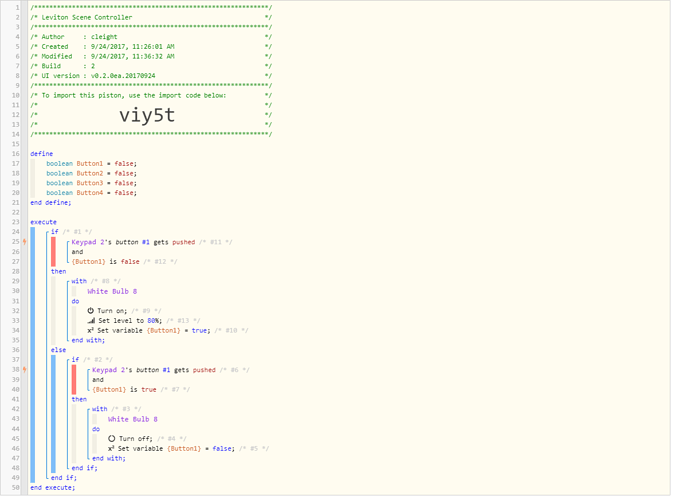 `
5) Attach any logs (From ST IDE and by turning logging level to Full)
`9/24/2017, 11:40:32 AM +132ms
+2ms ╔Received event [Home].execute = 174.49.158.145 with a delay of 90ms
+189ms ║RunTime Analysis CS > 25ms > PS > 105ms > PE > 60ms > CE
+291ms ║Runtime (39749 bytes) successfully initialized in 105ms (v0.2.0e9.20170921) (287ms)
+292ms ║╔Execution stage started
+321ms ║║Condition #11 evaluated false (15ms)
+322ms ║║Condition group #1 evaluated false (state did not change) (17ms)
+338ms ║║Condition #6 evaluated false (10ms)
+340ms ║║Condition group #2 evaluated false (state did not change) (13ms)
+346ms ║╚Execution stage complete. (53ms)
+355ms ╚Event processed successfully (355ms)
9/24/2017, 11:38:31 AM +230ms
+1ms ╔Received event [Nursery Keypad].button = default with a delay of 771ms
+157ms ║RunTime Analysis CS > 27ms > PS > 78ms > PE > 52ms > CE
+167ms ║Runtime (39751 bytes) successfully initialized in 78ms (v0.2.0e9.20170921) (164ms)
+168ms ║╔Execution stage started
+187ms ║║Comparison (enum) default gets (string) pushed = false (2ms)
+190ms ║║Condition #11 evaluated false (10ms)
+191ms ║║Condition group #1 evaluated false (state did not change) (12ms)
+203ms ║║Comparison (enum) default gets (string) pushed = false (1ms)
+206ms ║║Condition #6 evaluated false (9ms)
+207ms ║║Condition group #2 evaluated false (state did not change) (12ms)
+212ms ║╚Execution stage complete. (45ms)
+222ms ╚Event processed successfully (222ms)