1) Give a description of the problem
So I have noticed if I use the add hours command in an expression and it sets the time after midnight it doesn't work properly. Ex) add 3 hours to 10:00pm it should be 1:00am, but it does 12:00am. The rest of my piston then thinks it means 12:00am of the current day, and sets off the notification reminder.
2) What is the expected behaviour?
Press button, set a variable timer for 3 hours from now. Once current time surpasses the 3 hour variable, it triggers a notification to take the dog out.
Works great except when button is pressed after 9pm, then it triggers the reminder immediately upon pressing it.
3) What is happening/not happening?
If time is after 9pm and button is pressed it sets a time for midnight, and then notifies saying take the dog out because it thinks it means midnight of the current day (only sees time not date).
**4) Post a Green Snapshot of the piston!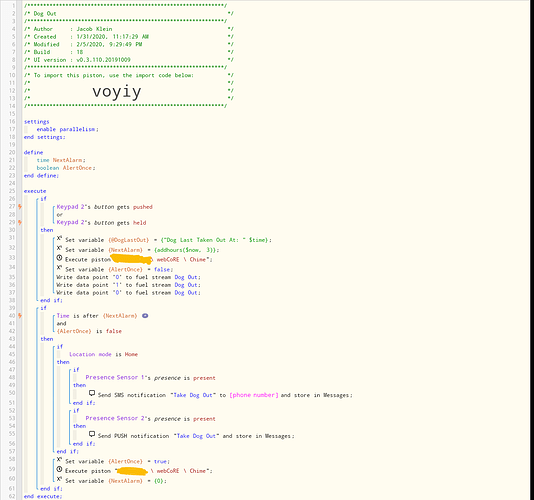 5) Attach logs after turning logging level to Full
Sorry didn't have a chance to record logs. Can upon request