1) Give a description of the problem
I have a studio. I have to walk through my "furnace room" (basement, but the furnace is in it!) to get to it. The furnace has a zwave light switch for the light, my studio has a zwave light switch for the light. I also have a motion detector in the Studio facing the window.
I have a Piston (below) for security: If the Studio's light switch is off, and the motion detector sees motion, and the furnace room light switch is off, then: Turn on the studio light for 2 minutes, and turn on the furnace room light for 2 minutes, and text my phone Studio Motion. This will let me know of either a break-in, or that I locked the cat in the studio!
I ALSO have TWO SmartThings New App automations: If the furnace light switch is turned on, then turn on the Studio Light. If the furnace light switch is turned off, then turn off the Studio light. That way I don't have to reach for the Studio switch - it's a bit tough to get to.
2) What is the expected behaviour?
The studio light stays off when the furnace light is turned off, unless there's motion in the studio when both switches are off.
3) What is happening/not happening?
The problem I'm having is that I'll be working in the studio and leave, I'll turn off the furnace room light, the Studio light will turn off… And then turn back on after a few seconds… And stay on.
**4) Post a Green Snapshot of the piston!!
Can't post a piston for the SmartThings automations.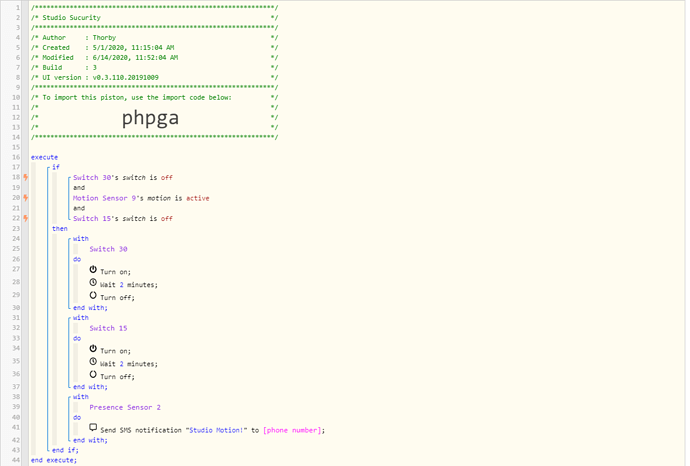 5) Attach logs after turning logging level to Full
I don't think logs for the motion part are needed (but I'll certainly post if someone wants) I think that the webCoRE and SmartThings pistons are interfering with each other, and I'd like to make both Webcore - but I could use some guidance on how.