1) Give a description of the problem
Lights are changing status when they should be staying the same when already on.
2) What is the expected behavior?
When my door unlocks i would like a few lights to turn on. If they are already on I would like them to keep the same status and not change or turn off.
3) What is happening/not happening?
Lights are turning on and turning off but the lights that are aready on are also turning off.
I did see this post to cancel the timer but then i run in to the issue of the lights not turning off.

**4) Post a Green Snapshot of the piston![image|45x37]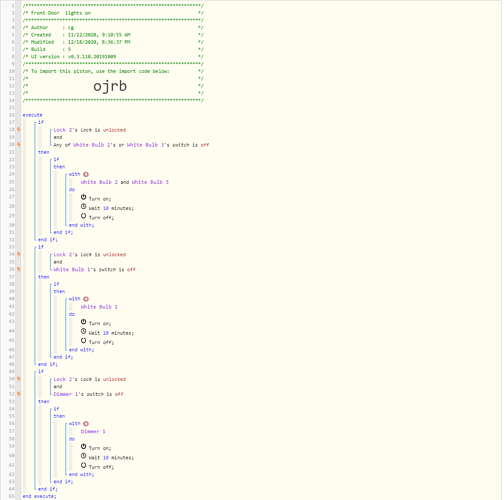 5) Attach logs after turning logging level to Full
12/30/2020, 6:10:14 PM +752ms
+1ms ╔Received event [Living Room Switch].switch = off with a delay of 53ms
+61ms ║RunTime Analysis CS > 14ms > PS > 3ms > PE > 44ms > CE
+63ms ║Runtime (40342 bytes) successfully initialized in 3ms (v0.3.110.20191009) (61ms)
+64ms ║╔Execution stage started
+76ms ║║Comparison (enum) locked is (string) unlocked = false (1ms)
+77ms ║║Condition #7 evaluated false (9ms)
+78ms ║║Condition group #6 evaluated false (state did not change) (10ms)
+87ms ║║Comparison (enum) locked is (string) unlocked = false (1ms)
+88ms ║║Condition #16 evaluated false (8ms)
+89ms ║║Condition group #15 evaluated false (state did not change) (9ms)
+98ms ║║Comparison (enum) locked is (string) unlocked = false (1ms)
+99ms ║║Condition #24 evaluated false (8ms)
+100ms ║║Condition group #23 evaluated false (state did not change) (8ms)
+101ms ║╚Execution stage complete. (37ms)
+102ms ╚Event processed successfully (102ms)
12/30/2020, 6:02:14 PM +485ms
+2ms ╔Received event [Living Room Switch].switch = on with a delay of 69ms
+76ms ║RunTime Analysis CS > 17ms > PS > 5ms > PE > 54ms > CE
+79ms ║Runtime (40341 bytes) successfully initialized in 5ms (v0.3.110.20191009) (77ms)
+80ms ║╔Execution stage started
+94ms ║║Comparison (enum) locked is (string) unlocked = false (1ms)
+95ms ║║Condition #7 evaluated false (12ms)
+96ms ║║Condition group #6 evaluated false (state did not change) (13ms)
+105ms ║║Comparison (enum) locked is (string) unlocked = false (1ms)
+107ms ║║Condition #16 evaluated false (8ms)
+107ms ║║Condition group #15 evaluated false (state did not change) (9ms)
+117ms ║║Comparison (enum) locked is (string) unlocked = false (2ms)
+118ms ║║Condition #24 evaluated false (8ms)
+119ms ║║Condition group #23 evaluated false (state did not change) (10ms)
+121ms ║╚Execution stage complete. (42ms)
+122ms ╚Event processed successfully (122ms)