1) Give a description of the problem
I like using Life360 for my presence sensor but sometimes it screws up and becomes desynced (shows away when I'm home).
2) What is the expected behaviour?
I would like to have a flow that compares both the Life 360 presence to the Smartthings presence sensor for my phone and if one says away and the other says present that if notifies me that corrective action needs to be taken. I would like this to only happen if the presence devices are desynced for more than 5 minutes to avoid erroneous notifications when there's a slight delay. I'm not sure how to add the 5 minute condition.
3) What is happening/not happening?
If the locations don't update at the exact same time I get an SMS.
**4) Post a Green Snapshot of the piston.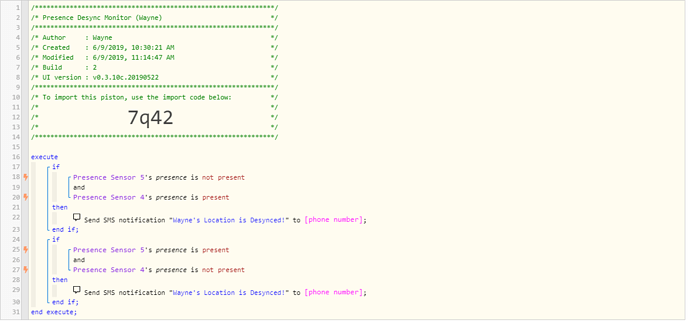 5) Attach logs after turning logging level to Full
N/A