1) Give a description of the problem
I have a 'goodnight' routine which I use via Alexa. Basically by saying 'Alexa, bed time' it toggles a virtual switch (Momentary Button Tile DTH) which should turn off all of the lights, set the location mode to 'sleep' and finally arm my Blink camera.
What seems to be happening is that the toggling of the button is 'too quick' for WebCore, so when it comes to doing the comparison part - it returns false. I then have to say the phrase again, which eventually gets it to work.
2) What is the expected behavior?
Essentially, when toggled for the first time - it should do all of the above.
3) What is happening/not happening?
Alexa responds with my correct response that I've set, but the webcore piston fails to do it's bit.
4) Post a Green Snapshot of the piston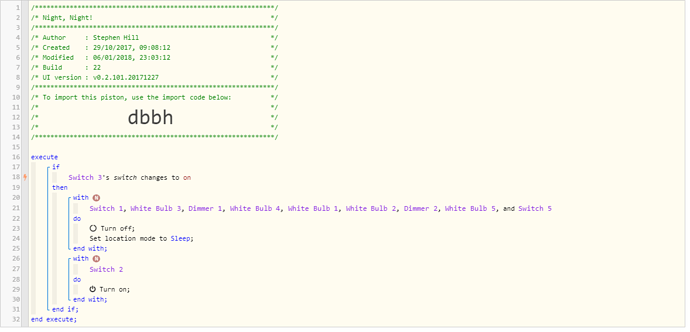 5) Attach any logs (From ST IDE and by turning logging level to Full)
First Alexa call (FAIL):
+1ms	╔Received event [Night, Night!].switch = off with a delay of 75ms
+111ms	║RunTime Analysis CS > 19ms > PS > 21ms > PE > 70ms > CE
+113ms	║Runtime (38117 bytes) successfully initialized in 21ms (v0.2.101.20171227) (111ms)
+114ms	║╔Execution stage started
+121ms	║║Comparison (enum) off changes_to (string) on = false (0ms)
+122ms	║║Condition #5 evaluated false (4ms)
+123ms	║║Condition group #1 evaluated false (state did not change) (5ms)
+125ms	║╚Execution stage complete. (11ms)
+126ms	╚Event processed successfully (126ms)

Second Alexa call (SUCCESS):
|+0ms|╔Received event [Night, Night!].switch = on with a delay of 74ms|
|---|---|
|+97ms|║RunTime Analysis CS > 13ms > PS > 21ms > PE > 63ms > CE|
|+99ms|║Runtime (38118 bytes) successfully initialized in 21ms (v0.2.101.20171227) (98ms)|
|+100ms|║╔Execution stage started|
|+106ms|║║Comparison (enum) on changes_to (string) on = true (0ms)|
|+107ms|║║Cancelling condition #5's schedules...|
|+108ms|║║Condition #5 evaluated true (4ms)|
|+109ms|║║Cancelling condition #1's schedules...|
|+109ms|║║Condition group #1 evaluated true (state changed) (6ms)|
|+111ms|║║Cancelling statement #2's schedules...|
|+538ms|║║Executed physical command [Bed].off() (423ms)|
|+539ms|║║Executed [Bed].off (425ms)|
|+544ms|║║Skipped execution of physical command [Bedroom Light].off([]) because it would make no change to the device. (3ms)|
|+545ms|║║Executed [Bedroom Light].off (4ms)|
|+550ms|║║Skipped execution of physical command [Corner Lamp].off([]) because it would make no change to the device. (3ms)|
|+550ms|║║Executed [Corner Lamp].off (4ms)|
|+584ms|║║Executed physical command [Hall Light].off() (31ms)|
|+584ms|║║Executed [Hall Light].off (33ms)|
|+1773ms|║║Executed physical command [Outside Lights].off() (1187ms)|
|+1774ms|║║Executed [Outside Lights].off (1188ms)|
|+1801ms|║║Executed physical command [Porch Light].off() (25ms)|
|+1802ms|║║Executed [Porch Light].off (26ms)|
|+1808ms|║║Skipped execution of physical command [Sofa Lamp].off([]) because it would make no change to the device. (3ms)|
|+1808ms|║║Executed [Sofa Lamp].off (5ms)|
|+1813ms|║║Skipped execution of physical command [TV Backlight].off([]) because it would make no change to the device. (3ms)|
|+1814ms|║║Executed [TV Backlight].off (5ms)|
|+1818ms|║║Skipped execution of physical command [Watch TV [Harmony Activity]].off([]) because it would make no change to the device. (3ms)|
|+1819ms|║║Executed [Watch TV [Harmony Activity]].off (4ms)|
|+1865ms|║║Executed virtual command [Bed, Bedroom Light, Corner Lamp, Hall Light, Outside Lights, Porch Light, Sofa Lamp, TV Backlight, Watch TV [Harmony Activity]].setLocationMode (44ms)|
|+1867ms|║║Cancelling statement #6's schedules...|
|+2207ms|║║Executed physical command [null].on() (338ms)|
|+2208ms|║║Executed [Blink].on (339ms)|
|+2210ms|║╚Execution stage complete. (2111ms)|
|+2211ms|╚Event processed successfully (2211ms)|