1) Give a description of the problem
using a smart outlet to turn a light on then off again after 5min without motion
2) What is the expected behaviour?
detect motion, turn on light, start 5min timer, reset timer when it detects motion, else turn off the light.
3) What is happening/not happening?
the timer isn't resetting, once the light comes on it turns off in 5mins regardless of new motion.
4) Post a Green Snapshot of the piston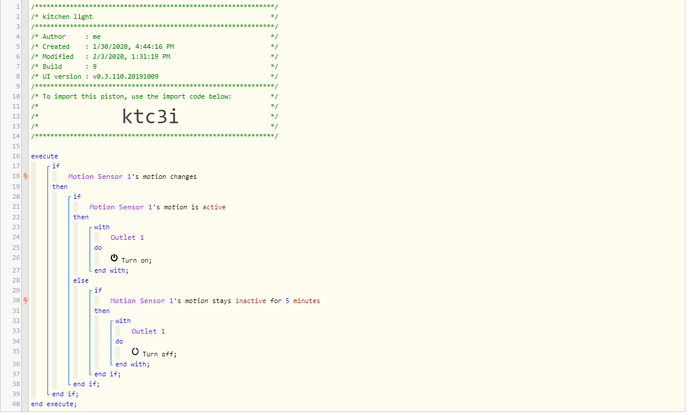 5) Attach logs after turning logging level to Full
2/3/2020, 1:49:30 PM +52ms
+1ms ╔Received event [Home].time = 1580766570783 with a delay of -731ms
+142ms ║RunTime Analysis CS > 42ms > PS > 53ms > PE > 47ms > CE
+144ms ║Runtime (38043 bytes) successfully initialized in 53ms (v0.3.110.20191009) (142ms)
+145ms ║╔Execution stage started
+159ms ║║Cancelling condition #6's schedules…
+160ms ║║Condition #6 evaluated true (1ms)
+161ms ║║Cancelling condition #5's schedules…
+162ms ║║Condition group #5 evaluated true (state changed) (5ms)
+165ms ║║Cancelling statement #7's schedules…
+180ms ║║Executed physical command [Kitchen Outlet].off() (11ms)
+182ms ║║Executed [Kitchen Outlet].off (13ms)
+185ms ║╚Execution stage complete. (40ms)
+186ms ╚Event processed successfully (186ms)
2/3/2020, 1:45:48 PM +66ms
+1ms ╔Received event [Motion Sensor].motion = inactive with a delay of 106ms
+80ms ║RunTime Analysis CS > 16ms > PS > 36ms > PE > 29ms > CE
+83ms ║Runtime (38043 bytes) successfully initialized in 36ms (v0.3.110.20191009) (81ms)
+84ms ║╔Execution stage started
+90ms ║║Comparison (enum) inactive changes = true (0ms)
+91ms ║║Condition #2 evaluated true (4ms)
+92ms ║║Condition group #1 evaluated true (state did not change) (4ms)
+97ms ║║Comparison (enum) inactive is (string) active = false (1ms)
+98ms ║║Cancelling condition #4's schedules…
+99ms ║║Condition #4 evaluated false (5ms)
+100ms ║║Cancelling condition #3's schedules…
+101ms ║║Condition group #3 evaluated false (state changed) (8ms)
+107ms ║║Comparison (enum) inactive stays (string) inactive = true (1ms)
+109ms ║║Condition #6 evaluated false (6ms)
+110ms ║║Condition group #5 evaluated false (state did not change) (7ms)
+113ms ║╚Execution stage complete. (30ms)
+115ms ║Setting up scheduled job for Mon, Feb 3 2020 @ 1:49:30 PM PST (in 222.603s)
+126ms ╚Event processed successfully (125ms)
2/3/2020, 1:45:21 PM +278ms
+1ms ╔Received event [Motion Sensor].motion = active with a delay of 100ms
+94ms ║RunTime Analysis CS > 27ms > PS > 36ms > PE > 32ms > CE
+97ms ║Runtime (38045 bytes) successfully initialized in 36ms (v0.3.110.20191009) (95ms)
+97ms ║╔Execution stage started
+104ms ║║Comparison (enum) active changes = true (1ms)
+105ms ║║Condition #2 evaluated true (3ms)
+106ms ║║Condition group #1 evaluated true (state did not change) (5ms)
+112ms ║║Comparison (enum) active is (string) active = true (2ms)
+113ms ║║Cancelling condition #4's schedules…
+114ms ║║Condition #4 evaluated true (6ms)
+115ms ║║Cancelling condition #3's schedules…
+116ms ║║Condition group #3 evaluated true (state changed) (8ms)
+118ms ║║Cancelling statement #9's schedules…
+131ms ║║Skipped execution of physical command [Kitchen Outlet].on([]) because it would make no change to the device. (10ms)
+132ms ║║Executed [Kitchen Outlet].on (11ms)
+135ms ║╚Execution stage complete. (38ms)
+136ms ║Setting up scheduled job for Mon, Feb 3 2020 @ 1:49:30 PM PST (in 249.369s)
+146ms ╚Event processed successfully (147ms)
2/3/2020, 1:44:30 PM +665ms
+1ms ╔Received event [Motion Sensor].motion = inactive with a delay of 106ms
+85ms ║RunTime Analysis CS > 17ms > PS > 37ms > PE > 31ms > CE
+88ms ║Runtime (38041 bytes) successfully initialized in 37ms (v0.3.110.20191009) (86ms)
+89ms ║╔Execution stage started
+96ms ║║Comparison (enum) inactive changes = true (0ms)
+97ms ║║Condition #2 evaluated true (4ms)
+98ms ║║Condition group #1 evaluated true (state did not change) (5ms)
+104ms ║║Comparison (enum) inactive is (string) active = false (1ms)
+106ms ║║Cancelling condition #4's schedules…
+107ms ║║Condition #4 evaluated false (6ms)
+108ms ║║Cancelling condition #3's schedules…
+108ms ║║Condition group #3 evaluated false (state changed) (8ms)
+115ms ║║Comparison (enum) inactive stays (string) inactive = true (2ms)
+117ms ║║Adding a timed trigger schedule for condition 6
+119ms ║║Cancelling condition #6's schedules…
+120ms ║║Condition #6 evaluated false (9ms)
+121ms ║║Cancelling condition #5's schedules…
+122ms ║║Condition group #5 evaluated false (state changed) (12ms)
+125ms ║╚Execution stage complete. (36ms)
+127ms ║Setting up scheduled job for Mon, Feb 3 2020 @ 1:49:30 PM PST (in 299.992s)
+135ms ╚Event processed successfully (135ms)
2/3/2020, 1:44:17 PM +700ms
+1ms ╔Received event [Motion Sensor].motion = active with a delay of 107ms
+86ms ║RunTime Analysis CS > 17ms > PS > 36ms > PE > 33ms > CE
+88ms ║Runtime (38043 bytes) successfully initialized in 36ms (v0.3.110.20191009) (87ms)
+89ms ║╔Execution stage started
+95ms ║║Comparison (enum) active changes = true (1ms)
+96ms ║║Condition #2 evaluated true (3ms)
+97ms ║║Condition group #1 evaluated true (state did not change) (4ms)
+103ms ║║Comparison (enum) active is (string) active = true (1ms)
+104ms ║║Cancelling condition #4's schedules…
+105ms ║║Condition #4 evaluated true (6ms)
+106ms ║║Cancelling condition #3's schedules…
+107ms ║║Condition group #3 evaluated true (state changed) (8ms)
+110ms ║║Cancelling statement #9's schedules…
+128ms ║║Executed physical command [Kitchen Outlet].on() (14ms)
+129ms ║║Executed [Kitchen Outlet].on (16ms)
+131ms ║╚Execution stage complete. (42ms)
+132ms ╚Event processed successfully (132ms)