1) Give a description of the problem
Need a wait period, not sure where to put it.
2) What is the expected behaviour?
Ideally, Echo reports motion, then there is a cool off period of 2 minutes before Motion is reported again.
3) What is happening/not happening?
As it is, motion is reported every time Motion Sensor is activated. It's in my garage. Our freezer is behind the Sensor's location, so I get multiple reports when 1 is enough.
4) Post a Green Snapshot of the piston![image|45x37]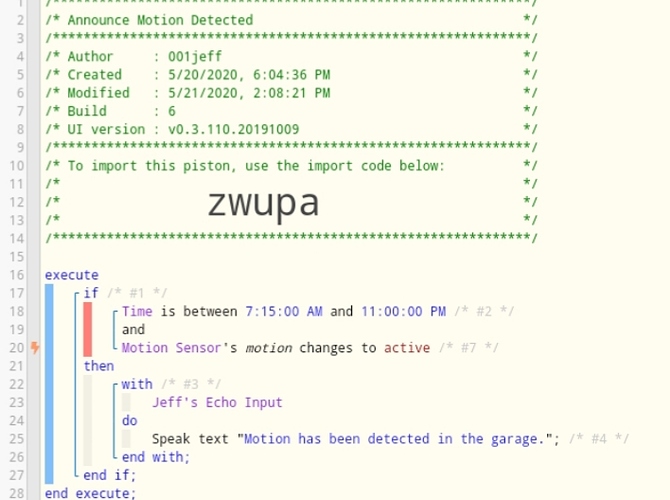 5) Attach logs after turning logging level to Full
5/21/2020, 5:01:17 PM +515ms
+0ms ╔Received event [227].test = 1590094877514 with a delay of 1ms
+69ms ║RunTime Analysis CS > 21ms > PS > 27ms > PE > 20ms > CE
+71ms ║Runtime (37332 bytes) successfully initialized in 27ms (v0.3.110.20191009) (70ms)
+72ms ║╔Execution stage started
+86ms ║║Comparison (time) 61277591 is_between (time) 26100000 … (time) 82800000 = true (8ms)
+88ms ║║Time restriction check passed
+89ms ║║Condition #2 evaluated true (13ms)
+96ms ║║Condition #7 evaluated false (6ms)
+97ms ║║Condition group #1 evaluated false (state did not change) (21ms)
+101ms ║╚Execution stage complete. (30ms)
+102ms ╚Event processed successfull