1) Give a description of the problem
This was going fine before the Christmas break, and then I paused it for the school holidays. When I reinstated it in January with no changes, it suddenly stopped working. I have the notice about it not subscribing to any events, but below I see the lightning bolts? When I open up the trigger dialog for "time happens daily at" it is clearly listed as a trigger and not a condition. Why isnt this working anymore?
2) What is the expected behavior?
Announce how long the kids have before they have to leave for school. Countdown at wakeup, T-15 min, T-5 min, Time to go. Was working fine.
3) What is happening/not happening?
Nothing triggering
4) Post a Green Snapshot of the piston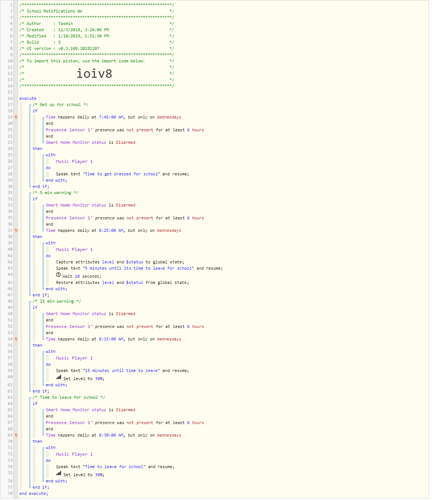 5) Attach any logs (From ST IDE and by turning logging level to Full)
Piston state: false
Last executed: 12/21/2018, 8:29:59 AM
Next scheduled: 1/11/2019, 7:45:00 AM
Subscriptions: no events, 1 control
Devices used: 1
Memory used: 15% (14743 bytes)