1.a) Background
Consider myself fairly intelligent but finding very little beginner help available. I have been playing with this for about a week, but cannot get over that initial hump that non-programmer types will have.
1.b) Give a description of the problem
Cannot get a very basic piston to work.
What is the expected behavior?
Front floodlight switch to turn on my barn floodlight switch (virtual 3-way)

What is happening/not happening?**
nothing
4)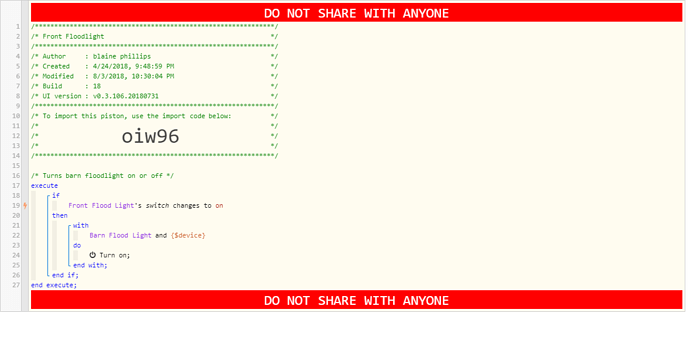 Attach any log
|+1ms|╔Received event [Home].test = 1533357029033 with a delay of 0ms|
|—|---|
|+81ms|║RunTime Analysis CS > 11ms > PS > 47ms > PE > 23ms > CE|
|+83ms|║Runtime (37162 bytes) successfully initialized in 47ms (v0.3.106.20180731) (81ms)|
|+84ms|║╔Execution stage started|
|+98ms|║║Condition

#10

evaluated false (8ms)|
|+99ms|║║Condition group

#1

evaluated false (state did not change) (10ms)|
|+102ms|║╚Execution stage complete. (17ms)|
|+103ms|╚Event processed successfully (103ms)|