1) Give a description of the problem
Trying to figure out how to control my NuHeat thermostat through WebCore. I am using the Device Handler created by Eric in 2016 (NuHeat Signature Thermostat, https://github.com/ericvitale/ST-NuHeat-Signature-Thermostat).
2) What is the expected behaviour?
I want to change the setpoint based on day and time, and whether or not we are home
3) What is happening/not happening?
I have tried "Set heating point" and "setTemp" but it does not have the desired effect.
4) Post a Green Snapshot of the piston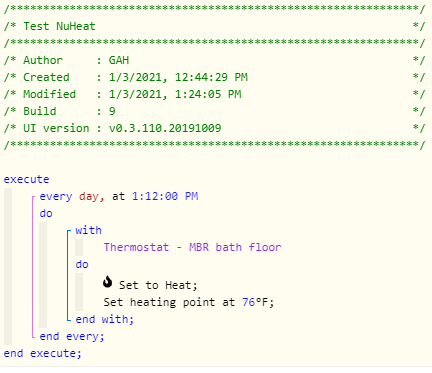 5) Attach logs after turning logging level to Full
(PASTE YOUR LOGS HERE THEN HIGHLIGHT ALL OF THE LOGS AND CLICK ON THE </> ICON TO FORMAT THEM CORRECTLY)