Give a description of the problem
When i'm in my office and my location is set to "work", if the motion sensor temperature is greater than 73 in the summer months (lower than 69 in the winter months) then lower the set point of the thermostat, wait 15 min, and continue to do this until the temperature is correct.
My trouble is that i can't figure out how to not have it continue to trigger every time i move. It starts just fine, it triggers the lower temp, and then starts to wait. then i move, and it starts again and lowers the temp…continually. how do i get it to wait and not continue to trigger on movement?
2) What is the expected behaviour?
Waits until 15 min, then checks again before lowering the temp set.
3) What is happening/not happening?
continually triggers based on movement, continually decrementing the temperature set (went to 55 before i noticed it the first time!)
**4) Post a Green Snapshot of the piston!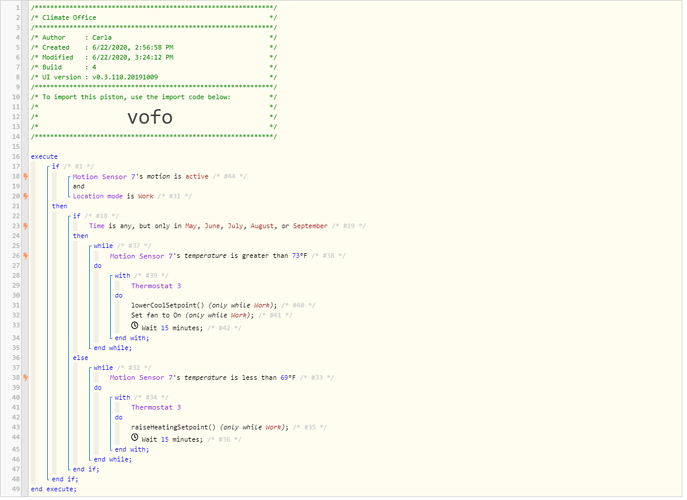 5) Attach logs after turning logging level to Full
6/22/2020, 7:42:15 PM +798ms
+1ms ╔Received event [Motion Office].temperature = 79.0 with a delay of 62ms
+67ms ║RunTime Analysis CS > 20ms > PS > 27ms > PE > 20ms > CE
+70ms ║Runtime (39081 bytes) successfully initialized in 27ms (v0.3.110.20191009) (68ms)
+71ms ║╔Execution stage started
+81ms ║║Comparison (enum) active is (string) active = true (1ms)
+83ms ║║Condition #44 evaluated true (8ms)
+87ms ║║Comparison (string) :e70b739fadc289f4c5a51fd48521624f: is (string) :e70b739fadc289f4c5a51fd48521624f: = true (2ms)
+88ms ║║Condition #31 evaluated true (4ms)
+89ms ║║Condition group #1 evaluated true (state did not change) (15ms)
+93ms ║║Comparison (time) 70935890 is_any = true (0ms)
+94ms ║║Time restriction check passed
+96ms ║║Condition #19 evaluated true (5ms)
+97ms ║║Cancelling statement #19's schedules...
+98ms ║║Condition group #18 evaluated true (state did not change) (7ms)
+104ms ║║Comparison (decimal) 79.0 is_greater_than (integer) 73 = true (2ms)
+106ms ║║Condition #38 evaluated true (5ms)
+107ms ║║Condition group #37 evaluated true (state did not change) (7ms)
+109ms ║║Cancelling statement #39's schedules...
+292ms ║║Executed physical command [Thermostat Upstairs].lowerCoolSetpoint() (179ms)
+293ms ║║Executed [Thermostat Upstairs].lowerCoolSetpoint (181ms)
+301ms ║║Skipped execution of physical command [Thermostat Upstairs].fanOn([]) because it would make no change to the device. (6ms)
+302ms ║║Executed [Thermostat Upstairs].fanOn (7ms)
+306ms ║║Executed virtual command [Thermostat Upstairs].wait (0ms)
+307ms ║║Requesting a wake up for Mon, Jun 22 2020 @ 7:57:16 PM EDT (in 900.0s)
+315ms ║╚Execution stage complete. (245ms)
+317ms ║Setting up scheduled job for Mon, Jun 22 2020 @ 7:57:16 PM EDT (in 899.992s)
+336ms ╚Event processed successfully (336ms)
6/22/2020, 7:41:43 PM +377ms
+1ms ╔Received event [Motion Office].temperature = 78.8 with a delay of 60ms
+61ms ║RunTime Analysis CS > 19ms > PS > 24ms > PE > 18ms > CE
+63ms ║Runtime (39081 bytes) successfully initialized in 24ms (v0.3.110.20191009) (61ms)
+64ms ║╔Execution stage started
+74ms ║║Comparison (enum) active is (string) active = true (1ms)
+76ms ║║Condition #44 evaluated true (8ms)
+79ms ║║Comparison (string) :e70b739fadc289f4c5a51fd48521624f: is (string) :e70b739fadc289f4c5a51fd48521624f: = true (1ms)
+81ms ║║Condition #31 evaluated true (4ms)
+82ms ║║Condition group #1 evaluated true (state did not change) (14ms)
+85ms ║║Comparison (time) 70903461 is_any = true (0ms)
+87ms ║║Time restriction check passed
+88ms ║║Condition #19 evaluated true (3ms)
+89ms ║║Cancelling statement #19's schedules...
+90ms ║║Condition group #18 evaluated true (state did not change) (6ms)
+95ms ║║Comparison (decimal) 78.8 is_greater_than (integer) 73 = true (1ms)
+97ms ║║Condition #38 evaluated true (5ms)
+98ms ║║Condition group #37 evaluated true (state did not change) (7ms)
+100ms ║║Cancelling statement #39's schedules...
+187ms ║║Executed physical command [Thermostat Upstairs].lowerCoolSetpoint() (83ms)
+188ms ║║Executed [Thermostat Upstairs].lowerCoolSetpoint (85ms)
+196ms ║║Skipped execution of physical command [Thermostat Upstairs].fanOn([]) because it would make no change to the device. (6ms)
+197ms ║║Executed [Thermostat Upstairs].fanOn (7ms)
+200ms ║║Executed virtual command [Thermostat Upstairs].wait (1ms)
+201ms ║║Requesting a wake up for Mon, Jun 22 2020 @ 7:56:43 PM EDT (in 900.0s)
+206ms ║╚Execution stage complete. (142ms)
+207ms ║Setting up scheduled job for Mon, Jun 22 2020 @ 7:56:43 PM EDT (in 899.995s)
+218ms ╚Event processed successfully (218ms)
6/22/2020, 7:41:31 PM +786ms
+1ms ╔Received event [Motion Office].temperature = 78.9 with a delay of 68ms
+95ms ║RunTime Analysis CS > 33ms > PS > 41ms > PE > 21ms > CE
+97ms ║Runtime (39081 bytes) successfully initialized in 41ms (v0.3.110.20191009) (95ms)
+98ms ║╔Execution stage started
+109ms ║║Comparison (enum) active is (string) active = true (1ms)
+111ms ║║Condition #44 evaluated true (9ms)
+115ms ║║Comparison (string) :e70b739fadc289f4c5a51fd48521624f: is (string) :e70b739fadc289f4c5a51fd48521624f: = true (2ms)
+116ms ║║Condition #31 evaluated true (4ms)
+117ms ║║Condition group #1 evaluated true (state did not change) (15ms)
+121ms ║║Comparison (time) 70891906 is_any = true (0ms)
+123ms ║║Time restriction check passed
+124ms ║║Condition #19 evaluated true (5ms)
+125ms ║║Cancelling statement #19's schedules...
+126ms ║║Condition group #18 evaluated true (state did not change) (7ms)
+133ms ║║Comparison (decimal) 78.9 is_greater_than (integer) 73 = true (1ms)
+134ms ║║Condition #38 evaluated true (5ms)
+135ms ║║Condition group #37 evaluated true (state did not change) (7ms)
+138ms ║║Cancelling statement #39's schedules...
+419ms ║║Executed physical command [Thermostat Upstairs].lowerCoolSetpoint() (277ms)
+420ms ║║Executed [Thermostat Upstairs].lowerCoolSetpoint (279ms)
+429ms ║║Skipped execution of physical command [Thermostat Upstairs].fanOn([]) because it would make no change to the device. (6ms)
+430ms ║║Executed [Thermostat Upstairs].fanOn (8ms)
+433ms ║║Executed virtual command [Thermostat Upstairs].wait (1ms)
+435ms ║║Requesting a wake up for Mon, Jun 22 2020 @ 7:56:32 PM EDT (in 900.0s)
+440ms ║╚Execution stage complete. (342ms)
+442ms ║Setting up scheduled job for Mon, Jun 22 2020 @ 7:56:32 PM EDT (in 899.994s)
+453ms ╚Event processed successfully (453ms)
6/22/2020, 7:40:27 PM +196ms
+1ms ╔Received event [Motion Office].temperature = 78.8 with a delay of 66ms
+65ms ║RunTime Analysis CS > 20ms > PS > 28ms > PE > 17ms > CE
+67ms ║Runtime (39081 bytes) successfully initialized in 28ms (v0.3.110.20191009) (65ms)
+68ms ║╔Execution stage started
+79ms ║║Comparison (enum) active is (string) active = true (2ms)
+80ms ║║Condition #44 evaluated true (8ms)
+84ms ║║Comparison (string) :e70b739fadc289f4c5a51fd48521624f: is (string) :e70b739fadc289f4c5a51fd48521624f: = true (1ms)
+86ms ║║Condition #31 evaluated true (4ms)
+87ms ║║Condition group #1 evaluated true (state did not change) (14ms)
+91ms ║║Comparison (time) 70827285 is_any = true (0ms)
+92ms ║║Time restriction check passed
+93ms ║║Condition #19 evaluated true (4ms)
+94ms ║║Cancelling statement #19's schedules...
+95ms ║║Condition group #18 evaluated true (state did not change) (7ms)
+101ms ║║Comparison (decimal) 78.8 is_greater_than (integer) 73 = true (1ms)
+103ms ║║Condition #38 evaluated true (5ms)
+104ms ║║Condition group #37 evaluated true (state did not change) (6ms)
+106ms ║║Cancelling statement #39's schedules...
+194ms ║║Executed physical command [Thermostat Upstairs].lowerCoolSetpoint() (84ms)
+195ms ║║Executed [Thermostat Upstairs].lowerCoolSetpoint (86ms)
+203ms ║║Skipped execution of physical command [Thermostat Upstairs].fanOn([]) because it would make no change to the device. (6ms)
+204ms ║║Executed [Thermostat Upstairs].fanOn (7ms)
+208ms ║║Executed virtual command [Thermostat Upstairs].wait (0ms)
+209ms ║║Requesting a wake up for Mon, Jun 22 2020 @ 7:55:27 PM EDT (in 900.0s)
+214ms ║╚Execution stage complete. (146ms)
+215ms ║Setting up scheduled job for Mon, Jun 22 2020 @ 7:55:27 PM EDT (in 899.995s)
+226ms ╚Event processed successfully (227ms)
6/22/2020, 7:39:44 PM +606ms
+2ms ╔Received event [Motion Office].motion = active with a delay of 67ms
+61ms ║RunTime Analysis CS > 19ms > PS > 26ms > PE > 15ms > CE
+63ms ║Runtime (39085 bytes) successfully initialized in 26ms (v0.3.110.20191009) (61ms)
+64ms ║╔Execution stage started
+71ms ║║Comparison (enum) active is (string) active = true (1ms)
+73ms ║║Cancelling condition #44's schedules...
+74ms ║║Condition #44 evaluated true (6ms)
+77ms ║║Comparison (string) :e70b739fadc289f4c5a51fd48521624f: is (string) :e70b739fadc289f4c5a51fd48521624f: = true (1ms)
+79ms ║║Condition #31 evaluated true (5ms)
+80ms ║║Cancelling condition #1's schedules...
+81ms ║║Condition group #1 evaluated true (state changed) (13ms)
+85ms ║║Comparison (time) 70784689 is_any = true (0ms)
+86ms ║║Time restriction check passed
+87ms ║║Condition #19 evaluated true (4ms)
+88ms ║║Cancelling statement #19's schedules...
+89ms ║║Condition group #18 evaluated true (state did not change) (7ms)
+98ms ║║Comparison (decimal) 78.7 is_greater_than (integer) 73 = true (2ms)
+100ms ║║Condition #38 evaluated true (8ms)
+101ms ║║Condition group #37 evaluated true (state did not change) (9ms)
+103ms ║║Cancelling statement #39's schedules...
+187ms ║║Executed physical command [Thermostat Upstairs].lowerCoolSetpoint() (80ms)
+188ms ║║Executed [Thermostat Upstairs].lowerCoolSetpoint (82ms)
+196ms ║║Skipped execution of physical command [Thermostat Upstairs].fanOn([]) because it would make no change to the device. (4ms)
+197ms ║║Executed [Thermostat Upstairs].fanOn (6ms)
+200ms ║║Executed virtual command [Thermostat Upstairs].wait (1ms)
+201ms ║║Requesting a wake up for Mon, Jun 22 2020 @ 7:54:44 PM EDT (in 900.0s)
+206ms ║╚Execution stage complete. (143ms)
+208ms ║Setting up scheduled job for Mon, Jun 22 2020 @ 7:54:44 PM EDT (in 899.995s)
+216ms ╚Event processed successfully (216ms)
6/22/2020, 7:39:06 PM +380ms
+2ms ╔Received event [Motion Office].motion = inactive with a delay of 67ms
+65ms ║RunTime Analysis CS > 19ms > PS > 27ms > PE > 18ms > CE
+67ms ║Runtime (39083 bytes) successfully initialized in 27ms (v0.3.110.20191009) (65ms)
+68ms ║╔Execution stage started
+75ms ║║Comparison (enum) inactive is (string) active = false (1ms)
+77ms ║║Cancelling condition #44's schedules...
+78ms ║║Condition #44 evaluated false (6ms)
+79ms ║║Cancelling condition #1's schedules...
+79ms ║║Condition group #1 evaluated false (state changed) (7ms)
+81ms ║╚Execution stage complete. (13ms)
+82ms ╚Event processed successfully (82ms)
6/22/2020, 7:39:04 PM +978ms
+0ms ╔Starting piston... (v0.3.110.20191009)
+326ms ║╔Subscribing to devices...
+364ms ║║Subscribing to Motion Office.motion...
+376ms ║║Subscribing to Home.mode...
+386ms ║║Subscribing to Motion Office.temperature...
+495ms ║║Subscribing to Thermostat Upstairs...
+496ms ║╚Finished subscribing (173ms)
+520ms ║Comparison (enum) active is (string) active = true (1ms)
+521ms ║Cancelling condition #44's schedules...
+528ms ║Comparison (string) :e70b739fadc289f4c5a51fd48521624f: is (string) :e70b739fadc289f4c5a51fd48521624f: = true (1ms)
+529ms ║Cancelling condition #1's schedules...
+534ms ║Comparison (time) 70745510 is_any = true (0ms)
+535ms ║Time restriction check passed
+539ms ║Cancelling statement #19's schedules...
+547ms ║Comparison (decimal) 78.7 is_greater_than (integer) 73 = true (2ms)
+561ms ║Comparison (decimal) 78.7 is_less_than (integer) 69 = false (1ms)
+574ms ╚Piston successfully started (573ms)