1) Give a description of the problem
Piston doesn't fire. If I lock or unlock from ST app it will fire. But not when using the Lock itself.
2) What is the expected behaviour?
trying to get the correct name of who opened
3) What is happening/not happening?
**4) Post a Green Snapshot of the piston!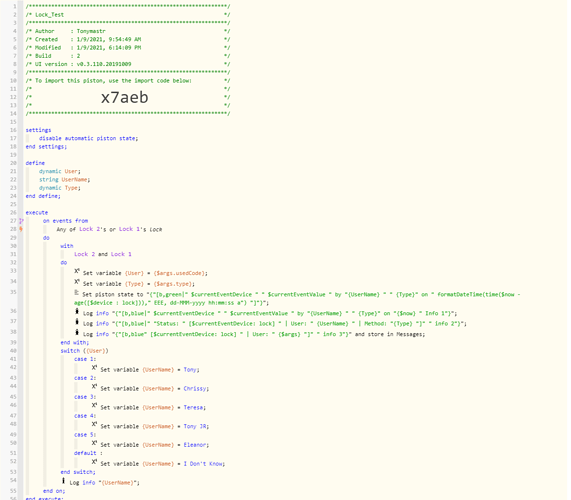 1/9/2021, 6:39:32 PM +750ms
+1ms ╔Received event [Side Door Lock].lock = locked with a delay of 51ms
+42ms ║RunTime Analysis CS > 16ms > PS > 6ms > PE > 20ms > CE
+45ms ║Runtime (44311 bytes) successfully initialized in 6ms (v0.3.110.20191009) (43ms)
+46ms ║╔Execution stage started
+51ms ║║Cancelling statement #23's schedules…
+57ms ║║Executed virtual command [Side Door Lock, Front Door Lock].setVariable (3ms)
+61ms ║║Executed virtual command [Side Door Lock, Front Door Lock].setVariable (2ms)
+123ms ║║Calculating (decimal) 1.610235572819E12 - (decimal) 0.0 >> (decimal) 1.610235572819E12
+133ms ║║Calculating (string) + (string) Side Door Lock >> (string) Side Door Lock
+137ms ║║Calculating (string) Side Door Lock + (string) >> (string) Side Door Lock
+141ms ║║Calculating (string) Side Door Lock + (string) locked >> (string) Side Door Lock locked
+145ms ║║Calculating (string) Side Door Lock locked + (string) by >> (string) Side Door Lock locked by
+148ms ║║Calculating (string) Side Door Lock locked by + (string) I Don't Know >> (string) Side Door Lock locked by I Don't Know
+152ms ║║Calculating (string) Side Door Lock locked by I Don't Know + (string) >> (string) Side Door Lock locked by I Don't Know
+155ms ║║Calculating (string) Side Door Lock locked by I Don't Know + (string) null >> (string) Side Door Lock locked by I Don't Know null
+158ms ║║Calculating (string) Side Door Lock locked by I Don't Know null + (string) on >> (string) Side Door Lock locked by I Don't Know null on
+160ms ║║Calculating (string) Side Door Lock locked by I Don't Know null on + (string) Sat, 09-Jan-2021 06:39:32 PM >> (string) Side Door Lock locked by I Don't Know null on Sat, 09-Jan-2021 06:39:32 PM
+163ms ║║Calculating (string) Side Door Lock locked by I Don't Know null on Sat, 09-Jan-2021 06:39:32 PM + (string) >> (string) Side Door Lock locked by I Don't Know null on Sat, 09-Jan-2021 06:39:32 PM
+165ms ║║Executed virtual command [Side Door Lock, Front Door Lock].setState (1ms)
+178ms ║║Calculating (string) + (string) Side Door Lock >> (string) Side Door Lock
+182ms ║║Calculating (string) Side Door Lock + (string) >> (string) Side Door Lock
+186ms ║║Calculating (string) Side Door Lock + (string) locked >> (string) Side Door Lock locked
+190ms ║║Calculating (string) Side Door Lock locked + (string) by >> (string) Side Door Lock locked by
+193ms ║║Calculating (string) Side Door Lock locked by + (string) I Don't Know >> (string) Side Door Lock locked by I Don't Know
+197ms ║║Calculating (string) Side Door Lock locked by I Don't Know + (string) >> (string) Side Door Lock locked by I Don't Know
+200ms ║║Calculating (string) Side Door Lock locked by I Don't Know + (string) null >> (string) Side Door Lock locked by I Don't Know null
+203ms ║║Calculating (string) Side Door Lock locked by I Don't Know null + (string) on >> (string) Side Door Lock locked by I Don't Know null on
+206ms ║║Calculating (string) Side Door Lock locked by I Don't Know null on + (string) Sat, Jan 9 2021 @ 6:39:32 PM EST >> (string) Side Door Lock locked by I Don't Know null on Sat, Jan 9 2021 @ 6:39:32 PM EST
+208ms ║║Calculating (string) Side Door Lock locked by I Don't Know null on Sat, Jan 9 2021 @ 6:39:32 PM EST + (string) Info 1 >> (string) Side Door Lock locked by I Don't Know null on Sat, Jan 9 2021 @ 6:39:32 PM EST Info 1
+211ms ║║Side Door Lock locked by I Don't Know null on Sat, Jan 9 2021 @ 6:39:32 PM EST Info 1
+212ms ║║Executed virtual command [Side Door Lock, Front Door Lock].log (1ms)
+223ms ║║Calculating (string) + (string) Status: >> (string) Status:
+228ms ║║Calculating (string) Status: + (string) locked >> (string) Status: locked
+231ms ║║Calculating (string) Status: locked + (string) User: >> (string) Status: locked User:
+235ms ║║Calculating (string) Status: locked User: + (string) I Don't Know >> (string) Status: locked User: I Don't Know
+238ms ║║Calculating (string) Status: locked User: I Don't Know + (string) Method: >> (string) Status: locked User: I Don't Know Method:
+241ms ║║Calculating (string) Status: locked User: I Don't Know Method: + (string) null >> (string) Status: locked User: I Don't Know Method: null
+244ms ║║Calculating (string) Status: locked User: I Don't Know Method: null + (string) >> (string) Status: locked User: I Don't Know Method: null
+246ms ║║Calculating (string) Status: locked User: I Don't Know Method: null + (string) info 2 >> (string) Status: locked User: I Don't Know Method: null info 2
+250ms ║║Status: locked User: I Don't Know Method: null info 2
+251ms ║║Executed virtual command [Side Door Lock, Front Door Lock].log (1ms)
+260ms ║║Calculating (string) b,blue + (string) locked >> (string) b,bluelocked
+263ms ║║Calculating (string) User: >> (string) User:
+266ms ║║Calculating (string) User: + (string) User: [lockName:Side Door Lock]
+268ms ║║Calculating (string) User: User: [lockName:Side Door Lock]
+271ms ║║Calculating (string) User: User: [lockName:Side Door Lock] info 3
+274ms ║║ User: [lockName:Side Door Lock] info 3
+277ms ║║Executed virtual command [Side Door Lock, Front Door Lock].log (3ms)
+280ms ║║Evaluating switch with values [[i:52:null:0, v:[t:dynamic, v:null, vt:string]]]
+283ms ║║Comparison (dynamic) null is (integer) 1 = false (1ms)
+286ms ║║Comparison (dynamic) null is (integer) 2 = false (1ms)
+289ms ║║Comparison (dynamic) null is (integer) 3 = false (1ms)
+291ms ║║Comparison (dynamic) null is (integer) 4 = false (1ms)
+294ms ║║Comparison (dynamic) null is (integer) 5 = false (1ms)
+296ms ║║Cancelling statement #68's schedules…
+301ms ║║Executed virtual command setVariable (2ms)
+304ms ║║Cancelling statement #70's schedules…
+309ms ║║I Don't Know
+310ms ║║Executed virtual command log (1ms)
+312ms ║╚Execution stage complete. (266ms)
+313ms ╚Event processed successfully (313ms)
1/9/2021, 6:39:21 PM +387ms
+1ms ╔Received event [Side Door Lock].lock = unlocked with a delay of 44ms
+42ms ║RunTime Analysis CS > 17ms > PS > 6ms > PE > 18ms > CE
+44ms ║Runtime (44309 bytes) successfully initialized in 6ms (v0.3.110.20191009) (42ms)
+45ms ║╔Execution stage started
+51ms ║║Cancelling statement #23's schedules…
+57ms ║║Executed virtual command [Side Door Lock, Front Door Lock].setVariable (3ms)
+62ms ║║Executed virtual command [Side Door Lock, Front Door Lock].setVariable (3ms)
+126ms ║║Calculating (decimal) 1.610235561457E12 - (decimal) 0.0 >> (decimal) 1.610235561457E12
+135ms ║║Calculating (string) + (string) Side Door Lock >> (string) Side Door Lock
+140ms ║║Calculating (string) Side Door Lock + (string) >> (string) Side Door Lock
+144ms ║║Calculating (string) Side Door Lock + (string) unlocked >> (string) Side Door Lock unlocked
+148ms ║║Calculating (string) Side Door Lock unlocked + (string) by >> (string) Side Door Lock unlocked by
+152ms ║║Calculating (string) Side Door Lock unlocked by + (string) I Don't Know >> (string) Side Door Lock unlocked by I Don't Know
+155ms ║║Calculating (string) Side Door Lock unlocked by I Don't Know + (string) >> (string) Side Door Lock unlocked by I Don't Know
+158ms ║║Calculating (string) Side Door Lock unlocked by I Don't Know + (string) null >> (string) Side Door Lock unlocked by I Don't Know null
+161ms ║║Calculating (string) Side Door Lock unlocked by I Don't Know null + (string) on >> (string) Side Door Lock unlocked by I Don't Know null on
+164ms ║║Calculating (string) Side Door Lock unlocked by I Don't Know null on + (string) Sat, 09-Jan-2021 06:39:21 PM >> (string) Side Door Lock unlocked by I Don't Know null on Sat, 09-Jan-2021 06:39:21 PM
+167ms ║║Calculating (string) Side Door Lock unlocked by I Don't Know null on Sat, 09-Jan-2021 06:39:21 PM + (string) >> (string) Side Door Lock unlocked by I Don't Know null on Sat, 09-Jan-2021 06:39:21 PM
+169ms ║║Executed virtual command [Side Door Lock, Front Door Lock].setState (1ms)
+182ms ║║Calculating (string) + (string) Side Door Lock >> (string) Side Door Lock
+187ms ║║Calculating (string) Side Door Lock + (string) >> (string) Side Door Lock
+191ms ║║Calculating (string) Side Door Lock + (string) unlocked >> (string) Side Door Lock unlocked
+195ms ║║Calculating (string) Side Door Lock unlocked + (string) by >> (string) Side Door Lock unlocked by
+198ms ║║Calculating (string) Side Door Lock unlocked by + (string) I Don't Know >> (string) Side Door Lock unlocked by I Don't Know
+202ms ║║Calculating (string) Side Door Lock unlocked by I Don't Know + (string) >> (string) Side Door Lock unlocked by I Don't Know
+205ms ║║Calculating (string) Side Door Lock unlocked by I Don't Know + (string) null >> (string) Side Door Lock unlocked by I Don't Know null
+208ms ║║Calculating (string) Side Door Lock unlocked by I Don't Know null + (string) on >> (string) Side Door Lock unlocked by I Don't Know null on
+211ms ║║Calculating (string) Side Door Lock unlocked by I Don't Know null on + (string) Sat, Jan 9 2021 @ 6:39:21 PM EST >> (string) Side Door Lock unlocked by I Don't Know null on Sat, Jan 9 2021 @ 6:39:21 PM EST
+214ms ║║Calculating (string) Side Door Lock unlocked by I Don't Know null on Sat, Jan 9 2021 @ 6:39:21 PM EST + (string) Info 1 >> (string) Side Door Lock unlocked by I Don't Know null on Sat, Jan 9 2021 @ 6:39:21 PM EST Info 1
+217ms ║║Side Door Lock unlocked by I Don't Know null on Sat, Jan 9 2021 @ 6:39:21 PM EST Info 1
+218ms ║║Executed virtual command [Side Door Lock, Front Door Lock].log (2ms)
+229ms ║║Calculating (string) + (string) Status: >> (string) Status:
+233ms ║║Calculating (string) Status: + (string) unlocked >> (string) Status: unlocked
+237ms ║║Calculating (string) Status: unlocked + (string) User: >> (string) Status: unlocked User:
+240ms ║║Calculating (string) Status: unlocked User: + (string) I Don't Know >> (string) Status: unlocked User: I Don't Know
+244ms ║║Calculating (string) Status: unlocked User: I Don't Know + (string) Method: >> (string) Status: unlocked User: I Don't Know Method:
+247ms ║║Calculating (string) Status: unlocked User: I Don't Know Method: + (string) null >> (string) Status: unlocked User: I Don't Know Method: null
+249ms ║║Calculating (string) Status: unlocked User: I Don't Know Method: null + (string) >> (string) Status: unlocked User: I Don't Know Method: null
+252ms ║║Calculating (string) Status: unlocked User: I Don't Know Method: null + (string) info 2 >> (string) Status: unlocked User: I Don't Know Method: null info 2
+255ms ║║Status: unlocked User: I Don't Know Method: null info 2
+256ms ║║Executed virtual command [Side Door Lock, Front Door Lock].log (1ms)
+266ms ║║Calculating (string) b,blue + (string) unlocked >> (string) b,blueunlocked
+269ms ║║Calculating (string) User: >> (string) User:
+272ms ║║Calculating (string) User: + (string) User: [lockName:Side Door Lock]
+274ms ║║Calculating (string) User: User: [lockName:Side Door Lock]
+277ms ║║Calculating (string) User: User: [lockName:Side Door Lock] info 3
+280ms ║║ User: [lockName:Side Door Lock] info 3
+283ms ║║Executed virtual command [Side Door Lock, Front Door Lock].log (2ms)
+285ms ║║Evaluating switch with values [[i:52:null:0, v:[t:dynamic, v:null, vt:string]]]
+288ms ║║Comparison (dynamic) null is (integer) 1 = false (1ms)
+291ms ║║Comparison (dynamic) null is (integer) 2 = false (2ms)
+294ms ║║Comparison (dynamic) null is (integer) 3 = false (1ms)
+296ms ║║Comparison (dynamic) null is (integer) 4 = false (1ms)
+299ms ║║Comparison (dynamic) null is (integer) 5 = false (1ms)
+301ms ║║Cancelling statement #68's schedules…
+307ms ║║Executed virtual command setVariable (3ms)
+310ms ║║Cancelling statement #70's schedules…
+315ms ║║I Don't Know
+316ms ║║Executed virtual command log (1ms)
+318ms ║╚Execution stage complete. (273ms)
+319ms ╚Event processed successfully (319ms)