I have a piston that has been running for months with no problems, however in the past week or so, there seems to be a large delay in parts of its execution. I've pasted the relevant section and a log as the main piston is rather large. (I should/could probably split into separate pistons, it was one of my first and has grown over time)
The issue is in a simple section that turns lights on an hour before sunset. Two of the lights are in the same room, and used to come on together. Now there is a long delay as shown in the log.
I suspect it may have something to do with the delayed light being a fibaro dimmer and the DH runs in the cloud. But I don't know why this has suddenly started happening. Also, other pistons that interact with the same device work fine. e.g I have a goodnight piston which always turns the light off instantly.
Also, maybe related, A piston that turns on another fibaro sometimes exhibits a similar delay, but not always.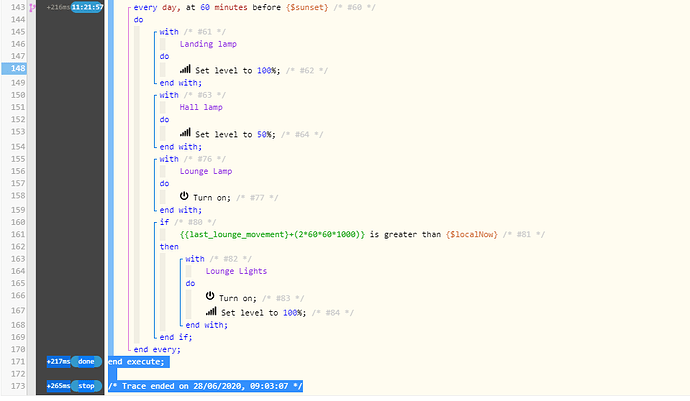 27/06/2020, 20:37:59 +181ms
+0ms ╔Received event [Home].time = 1593286680000 with a delay of -819ms
+148ms ║RunTime Analysis CS > 32ms > PS > 52ms > PE > 64ms > CE
+152ms ║Runtime (59617 bytes) successfully initialized in 52ms (v0.3.110.20191009) (151ms)
+153ms ║╔Execution stage started
+279ms ║║Cancelling statement #61's schedules…
+304ms ║║Executed physical command [Landing lamp].setLevel([100]) (21ms)
+306ms ║║Executed [Landing lamp].setLevel (23ms)
+309ms ║║Cancelling statement #63's schedules…
+335ms ║║Executed physical command [Hall lamp].setLevel([50]) (20ms)
+336ms ║║Executed [Hall lamp].setLevel (22ms)
+338ms ║║Cancelling statement #76's schedules…
+360ms ║║Executed physical command [Lounge Lamp].on() (19ms)
+361ms ║║Executed [Lounge Lamp].on (21ms)
+371ms ║║Calculating (integer) 2 * (integer) 60 >> (integer) 120
+373ms ║║Calculating (integer) 120 * (integer) 60 >> (integer) 7200
+376ms ║║Calculating (integer) 7200 * (integer) 1000 >> (integer) 7200000
+380ms ║║Calculating (datetime) 1593290102509 + (integer) 7200000 >> (datetime) 1593297302509
+384ms ║║Comparison (datetime) 1593297302509 is_greater_than (datetime) 1593290279563 = true (2ms)
+386ms ║║Condition #81 evaluated true (21ms)
+387ms ║║Condition group #80 evaluated true (state did not change) (23ms)
+389ms ║║Cancelling statement #82's schedules…
+4785ms ║║Executed physical command [Lounge Lights].on() (4392ms)
+4786ms ║║Executed [Lounge Lights].on (4394ms)
+4821ms ║║Executed physical command [Lounge Lights].setLevel([100]) (32ms)
+4822ms ║║Executed [Lounge Lights].setLevel (33ms)
+4826ms ║╚Execution stage complete. (4673ms)
+4828ms ║Setting up scheduled job for Sat, Jun 27 2020 @ 9:38:00 PM BST (in 3595.991s), with 1 more job pending
+4837ms ╚Event processed successfully (4836ms)