I am not the original creator of this piston and don't have the skills to troubleshoot it. Thanks in advance for any help.
1) Give a description of the problem
The light randomly does not turn on when I open the door. Everything worked for over a year, so I think a recent Hubitat or webCoRE update broke something. I have two pistons setup like this and both broke.
2) What is the expected behaviour?
If the door is opened and there is no motion the light turns off 5 seconds after the door is closed. If there is motion then the light turns off after no motion for 1 minute.
3) What is happening/not happening?
When the door is opened the light does not always turn on.
4) Post a Green Snapshot of the piston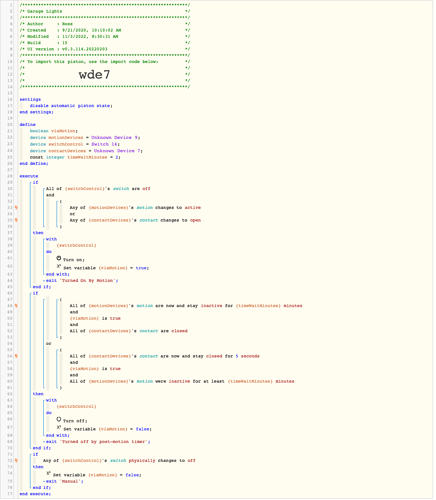 5) Attach logs after turning logging level to Full
(PASTE YOUR LOGS HERE THEN HIGHLIGHT ALL OF THE LOGS AND CLICK ON THE </> ICON TO FORMAT THEM CORRECTLY)
This is a log from when it worked.
Further down is a log from when it didn't work
11/7/2022, 6:49:59 PM +676ms
+3ms ╔Received event [Hubitat].time = 1667868599624 with a delay of 52ms, canQueue: true, calledMyself: false
+11ms ║RunTime initialize > 10 LockT > 1ms > r9T > 2ms > pistonT > 0ms (first state access 7 4 6)
+13ms ║Runtime (8997 bytes) initialized in 2ms (v0.3.114.20220928_HE)
+19ms ║╔Execution stage started
+26ms ║║Condition #15 evaluated true (1ms)
+29ms ║║Comparison (boolean) false is (boolean) true = false (1ms)
+30ms ║║Condition #16 evaluated false (3ms)
+31ms ║║Condition group #14 evaluated false (condition did not change) (6ms)
+31ms ║║Condition group #9 evaluated false (condition did not change) (7ms)
+36ms ║║Condition #22 evaluated false (3ms)
+36ms ║║Condition group #21 evaluated false (condition did not change) (4ms)
+40ms ║╚Execution stage complete. (20ms)
+42ms ╚Event processed successfully (40ms)
11/7/2022, 6:49:54 PM +583ms
+3ms ╔Received event [Hubitat].time = 1667868594531 with a delay of 52ms, canQueue: true, calledMyself: false
+11ms ║RunTime initialize > 10 LockT > 1ms > r9T > 2ms > pistonT > 1ms (first state access 7 4 6)
+13ms ║Runtime (8992 bytes) initialized in 2ms (v0.3.114.20220928_HE)
+19ms ║╔Execution stage started
+26ms ║║Condition #11 evaluated true (1ms)
+29ms ║║Comparison (boolean) false is (boolean) true = false (1ms)
+30ms ║║Condition #12 evaluated false (3ms)
+30ms ║║Condition group #10 evaluated false (condition did not change) (6ms)
+39ms ║║Comparison (enum) closed stays (string) closed = true (1ms)
+42ms ║║Adding a timed trigger schedule stays result true scheduling timer for condition 15 wake up at Mon, Nov 7 2022 @ 6:49:59 PM CST (in 4999ms) for 15 (st:15)
+44ms ║║Condition #15 evaluated false (13ms)
+45ms ║║Condition group #14 evaluated false (condition did not change) (13ms)
+45ms ║║Condition group #9 evaluated false (condition did not change) (21ms)
+49ms ║║Condition #22 evaluated false (3ms)
+50ms ║║Condition group #21 evaluated false (condition did not change) (4ms)
+55ms ║╚Execution stage complete. (35ms)
+95ms ║Setting up scheduled job for Mon, Nov 7 2022 @ 6:49:59 PM CST (in 5014ms)
+97ms ╚Event processed successfully (94ms)
11/7/2022, 6:49:09 PM +646ms
+4ms ╔Received event [Hubitat].time = 1667868549586 with a delay of 60ms, canQueue: true, calledMyself: false
+12ms ║RunTime initialize > 12 LockT > 0ms > r9T > 2ms > pistonT > 0ms (first state access 10 4 8)
+15ms ║Runtime (8987 bytes) initialized in 2ms (v0.3.114.20220928_HE)
+21ms ║╔Execution stage started
+28ms ║║Condition #15 evaluated true (1ms)
+31ms ║║Comparison (boolean) false is (boolean) true = false (2ms)
+33ms ║║Condition #16 evaluated false (3ms)
+33ms ║║Condition group #14 evaluated false (condition did not change) (7ms)
+34ms ║║Condition group #9 evaluated false (condition did not change) (8ms)
+42ms ║║Comparison (enum) off changes_to (string) off = false (0ms)
+43ms ║║Condition #22 evaluated false (8ms)
+44ms ║║Condition group #21 evaluated false (condition did not change) (9ms)
+49ms ║╚Execution stage complete. (29ms)
+98ms ║Setting up scheduled job for Mon, Nov 7 2022 @ 6:49:54 PM CST (in 44864ms)
+100ms ╚Event processed successfully (97ms)
11/7/2022, 6:49:04 PM +545ms
+2ms ╔Received event [Garage Main Lights].switch = off with a delay of 66ms, canQueue: false, calledMyself: true
+5ms ║RunTime initialize > 4 LockT > 0ms > r9T > 2ms > pistonT > 1ms (first state access 2 2 2)
+7ms ║Runtime (8938 bytes) initialized in 2ms (v0.3.114.20220928_HE)
+9ms ║╔Execution stage started
+15ms ║║Comparison (enum) off is (string) off = true (0ms)
+16ms ║║Condition #2 evaluated true (5ms)
+20ms ║║Condition #4 evaluated false (2ms)
+24ms ║║Condition #5 evaluated false (4ms)
+26ms ║║Condition group #3 evaluated false (condition changed) (9ms)
+26ms ║║Condition group #1 evaluated false (condition did not change) (16ms)
+31ms ║║Comparison (enum) inactive stays (string) inactive = true (1ms)
+33ms ║║Doing nothing found timed trigger schedule stays result true found timer for condition 11
+34ms ║║Condition #11 evaluated false (7ms)
+35ms ║║Condition group #10 evaluated false (condition did not change) (8ms)
+39ms ║║Comparison (enum) closed stays (string) closed = true (1ms)
+42ms ║║Adding a timed trigger schedule stays result true scheduling timer for condition 15 wake up at Mon, Nov 7 2022 @ 6:49:09 PM CST (in 4999ms) for 15 (st:15)
+44ms ║║Condition #15 evaluated false (8ms)
+46ms ║║Condition group #14 evaluated false (condition changed) (10ms)
+47ms ║║Condition group #9 evaluated false (condition changed) (20ms)
+51ms ║║Comparison (enum) off changes_to (string) off = false (0ms)
+52ms ║║Condition #22 evaluated false (3ms)
+52ms ║║Condition group #21 evaluated false (condition did not change) (5ms)
+78ms ║╚Execution stage complete. (70ms)
+115ms ║Setting up scheduled job for Mon, Nov 7 2022 @ 6:49:09 PM CST (in 4991ms),with 1 more job pending
+117ms ╚Event processed successfully (115ms)
11/7/2022, 6:49:04 PM +348ms
+4ms ╔Received event [Hubitat].time = 1667868544290 with a delay of 58ms, canQueue: true, calledMyself: false
+12ms ║RunTime initialize > 11 LockT > 0ms > r9T > 2ms > pistonT > 1ms (first state access 9 4 7)
+14ms ║Runtime (8974 bytes) initialized in 2ms (v0.3.114.20220928_HE)
+20ms ║╔Execution stage started
+27ms ║║Condition #15 evaluated true (1ms)
+29ms ║║Comparison (boolean) true is (boolean) true = true (1ms)
+31ms ║║Condition #16 evaluated true (4ms)
+70ms ║║Duration 3761060ms for is >= 60000ms threshold = true
+71ms ║║Comparison (enum) inactive was (string) inactive = true (30ms)
+72ms ║║Condition #17 evaluated true (40ms)
+73ms ║║Condition group #14 evaluated true (condition changed) (48ms)
+75ms ║║Condition group #9 evaluated true (condition changed) (50ms)
+107ms ║║Executed physical command [Garage Main Lights].off() (28ms)
+112ms ║║Executed virtual command [Garage Main Lights].setVariable (1ms)
+116ms ║║Condition #22 evaluated false (3ms)
+118ms ║║Condition group #21 evaluated false (condition did not change) (4ms)
+124ms ║╚Execution stage complete. (104ms)
+178ms ║Setting up scheduled job for Mon, Nov 7 2022 @ 6:49:54 PM CST (in 50087ms)
+179ms ╚Event processed successfully (176ms)
11/7/2022, 6:49:04 PM +507ms
+3ms ╔Received event [Garage Main Lights].switch = off with a delay of 28ms, canQueue: true, calledMyself: false
+5ms ╚Event queued (1ms)
11/7/2022, 6:48:59 PM +255ms
+3ms ╔Received event [Family Room Door Contact].contact = closed with a delay of 34ms, canQueue: true, calledMyself: false
+11ms ║RunTime initialize > 10 LockT > 0ms > r9T > 2ms > pistonT > 1ms (first state access 8 4 6)
+13ms ║Runtime (8981 bytes) initialized in 2ms (v0.3.114.20220928_HE)
+14ms ║╔Execution stage started
+20ms ║║Comparison (enum) on is (string) off = false (0ms)
+21ms ║║Condition #2 evaluated false (4ms)
+21ms ║║Condition group #1 evaluated false (condition did not change) (5ms)
+26ms ║║Comparison (enum) inactive stays (string) inactive = true (1ms)
+28ms ║║Doing nothing found timed trigger schedule stays result true found timer for condition 11
+29ms ║║Condition #11 evaluated false (7ms)
+30ms ║║Condition group #10 evaluated false (condition did not change) (7ms)
+34ms ║║Comparison (enum) closed stays (string) closed = true (0ms)
+37ms ║║Adding a timed trigger schedule stays result true scheduling timer for condition 15 wake up at Mon, Nov 7 2022 @ 6:49:04 PM CST (in 4999ms) for 15 (st:15)
+38ms ║║Condition #15 evaluated false (7ms)
+38ms ║║Condition group #14 evaluated false (condition did not change) (8ms)
+39ms ║║Condition group #9 evaluated false (condition did not change) (17ms)
+43ms ║║Condition #22 evaluated false (3ms)
+44ms ║║Condition group #21 evaluated false (condition did not change) (3ms)
+68ms ║╚Execution stage complete. (53ms)
+103ms ║Setting up scheduled job for Mon, Nov 7 2022 @ 6:49:04 PM CST (in 4995ms),with 1 more job pending
+105ms ╚Event processed successfully (102ms)
11/7/2022, 6:48:54 PM +647ms
+2ms ╔Received event [Garage Main Lights].switch = on with a delay of 104ms, canQueue: false, calledMyself: true
+5ms ║RunTime initialize > 4 LockT > 0ms > r9T > 2ms > pistonT > 1ms (first state access 2 2 2)
+7ms ║Runtime (8914 bytes) initialized in 2ms (v0.3.114.20220928_HE)
+9ms ║╔Execution stage started
+15ms ║║Comparison (enum) on is (string) off = false (0ms)
+16ms ║║Condition #2 evaluated false (5ms)
+18ms ║║Condition group #1 evaluated false (condition changed) (6ms)
+23ms ║║Comparison (enum) inactive stays (string) inactive = true (0ms)
+25ms ║║Doing nothing found timed trigger schedule stays result true found timer for condition 11
+25ms ║║Condition #11 evaluated false (6ms)
+26ms ║║Condition group #10 evaluated false (condition did not change) (7ms)
+30ms ║║Comparison (enum) open stays (string) closed = false (1ms)
+32ms ║║Canceling any timed trigger schedule stays result false cancel any timers for condition 15
+34ms ║║Condition #15 evaluated false (7ms)
+35ms ║║Condition group #14 evaluated false (condition did not change) (8ms)
+35ms ║║Condition group #9 evaluated false (condition did not change) (17ms)
+39ms ║║Comparison (enum) on changes_to (string) off = false (0ms)
+40ms ║║Condition #22 evaluated false (3ms)
+41ms ║║Condition group #21 evaluated false (condition did not change) (4ms)
+66ms ║╚Execution stage complete. (58ms)
+111ms ║Setting up scheduled job for Mon, Nov 7 2022 @ 6:49:54 PM CST (in 59845ms)
+112ms ╚Event processed successfully (111ms)
11/7/2022, 6:48:54 PM +381ms
+3ms ╔Received event [Family Room Door Contact].contact = open with a delay of 33ms, canQueue: true, calledMyself: false
+55ms ║RunTime initialize > 54 LockT > 1ms > r9T > 48ms > pistonT > 47ms (first state access 5 4 50)
+57ms ║Runtime (8878 bytes) initialized in 48ms (v0.3.114.20220928_HE)
+59ms ║╔Execution stage started
+65ms ║║Comparison (enum) off is (string) off = true (1ms)
+66ms ║║Condition #2 evaluated true (4ms)
+69ms ║║Condition #4 evaluated false (3ms)
+73ms ║║Comparison (enum) open changes_to (string) open = true (0ms)
+77ms ║║Condition #5 evaluated true (7ms)
+79ms ║║Condition group #3 evaluated true (condition changed) (13ms)
+81ms ║║Condition group #1 evaluated true (condition changed) (20ms)
+135ms ║║Executed physical command [Garage Main Lights].on() (49ms)
+141ms ║║Executed virtual command [Garage Main Lights].setVariable (1ms)
+146ms ║║Comparison (enum) inactive stays (string) inactive = true (1ms)
+152ms ║║Adding a timed trigger schedule stays result true scheduling timer for condition 11 wake up at Mon, Nov 7 2022 @ 6:49:54 PM CST (in 59999ms) for 11 (st:11)
+153ms ║║Condition #11 evaluated false (11ms)
+154ms ║║Condition group #10 evaluated false (condition did not change) (12ms)
+158ms ║║Comparison (enum) open stays (string) closed = false (1ms)
+161ms ║║Canceling any timed trigger schedule stays result false cancel any timers for condition 15
+164ms ║║Condition #15 evaluated false (8ms)
+165ms ║║Condition group #14 evaluated false (condition did not change) (9ms)
+166ms ║║Condition group #9 evaluated false (condition did not change) (23ms)
+177ms ║║Condition #22 evaluated false (9ms)
+177ms ║║Condition group #21 evaluated false (condition did not change) (10ms)
+186ms ║╚Execution stage complete. (128ms)
+247ms ║Setting up scheduled job for Mon, Nov 7 2022 @ 6:49:54 PM CST (in 59987ms)
+249ms ╚Event processed successfully (246ms)
This is a log from when it didn't work
11/7/2022, 6:54:17 PM +896ms
+3ms ╔Received event [Hubitat].time = 1667868857843 with a delay of 53ms, canQueue: true, calledMyself: false
+12ms ║RunTime initialize > 12 LockT > 0ms > r9T > 2ms > pistonT > 1ms (first state access 10 4 8)
+15ms ║Runtime (8985 bytes) initialized in 2ms (v0.3.114.20220928_HE)
+21ms ║╔Execution stage started
+28ms ║║Condition #15 evaluated true (1ms)
+31ms ║║Comparison (boolean) false is (boolean) true = false (1ms)
+32ms ║║Condition #16 evaluated false (3ms)
+33ms ║║Condition group #14 evaluated false (condition did not change) (6ms)
+34ms ║║Condition group #9 evaluated false (condition did not change) (7ms)
+38ms ║║Condition #22 evaluated false (4ms)
+39ms ║║Condition group #21 evaluated false (condition did not change) (4ms)
+42ms ║╚Execution stage complete. (21ms)
+45ms ╚Event processed successfully (42ms)
11/7/2022, 6:54:12 PM +807ms
+3ms ╔Received event [Hubitat].time = 1667868852746 with a delay of 61ms, canQueue: true, calledMyself: false
+11ms ║RunTime initialize > 10 LockT > 1ms > r9T > 2ms > pistonT > 1ms (first state access 7 4 6)
+13ms ║Runtime (8979 bytes) initialized in 2ms (v0.3.114.20220928_HE)
+19ms ║╔Execution stage started
+25ms ║║Condition #11 evaluated true (1ms)
+28ms ║║Comparison (boolean) false is (boolean) true = false (1ms)
+29ms ║║Condition #12 evaluated false (3ms)
+30ms ║║Condition group #10 evaluated false (condition did not change) (5ms)
+34ms ║║Comparison (enum) closed stays (string) closed = true (1ms)
+38ms ║║Adding a timed trigger schedule stays result true scheduling timer for condition 15 wake up at Mon, Nov 7 2022 @ 6:54:17 PM CST (in 4999ms) for 15 (st:15)
+40ms ║║Condition #15 evaluated false (9ms)
+40ms ║║Condition group #14 evaluated false (condition did not change) (10ms)
+41ms ║║Condition group #9 evaluated false (condition did not change) (17ms)
+45ms ║║Condition #22 evaluated false (3ms)
+46ms ║║Condition group #21 evaluated false (condition did not change) (4ms)
+50ms ║╚Execution stage complete. (32ms)
+111ms ║Setting up scheduled job for Mon, Nov 7 2022 @ 6:54:17 PM CST (in 5014ms)
+113ms ╚Event processed successfully (110ms)
11/7/2022, 6:53:24 PM +936ms
+4ms ╔Received event [Hubitat].time = 1667868804881 with a delay of 55ms, canQueue: true, calledMyself: false
+12ms ║RunTime initialize > 12 LockT > 0ms > r9T > 2ms > pistonT > 1ms (first state access 10 4 8)
+15ms ║Runtime (8975 bytes) initialized in 2ms (v0.3.114.20220928_HE)
+21ms ║╔Execution stage started
+28ms ║║Condition #15 evaluated true (1ms)
+31ms ║║Comparison (boolean) false is (boolean) true = false (1ms)
+32ms ║║Condition #16 evaluated false (3ms)
+32ms ║║Condition group #14 evaluated false (condition did not change) (6ms)
+33ms ║║Condition group #9 evaluated false (condition did not change) (8ms)
+41ms ║║Condition #22 evaluated false (7ms)
+42ms ║║Condition group #21 evaluated false (condition did not change) (8ms)
+47ms ║╚Execution stage complete. (27ms)
+87ms ║Setting up scheduled job for Mon, Nov 7 2022 @ 6:54:12 PM CST (in 47791ms)
+88ms ╚Event processed successfully (85ms)
11/7/2022, 6:53:19 PM +838ms
+3ms ╔Received event [Family Room Door Contact].contact = closed with a delay of 21ms, canQueue: true, calledMyself: false
+10ms ║RunTime initialize > 9 LockT > 1ms > r9T > 2ms > pistonT > 0ms (first state access 6 4 5)
+12ms ║Runtime (8966 bytes) initialized in 2ms (v0.3.114.20220928_HE)
+14ms ║╔Execution stage started
+19ms ║║Comparison (enum) off is (string) off = true (1ms)
+20ms ║║Condition #2 evaluated true (4ms)
+24ms ║║Condition #4 evaluated false (3ms)
+27ms ║║Comparison (enum) closed changes_to (string) open = false (1ms)
+28ms ║║Condition #5 evaluated false (4ms)
+29ms ║║Condition group #3 evaluated false (condition did not change) (8ms)
+29ms ║║Condition group #1 evaluated false (condition did not change) (14ms)
+34ms ║║Comparison (enum) inactive stays (string) inactive = true (1ms)
+36ms ║║Doing nothing found timed trigger schedule stays result true found timer for condition 11
+37ms ║║Condition #11 evaluated false (7ms)
+38ms ║║Condition group #10 evaluated false (condition did not change) (7ms)
+42ms ║║Comparison (enum) closed stays (string) closed = true (0ms)
+45ms ║║Adding a timed trigger schedule stays result true scheduling timer for condition 15 wake up at Mon, Nov 7 2022 @ 6:53:24 PM CST (in 4999ms) for 15 (st:15)
+46ms ║║Condition #15 evaluated false (7ms)
+46ms ║║Condition group #14 evaluated false (condition did not change) (8ms)
+47ms ║║Condition group #9 evaluated false (condition did not change) (16ms)
+51ms ║║Condition #22 evaluated false (2ms)
+52ms ║║Condition group #21 evaluated false (condition did not change) (4ms)
+78ms ║╚Execution stage complete. (65ms)
+119ms ║Setting up scheduled job for Mon, Nov 7 2022 @ 6:53:24 PM CST (in 4992ms),with 1 more job pending
+121ms ╚Event processed successfully (118ms)
11/7/2022, 6:53:12 PM +710ms
+3ms ╔Received event [Family Room Door Contact].contact = open with a delay of 28ms, canQueue: true, calledMyself: false
+9ms ║RunTime initialize > 9 LockT > 0ms > r9T > 2ms > pistonT > 1ms (first state access 7 4 5)
+12ms ║Runtime (8894 bytes) initialized in 2ms (v0.3.114.20220928_HE)
+13ms ║╔Execution stage started
+19ms ║║Comparison (enum) off is (string) off = true (1ms)
+20ms ║║Condition #2 evaluated true (5ms)
+24ms ║║Condition #4 evaluated false (2ms)
+27ms ║║Comparison (enum) open changes_to (string) open = false (0ms)
+28ms ║║Condition #5 evaluated false (4ms)
+29ms ║║Condition group #3 evaluated false (condition did not change) (8ms)
+29ms ║║Condition group #1 evaluated false (condition did not change) (14ms)
+34ms ║║Comparison (enum) inactive stays (string) inactive = true (1ms)
+37ms ║║Adding a timed trigger schedule stays result true scheduling timer for condition 11 wake up at Mon, Nov 7 2022 @ 6:54:12 PM CST (in 59999ms) for 11 (st:11)
+39ms ║║Condition #11 evaluated false (9ms)
+40ms ║║Condition group #10 evaluated false (condition did not change) (9ms)
+44ms ║║Comparison (enum) open stays (string) closed = false (0ms)
+45ms ║║Canceling any timed trigger schedule stays result false cancel any timers for condition 15
+48ms ║║Condition #15 evaluated false (7ms)
+48ms ║║Condition group #14 evaluated false (condition did not change) (8ms)
+49ms ║║Condition group #9 evaluated false (condition did not change) (19ms)
+53ms ║║Condition #22 evaluated false (3ms)
+54ms ║║Condition group #21 evaluated false (condition did not change) (3ms)
+59ms ║╚Execution stage complete. (46ms)
+91ms ║Setting up scheduled job for Mon, Nov 7 2022 @ 6:54:12 PM CST (in 60005ms)
+93ms ╚Event processed successfully (90ms)