1) Give a description of the problem
I have a piston that is supposed to turn on 2 lights in the front every day at sunset and turn them off at 10:35 PM. It has been working flawlessly for 6 months but it suddenly stopped working correctly since 3 days. Only some steps are executed - only one light turns on, the other does not and they both do not turn off. Please help?
2) What is the expected behaviour?
Piston execution completes fully. Both lights turn on. Porch light at sunset and Garage light 30 minutes after sunset. Both lights turn off at 10:35 PM.
3) What is happening/not happening?
Piston is not executing completely
4) Post a Green Snapshot of the piston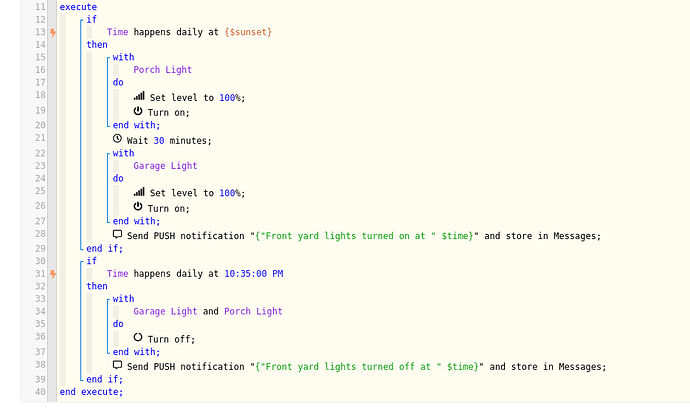 5) Attach logs after turning logging level to Full
11/4/2019, 10:35:34 PM +251ms
+0ms ╔Received event [Home].execute = recovery with a delay of 55ms
+100ms ║RunTime Analysis CS > 19ms > PS > 44ms > PE > 37ms > CE
+102ms ║Runtime (39770 bytes) successfully initialized in 44ms (v0.3.110.20191009) (101ms)
+103ms ║╔Execution stage started
+133ms ║║Comparison (time) 81334358 happens_daily_at (datetime) 1572907260000 = false (0ms)
+135ms ║║Condition #2 evaluated false (28ms)
+136ms ║║Cancelling statement #2's schedules…
+139ms ║║Requesting time schedule wake up at Tue, Nov 5 2019 @ 5:41:00 PM EST
+142ms ║║Condition group #1 evaluated false (state did not change) (35ms)
+146ms ║║Comparison (time) 81334395 happens_daily_at (time) 81300000 = false (0ms)
+148ms ║║Condition #20 evaluated false (4ms)
+149ms ║║Cancelling statement #20's schedules…
+152ms ║║Requesting time schedule wake up at Tue, Nov 5 2019 @ 10:35:00 PM EST
+154ms ║║Condition group #19 evaluated false (state did not change) (10ms)
+157ms ║╚Execution stage complete. (54ms)
+159ms ║Setting up scheduled job for Tue, Nov 5 2019 @ 5:41:00 PM EST (in 68725.591s), with 1 more job pending
+165ms ╚Event processed successfully (165ms)
11/4/2019, 6:12:00 PM +403ms
+1ms ╔Received event [Home].execute = recovery with a delay of 75ms
+107ms ║RunTime Analysis CS > 22ms > PS > 51ms > PE > 33ms > CE
+109ms ║Runtime (39764 bytes) successfully initialized in 51ms (v0.3.110.20191009) (107ms)
+110ms ║╔Execution stage started
+139ms ║║Comparison (time) 65520517 happens_daily_at (datetime) 1572907260000 = false (1ms)
+141ms ║║Cancelling condition #2's schedules…
+142ms ║║Condition #2 evaluated false (27ms)
+143ms ║║Cancelling statement #2's schedules…
+146ms ║║Requesting time schedule wake up at Tue, Nov 5 2019 @ 5:41:00 PM EST
+148ms ║║Cancelling condition #1's schedules…
+149ms ║║Condition group #1 evaluated false (state changed) (35ms)
+154ms ║║Comparison (time) 65520555 happens_daily_at (time) 81300000 = false (1ms)
+155ms ║║Condition #20 evaluated false (3ms)
+157ms ║║Cancelling statement #20's schedules…
+159ms ║║Requesting time schedule wake up at Mon, Nov 4 2019 @ 10:35:00 PM EST
+162ms ║║Condition group #19 evaluated false (state did not change) (11ms)
+165ms ║╚Execution stage complete. (55ms)
+167ms ║Setting up scheduled job for Mon, Nov 4 2019 @ 10:35:00 PM EST (in 15779.431s), with 1 more job pending
+176ms ╚Event processed successfully (176ms)
11/4/2019, 5:41:11 PM +213ms
+1ms ╔Received event [Home].time = 1572907260000 with a delay of 11213ms
+88ms ║RunTime Analysis CS > 20ms > PS > 43ms > PE > 25ms > CE
+91ms ║Runtime (39773 bytes) successfully initialized in 43ms (v0.3.110.20191009) (89ms)
+91ms ║╔Execution stage started
+118ms ║║Comparison (time) 63671309 happens_daily_at (datetime) 1572907260000 = true (0ms)
+119ms ║║Time restriction check passed
+120ms ║║Cancelling condition #2's schedules…
+121ms ║║Condition #2 evaluated true (24ms)
+121ms ║║Cancelling statement #2's schedules…
+125ms ║║Requesting time schedule wake up at Tue, Nov 5 2019 @ 5:41:00 PM EST
+127ms ║║Cancelling condition #1's schedules…
+127ms ║║Condition group #1 evaluated true (state changed) (31ms)
+129ms ║║Cancelling statement #3's schedules…
+144ms ║║Executed physical command [Porch Light].setLevel([100]) (10ms)
+145ms ║║Executed [Porch Light].setLevel (12ms)
+153ms ║║Executed physical command [Porch Light].on() (6ms)
+154ms ║║Executed [Porch Light].on (8ms)
+156ms ║║Cancelling statement #6's schedules…
+159ms ║║Executed virtual command wait (0ms)
+160ms ║║Requesting a wake up for Mon, Nov 4 2019 @ 6:11:11 PM EST (in 1800.0s)
+165ms ║╚Execution stage complete. (74ms)
+167ms ║Setting up scheduled job for Mon, Nov 4 2019 @ 6:11:11 PM EST (in 1799.995s), with 2 more jobs pending
+175ms ╚Event processed successfully (175ms)