1) Give a description of the problem
When both conditions of an OR are true simultaneously, the piston executes twice.
2) What is the expected behavior?
Even though multiple conditions might be true simultaneously, the piston should execute only once.
3) What is happening/not happening?
Piston should send a notification when the aquarium filter is turned off OR the power to the aquarium filter falls below 5W. When the switch to the aquarium filter is turned off, both conditions are TRUE simultaneously and the notification gets sent TWICE. I've tried just about every possible way (restrictions, variables, etc.) to prevent this from happening, but all of the methods I've used assume the piston runs through when one condition is true before the second condition is true. Since both conditions are true simultaneously, two instances of the piston run each time. The attached was my latest attempt using variables.
**4) Post a Green Snapshot of the piston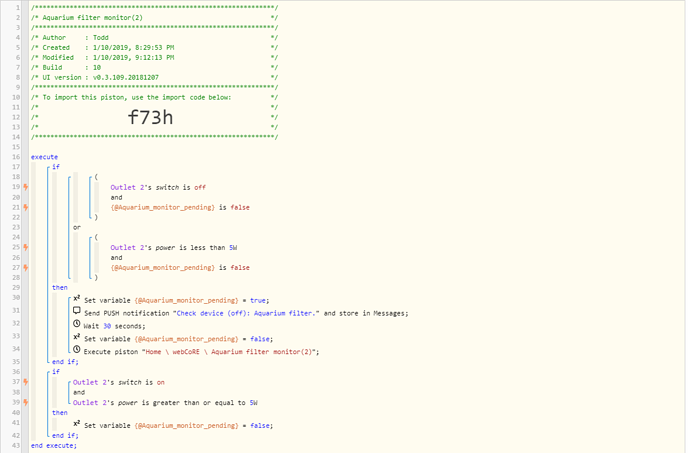 5) Attach any logs (From ST IDE and by turning logging level to Full)
(PASTE YOUR LOGS HERE BETWEEN THE MARKS THEN HIGHLIGHT ALL OF THE LOGS SND CLICK ON THE </> ICON TO FORMAT THEM)
REMOVE BELOW AFTER READING
If a solution is found for your question then please mark the post as the solution.