1) Give a description of the problem
The piston should only get triggered when it is turned on, however it appears to get triggered even upon manual dimmer level change. In other words, I turn on the light and it goes to 99% because it is daytime. When I try to dim it back down it fights me and keeps trying to go back up to 99%.
2) What is the expected behavior?
When I turn on the light, the dimmer goes to the low or high dim preset level depending on the time of day. If I then opt to decrease or increase the dimmer level, it should leave my change.
3) What is happening/not happening?
The trigger seems to fire when I am simply changing dimmer level. My intent was for it to fire only when it goes from OFF to ON.
4) Post a Green Snapshot of the piston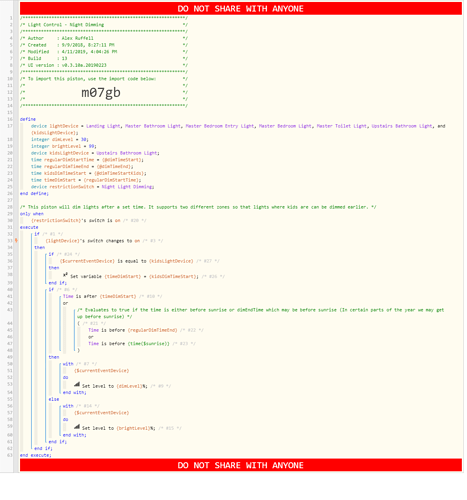 5) Attach any logs (From ST IDE and by turning logging level to Full)
4/11/2019, 6:36:33 AM +535ms
+1ms ╔Received event [Master Bathroom Light].switch = on with a delay of 111ms
+116ms ║RunTime Analysis CS > 13ms > PS > 47ms > PE > 55ms > CE
+119ms ║Runtime (46395 bytes) successfully initialized in 47ms (v0.3.10a.20190223) (116ms)
+120ms ║╔Execution stage started
+134ms ║║Comparison (enum) on is (string) on = true (2ms)
+136ms ║║Condition #20 evaluated true (12ms)
+137ms ║║Condition group #null evaluated true (state did not change) (13ms)
+180ms ║║Comparison (enum) on changes_to (string) on = true (0ms)
+183ms ║║Cancelling condition #3's schedules...
+184ms ║║Condition #3 evaluated true (44ms)
+185ms ║║Cancelling condition #1's schedules...
+187ms ║║Condition group #1 evaluated true (state changed) (46ms)
+198ms ║║Comparison (dynamic) Master Bathroom Light is_equal_to (dynamic) Upstairs Bathroom Light = false (1ms)
+200ms ║║Condition #27 evaluated false (9ms)
+201ms ║║Condition group #24 evaluated false (state did not change) (12ms)
+220ms ║║Comparison (time) 23793740 is_after (time) 75600000 = false (8ms)
+222ms ║║Condition #10 evaluated false (18ms)
+239ms ║║Comparison (time) 23793760 is_before (time) 21600000 = false (9ms)
+241ms ║║Condition #22 evaluated false (17ms)
+243ms ║║Condition group #21 evaluated false (state did not change) (18ms)
+244ms ║║Condition group #6 evaluated false (state did not change) (40ms)
+247ms ║║Cancelling statement #14's schedules...
+281ms ║║Executed physical command [Master Bathroom Light].setLevel([99]) (25ms)
+282ms ║║Executed [Master Bathroom Light].setLevel (28ms)
+286ms ║╚Execution stage complete. (167ms)
+287ms ╚Event processed successfully (287ms)
4/11/2019, 6:36:31 AM +62ms
+2ms ╔Received event [Master Bathroom Light].switch = off with a delay of 195ms
+167ms ║RunTime Analysis CS > 31ms > PS > 75ms > PE > 61ms > CE
+169ms ║Runtime (46390 bytes) successfully initialized in 75ms (v0.3.10a.20190223) (166ms)
+170ms ║╔Execution stage started
+186ms ║║Comparison (enum) on is (string) on = true (2ms)
+188ms ║║Condition #20 evaluated true (13ms)
+189ms ║║Condition group #null evaluated true (state did not change) (14ms)
+230ms ║║Comparison (enum) off changes_to (string) on = false (1ms)
+234ms ║║Cancelling condition #3's schedules...
+236ms ║║Condition #3 evaluated false (43ms)
+237ms ║║Cancelling condition #1's schedules...
+238ms ║║Condition group #1 evaluated false (state changed) (46ms)
+241ms ║╚Execution stage complete. (71ms)
+242ms ╚Event processed successfully (243ms)
4/11/2019, 6:35:13 AM +741ms
+2ms ╔Received event [Master Bedroom Light].switch = on with a delay of 179ms
+158ms ║RunTime Analysis CS > 28ms > PS > 68ms > PE > 63ms > CE
+161ms ║Runtime (46394 bytes) successfully initialized in 68ms (v0.3.10a.20190223) (158ms)
+162ms ║╔Execution stage started
+177ms ║║Comparison (enum) on is (string) on = true (2ms)
+179ms ║║Condition #20 evaluated true (12ms)
+180ms ║║Condition group #null evaluated true (state did not change) (14ms)
+220ms ║║Comparison (enum) on changes_to (string) on = true (1ms)
+224ms ║║Cancelling condition #3's schedules...
+225ms ║║Condition #3 evaluated true (41ms)
+226ms ║║Cancelling condition #1's schedules...
+227ms ║║Condition group #1 evaluated true (state changed) (45ms)
+239ms ║║Comparison (dynamic) Master Bedroom Light is_equal_to (dynamic) Upstairs Bathroom Light = false (1ms)
+241ms ║║Condition #27 evaluated false (10ms)
+242ms ║║Condition group #24 evaluated false (state did not change) (12ms)
+262ms ║║Comparison (time) 23713987 is_after (time) 75600000 = false (8ms)
+264ms ║║Condition #10 evaluated false (17ms)
+281ms ║║Comparison (time) 23714007 is_before (time) 21600000 = false (8ms)
+283ms ║║Condition #22 evaluated false (16ms)
+284ms ║║Condition group #21 evaluated false (state did not change) (19ms)
+285ms ║║Condition group #6 evaluated false (state did not change) (40ms)
+289ms ║║Cancelling statement #14's schedules...
+334ms ║║Executed physical command [Master Bedroom Light].setLevel([99]) (36ms)
+336ms ║║Executed [Master Bedroom Light].setLevel (38ms)
+339ms ║╚Execution stage complete. (177ms)
+341ms ╚Event processed successfully (341ms)