1) Give a description of the problem
I have an Aeotech Z-Wave Energy Metering SmartSwitch hooked up to work with my 3 D printer. Its handy to know power consumption during the print and also over time. I got to thinking that I sometimes have prints that last many hours and that can lead into time that stretches past my bedtime. I wanted a way to turn off the printer once its power consumption had dropped and stayed low for a sustained period of time. 10 minutes to be specific. This would allow the heated nozzle and bed to cool down with the aid of the cooling fans. I began to determine that the printer at idle pulls about 20-22 watts of power. When heating up it consumes about 600 watts of power and when maintaining its heat throughout the print it consumes about 200 watts down to about 120 watts. I modified a Piston for power metering which works well for my purposes. Problem : Sometimes I heat the nozzle and/or heated Bed to do calibrations ,etc. This will trigger the Piston and turn off the printer which could cause havoc with the Calibration Process.
2) What is the expected behaviour?
I would like the Piston to work the way it does , BUT only perform the actions if the wattage draw is maintained for over 1/2 an hour. I figure that I wont have prints shorter than 1/2 an hour and that gives me 1/2 an hour to heat the bed and nozzle and configure.
3) What is happening/not happening?
The Piston does not determine if the higher wattage has been present for 1/2 and hour or more
**4)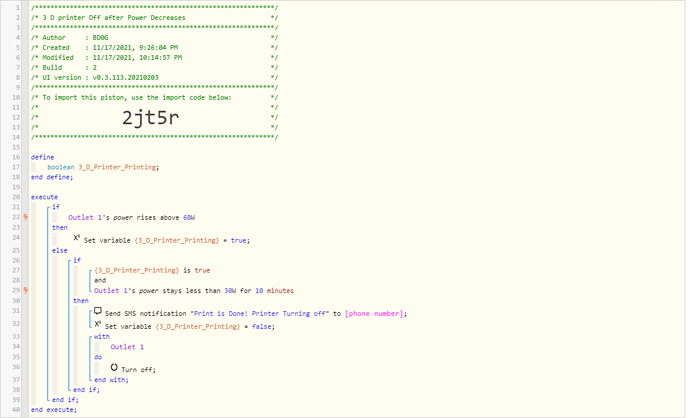 5) Attach logs after turning logging level to Full
(PASTE YOUR LOGS HERE THEN HIGHLIGHT ALL OF THE LOGS AND CLICK ON THE </> ICON TO FORMAT THEM CORRECTLY)