1) Give a description of the problem
Previously working piston did not execute due to presence sensor changing to present, then evaluating as false when testing for "changed to present" state.
2) What is the expected behavior?
Upon presence arrival, SmartThings routine should be executed.
3) What is happening/not happening?
Last night my one of my presence pistons (activates when I arrive home from work) didn't fire. According to the logs, the presence sensor was already present, which evaluated as false (even though the presence sensor did change to present).
4) Post a Green Snapshot of the piston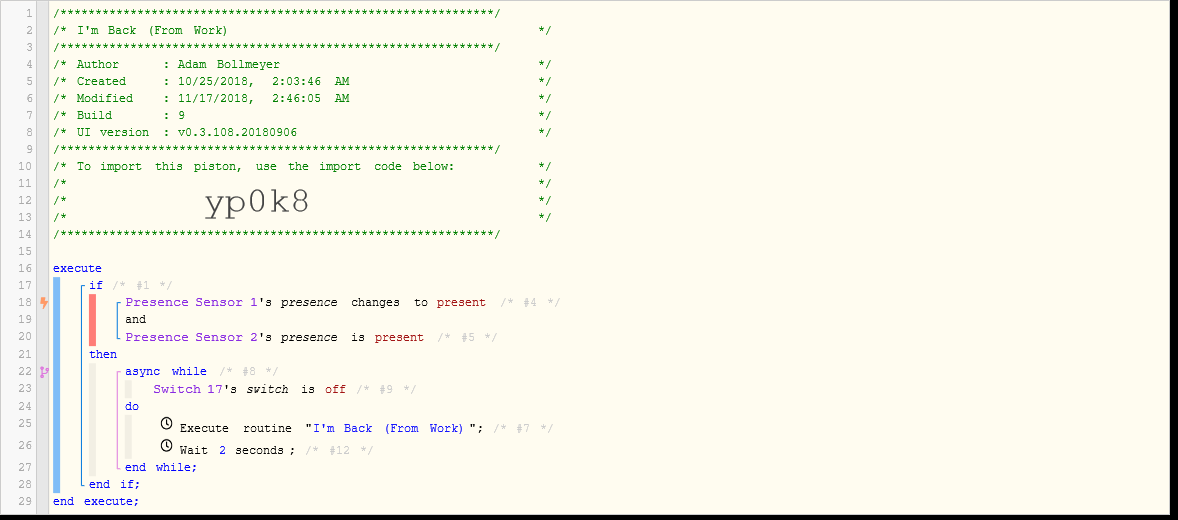 5) Attach any logs (From ST IDE and by turning logging level to Full)
Logs
12/4/2018, 12:51:25 AM +477ms
+1ms ╔Received event [Adam].presence = present with a delay of 69ms
+98ms ║RunTime Analysis CS > 13ms > PS > 51ms > PE > 33ms > CE
+101ms ║Runtime (38628 bytes) successfully initialized in 51ms (v0.3.108.20180906) (98ms)
+102ms ║╔Execution stage started
+113ms ║║Comparison (enum) present changes_to (string) present = false (0ms)
+115ms ║║Cancelling condition #4's schedules…
+116ms ║║Condition #4 evaluated false (7ms)
+117ms ║║Cancelling condition #1's schedules…
+118ms ║║Condition group #1 evaluated false (state changed) (10ms)
+121ms ║╚Execution stage complete. (20ms)
+122ms ╚Event processed successfully (122ms)