1) Give a description of the problem
I have 2 bedside lamps with zigbee bulbs that work off a Smarthings Button.
2) What is the expected behavior?
Single Press - toggles on and off on both lights to 30%.
Double Press - Turns on bedside lights to 100%.
Hold button - Turns off bedside lights and other upstairs lights.
3) What is happening/not happening?
All works fine except 1 in every 5 times the single press brings on only one light. Pressing it again turns that light off but the other one on. To turn them both to the same setting I hold or double press. This isn't ideal. I have a few other lights where they all dont turn on so in webcore I resend the command with 2 sec delay but if I do that with TOGGLE then it just toggles again.
**4)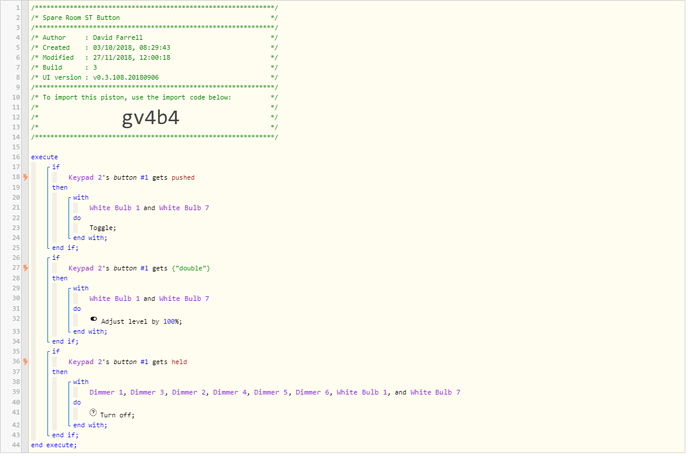 **5) No logs.
Is there a way to ensure that both toggle to the same setting ?
I was going to set light 2 to be the same as light 1 but if light 1 is the one that doesnt go on then neither would go on.
Would a virtual switch set to trigger the 2 lights work or is there a better way.
Note - My webcore skills are basic.