1) Give a description of the problem
Like many families, mine is having to adjust to "virtual" learning. Before, we had a pretty consistent school/work routine that worked pretty well. But now, I find that I'm waking up my sons (ages 12 and 15) from work because there is no longer a need to wake them up at 530am. And while they are 100% virtual now, they will likely be in a hybrid environment in January. Also, because my sons spend half of their days with me and half with their mom, I can't rely on a simple "M, Th, F" schedule. I need to use a presence, motion, etc.
I could also see how this piston would kick in during snow days, or other days where they are home.
Yes, they set their own alarms, and yes, they are old enough to have this responsibility, but this hasn't been an easy adjustment for them - so anything that I can do to make the "new routine" work well should have some value.
2) What is the expected behaviour?
If any of you have suggestions on how to make this better, I'd love to adapt it for more situations than just my own.
Ideally, here is how I see things working:
If either of my sons are home, on either Monday, Thursday or Friday, at 0700hrs:

Fan 1 and Fan 2: Turn Off
Light 1 and Ligth 2: Fade from 0 - 50% for 1 minute.

Only do this if the lights are currently OFF or there is motion from Sensor 1 or Sensor 2

If either light is turned off, turn it back on in 5 minutes
If either fan is turned on, turn it back off in 5 minutes
At 0730, turn both lights on at 80%
Can anyone think of anything else that'd be good to add? A separate piston turns lights / fans off when the boys leave the house. Maybe have it hook into a school calendar or only active from Date1 through Date 2 and through Date 3 through Date 4 (to allow for Summer Vacation and the Holiday?)
3) What is happening/not happening?
Just looking for ideas on how to make this better. I mentioned some ideas above, but they are a bit beyond my skill level atm.
4) Post a Green Snapshot of the piston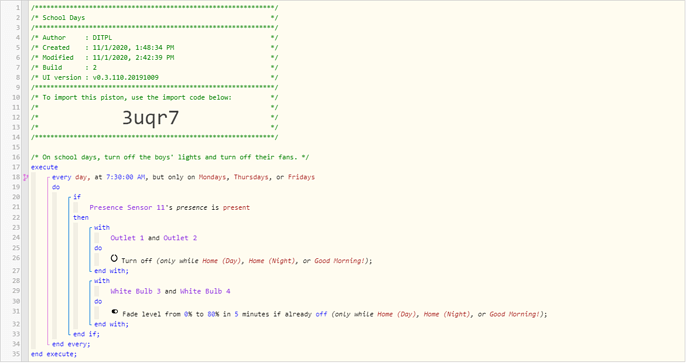 5) Attach logs after turning logging level to Full
The log is empty. This starts running Wednesday.