1) Give a description of the problem
I've got a number of virtual switches I want to act like buttons - only ever responding to "On" events, and immediately returning to "Off" when triggered.
I've written a dedicated piston for the purpose of resetting virtual switches that I wish to act in this way.
However when another piston triggers multiple switches, the piston does not behave correctly, reporting a "Waited on semaphore for 10000ms"
2) What is the expected behaviour?
I expect all switches handled by this piston to toggle back to their previous state
3) What is happening/not happening?
Only one of the buttons toggles back.
**4) Post a Green Snapshot of the piston![image|45x37](![image|690x352]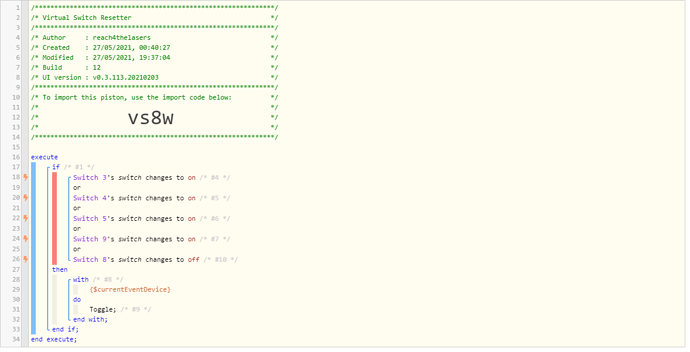 5) Attach logs after turning logging level to Full
27/05/2021, 19:39:06 +525ms
+1ms ╔Received event [LeviotAutoSwitch].switch = on with a delay of 48ms
+10061ms ║RunTime Analysis CS > 17ms > PS > 10017ms > PE > 27ms > CE
+10062ms ║Piston waited at a semaphore for 10013ms
+10064ms ║Runtime (39793 bytes) successfully initialized in 10017ms (v0.3.113.20210203) (10062ms)
+10065ms ║╔Execution stage started
+10072ms ║║Comparison (enum) on changes_to (string) on = false (1ms)
+10074ms ║║Condition #4 evaluated false (4ms)
+10080ms ║║Condition #5 evaluated false (5ms)
+10087ms ║║Condition #6 evaluated false (6ms)
+10093ms ║║Condition #7 evaluated false (5ms)
+10100ms ║║Condition #10 evaluated false (5ms)
+10101ms ║║Condition group #1 evaluated false (state did not change) (31ms)
+10102ms ║╚Execution stage complete. (37ms)
+10103ms ╚Event processed successfully (10103ms)
27/05/2021, 19:39:06 +802ms
+1ms ╔Received event [LeviotHighSwitch].switch = off with a delay of 51ms
+44ms ║RunTime Analysis CS > 16ms > PS > 5ms > PE > 24ms > CE
+47ms ║Runtime (39705 bytes) successfully initialized in 5ms (v0.3.113.20210203) (45ms)
+47ms ║╔Execution stage started
+57ms ║║Condition #4 evaluated false (6ms)
+60ms ║║Comparison (enum) off changes_to (string) on = false (0ms)
+62ms ║║Cancelling condition #5's schedules…
+63ms ║║Condition #5 evaluated false (4ms)
+69ms ║║Condition #6 evaluated false (6ms)
+75ms ║║Condition #7 evaluated false (4ms)
+81ms ║║Condition #10 evaluated false (5ms)
+82ms ║║Cancelling condition #1's schedules…
+82ms ║║Condition group #1 evaluated false (state changed) (31ms)
+84ms ║╚Execution stage complete. (37ms)
+85ms ╚Event processed successfully (85ms)
27/05/2021, 19:39:06 +477ms
+1ms ╔Received event [LeviotHighSwitch].switch = on with a delay of 33ms
+42ms ║RunTime Analysis CS > 12ms > PS > 3ms > PE > 27ms > CE
+45ms ║Runtime (39712 bytes) successfully initialized in 3ms (v0.3.113.20210203) (43ms)
+45ms ║╔Execution stage started
+55ms ║║Condition #4 evaluated false (5ms)
+58ms ║║Comparison (enum) on changes_to (string) on = true (0ms)
+60ms ║║Cancelling condition #5's schedules…
+61ms ║║Condition #5 evaluated true (4ms)
+62ms ║║Cancelling condition #1's schedules…
+62ms ║║Condition group #1 evaluated true (state changed) (13ms)
+65ms ║║Cancelling statement #8's schedules…
+71ms ║║Executed physical command [null].off() (3ms)
+72ms ║║Executed virtual command [LeviotHighSwitch].toggle (5ms)
+75ms ║╚Execution stage complete. (29ms)
+76ms ╚Event processed successfully (76ms)