1) Give a description of the problem
Hi all. I have read about the benefits of more shorter pistons then one long one but I'm not quite sure what to do here. I've posted but it's probably easier to explain. I have a piston where the trigger is the unlocking of my front door. From there, there are two conditions (presence and a virtual goodbye switch). If I unlock then if I am present and the v switch is on, there are then 3 blocks of time of day where different actions will occur. If I am present and the v switch is off, different things happen. Finally if the vswitch is on, but I am not present and someone unlocks the door, a set of different actions occur.
So as you can imagine there is a lot of Boolean logic. I didn't know if it was better to somehow have separate pistons but thought the door unlocking triggering say 3 or 4 different pistons would make less sense from an overall efficiency standpoint. Overall it just looks messy.
2) What is the expected behaviour?
(PUT YOUR INFO HERE)
3) What is happening/not happening?
(PUT YOUR INFO HERE)
4) Post a Green Snapshot of the piston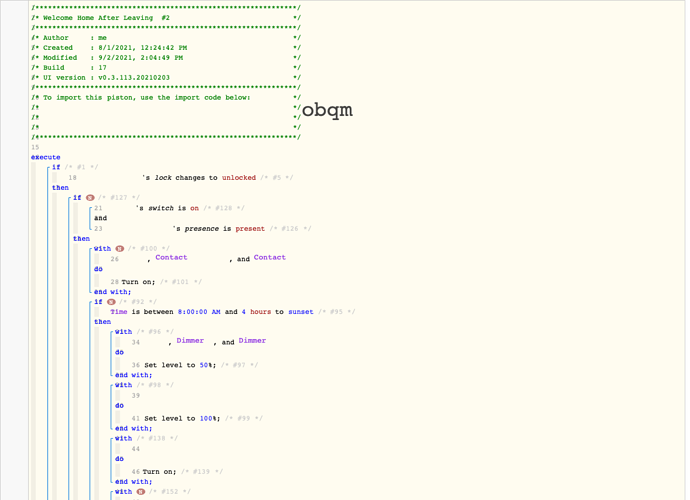 5) Attach logs after turning logging level to Full
(PASTE YOUR LOGS HERE THEN HIGHLIGHT ALL OF THE LOGS AND CLICK ON THE </> ICON TO FORMAT THEM CORRECTLY)
REMOVE BELOW AFTER READING
If a solution is found for your question then please mark the post as the solution.