1) Give a description of the problem
When turning on or off the switch manually during or outside of the "on" timeframe the switch will constantly cycle on/off… My goal is to have an outlet controlled by this piston and have it "correct" itself in the event of a power outage when it's supposed to be on/off. ie: power comes back on, piston checks time, sets the switch accordingly if it needs to be changed. I'm sure there's a better way to do this.
2) What is the expected behaviour?
If the device is on during timeframe, and I turn it off, I want it to simply turn back on within 10 seconds of it being off. If it is off outside of this timeframe and I turn it on manually, I want it to turn itself off again within 10 seconds.
3) What is happening/not happening?
The outlet powers on and off repeatedly. Before adding the 10 second wait it would do it repeatedly without a pause on/off/on/off/on/off.
4) Post a Green Snapshot of the piston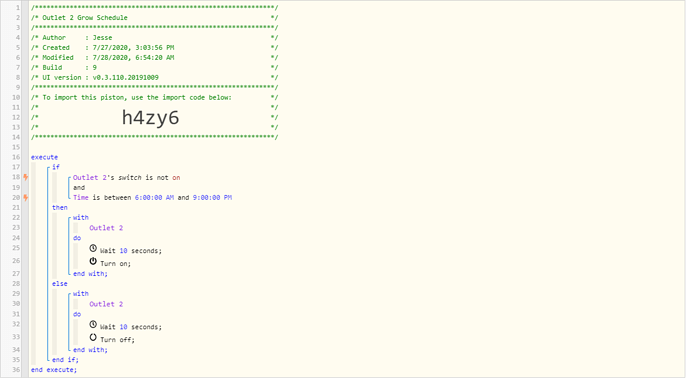 5) Attach logs after turning logging level to Full
7/28/2020, 12:43:01 PM +922ms
+107ms	╔Stopping piston...
+181ms	╚Piston successfully stopped (75ms)
7/28/2020, 12:42:57 PM +622ms
+1ms	╔Received event [Outlet 2].switch = on with a delay of 49ms
+112ms	║RunTime Analysis CS > 21ms > PS > 54ms > PE > 38ms > CE
+115ms	║Runtime (37478 bytes) successfully initialized in 54ms (v0.3.110.20191009) (112ms)
+116ms	║╔Execution stage started
+123ms	║║Comparison (enum) on is_not (string) on = false (1ms)
+124ms	║║Cancelling condition #7's schedules...
+125ms	║║Condition #7 evaluated false (6ms)
+126ms	║║Cancelling condition #1's schedules...
+127ms	║║Condition group #1 evaluated false (state changed) (8ms)
+129ms	║║Cancelling statement #3's schedules...
+134ms	║║Executed virtual command [Outlet 2].wait (0ms)
+135ms	║║Requesting a wake up for Tue, Jul 28 2020 @ 12:43:07 PM PDT (in 10.0s)
+139ms	║╚Execution stage complete. (24ms)
+141ms	║Setting up scheduled job for Tue, Jul 28 2020 @ 12:43:07 PM PDT (in 9.995s), with 1 more job pending
+250ms	╚Event processed successfully (249ms)
7/28/2020, 12:42:57 PM +40ms
+1ms	╔Received event [Home].time = 1595965378749 with a delay of -1709ms
+105ms	║RunTime Analysis CS > 19ms > PS > 54ms > PE > 32ms > CE
+108ms	║Runtime (37486 bytes) successfully initialized in 54ms (v0.3.110.20191009) (105ms)
+109ms	║╔Execution stage started
+290ms	║║Executed physical command [Outlet 2].on() (170ms)
+291ms	║║Executed [Outlet 2].on (172ms)
+294ms	║╚Execution stage complete. (186ms)
+296ms	║Setting up scheduled job for Tue, Jul 28 2020 @ 9:00:00 PM PDT (in 29822.665s)
+315ms	╚Event processed successfully (315ms)
7/28/2020, 12:42:48 PM +596ms
+2ms	╔Received event [Outlet 2].switch = off with a delay of 53ms
+111ms	║RunTime Analysis CS > 21ms > PS > 53ms > PE > 36ms > CE
+113ms	║Runtime (37483 bytes) successfully initialized in 53ms (v0.3.110.20191009) (111ms)
+114ms	║╔Execution stage started
+122ms	║║Comparison (enum) off is_not (string) on = true (2ms)
+123ms	║║Cancelling condition #7's schedules...
+124ms	║║Condition #7 evaluated true (6ms)
+133ms	║║Comparison (time) 45768721 is_between (time) 21600000 .. (time) 75600000 = true (6ms)
+134ms	║║Time restriction check passed
+136ms	║║Condition #8 evaluated true (11ms)
+137ms	║║Cancelling statement #8's schedules...
+141ms	║║Requesting time schedule wake up at Tue, Jul 28 2020 @ 9:00:00 PM PDT
+143ms	║║Cancelling condition #1's schedules...
+144ms	║║Condition group #1 evaluated true (state changed) (26ms)
+146ms	║║Cancelling statement #5's schedules...
+151ms	║║Executed virtual command [Outlet 2].wait (1ms)
+152ms	║║Requesting a wake up for Tue, Jul 28 2020 @ 12:42:58 PM PDT (in 10.0s)
+156ms	║╚Execution stage complete. (42ms)
+158ms	║Setting up scheduled job for Tue, Jul 28 2020 @ 12:42:58 PM PDT (in 9.996s), with 1 more job pending
+176ms	╚Event processed successfully (176ms)
7/28/2020, 12:42:48 PM +64ms
+0ms	╔Received event [Home].time = 1595965369947 with a delay of -1884ms
+119ms	║RunTime Analysis CS > 28ms > PS > 60ms > PE > 32ms > CE
+122ms	║Runtime (37490 bytes) successfully initialized in 60ms (v0.3.110.20191009) (121ms)
+123ms	║╔Execution stage started
+286ms	║║Executed physical command [Outlet 2].off() (149ms)
+287ms	║║Executed [Outlet 2].off (151ms)
+290ms	║╚Execution stage complete. (168ms)
+292ms	║Setting up scheduled job for Tue, Jul 28 2020 @ 9:00:00 PM PDT (in 29831.645s)
+315ms	╚Event processed successfully (315ms)
7/28/2020, 12:42:39 PM +815ms
+1ms	╔Received event [Outlet 2].switch = on with a delay of 52ms
+108ms	║RunTime Analysis CS > 20ms > PS > 52ms > PE > 36ms > CE
+110ms	║Runtime (37478 bytes) successfully initialized in 52ms (v0.3.110.20191009) (108ms)
+111ms	║╔Execution stage started
+119ms	║║Comparison (enum) on is_not (string) on = false (2ms)
+120ms	║║Cancelling condition #7's schedules...
+121ms	║║Condition #7 evaluated false (6ms)
+122ms	║║Cancelling condition #1's schedules...
+123ms	║║Condition group #1 evaluated false (state changed) (8ms)
+125ms	║║Cancelling statement #3's schedules...
+130ms	║║Executed virtual command [Outlet 2].wait (0ms)
+131ms	║║Requesting a wake up for Tue, Jul 28 2020 @ 12:42:49 PM PDT (in 10.0s)
+135ms	║╚Execution stage complete. (24ms)
+137ms	║Setting up scheduled job for Tue, Jul 28 2020 @ 12:42:49 PM PDT (in 9.996s), with 1 more job pending
+155ms	╚Event processed successfully (155ms)
7/28/2020, 12:42:39 PM +56ms
+0ms	╔Received event [Home].time = 1595965360787 with a delay of -1732ms
+108ms	║RunTime Analysis CS > 20ms > PS > 57ms > PE > 32ms > CE
+110ms	║Runtime (37486 bytes) successfully initialized in 57ms (v0.3.110.20191009) (109ms)
+111ms	║╔Execution stage started
+468ms	║║Executed physical command [Outlet 2].on() (333ms)
+469ms	║║Executed [Outlet 2].on (335ms)
+471ms	║╚Execution stage complete. (360ms)
+473ms	║Setting up scheduled job for Tue, Jul 28 2020 @ 9:00:00 PM PDT (in 29840.472s)
+489ms	╚Event processed successfully (488ms)
7/28/2020, 12:42:30 PM +624ms
+2ms	╔Received event [Outlet 2].switch = off with a delay of 55ms
+117ms	║RunTime Analysis CS > 24ms > PS > 58ms > PE > 35ms > CE
+120ms	║Runtime (37483 bytes) successfully initialized in 58ms (v0.3.110.20191009) (117ms)
+121ms	║╔Execution stage started
+129ms	║║Comparison (enum) off is_not (string) on = true (1ms)
+131ms	║║Cancelling condition #7's schedules...
+132ms	║║Condition #7 evaluated true (7ms)
+142ms	║║Comparison (time) 45750757 is_between (time) 21600000 .. (time) 75600000 = true (6ms)
+143ms	║║Time restriction check passed
+145ms	║║Condition #8 evaluated true (11ms)
+146ms	║║Cancelling statement #8's schedules...
+150ms	║║Requesting time schedule wake up at Tue, Jul 28 2020 @ 9:00:00 PM PDT
+153ms	║║Cancelling condition #1's schedules...
+154ms	║║Condition group #1 evaluated true (state changed) (28ms)
+156ms	║║Cancelling statement #5's schedules...
+161ms	║║Executed virtual command [Outlet 2].wait (0ms)
+162ms	║║Requesting a wake up for Tue, Jul 28 2020 @ 12:42:40 PM PDT (in 10.0s)
+167ms	║╚Execution stage complete. (45ms)
+168ms	║Setting up scheduled job for Tue, Jul 28 2020 @ 12:42:40 PM PDT (in 9.995s), with 1 more job pending
+197ms	╚Event processed successfully (197ms)
7/28/2020, 12:42:30 PM +155ms
+1ms	╔Received event [Home].time = 1595965351824 with a delay of -1669ms
+113ms	║RunTime Analysis CS > 19ms > PS > 63ms > PE > 31ms > CE
+116ms	║Runtime (37490 bytes) successfully initialized in 63ms (v0.3.110.20191009) (115ms)
+117ms	║╔Execution stage started
+178ms	║║Executed physical command [Outlet 2].off() (46ms)
+179ms	║║Executed [Outlet 2].off (48ms)
+182ms	║╚Execution stage complete. (65ms)
+183ms	║Setting up scheduled job for Tue, Jul 28 2020 @ 9:00:00 PM PDT (in 29849.662s)
+217ms	╚Event processed successfully (217ms)
7/28/2020, 12:42:21 PM +693ms
+1ms	╔Received event [Outlet 2].switch = on with a delay of 51ms
+108ms	║RunTime Analysis CS > 20ms > PS > 55ms > PE > 33ms > CE
+111ms	║Runtime (37478 bytes) successfully initialized in 55ms (v0.3.110.20191009) (108ms)
+112ms	║╔Execution stage started
+119ms	║║Comparison (enum) on is_not (string) on = false (1ms)
+120ms	║║Cancelling condition #7's schedules...
+121ms	║║Condition #7 evaluated false (5ms)
+122ms	║║Cancelling condition #1's schedules...
+123ms	║║Condition group #1 evaluated false (state changed) (8ms)
+125ms	║║Cancelling statement #3's schedules...
+130ms	║║Executed virtual command [Outlet 2].wait (0ms)
+131ms	║║Requesting a wake up for Tue, Jul 28 2020 @ 12:42:31 PM PDT (in 10.0s)
+135ms	║╚Execution stage complete. (24ms)
+137ms	║Setting up scheduled job for Tue, Jul 28 2020 @ 12:42:31 PM PDT (in 9.995s), with 1 more job pending
+150ms	╚Event processed successfully (149ms)
7/28/2020, 12:42:21 PM +228ms
+1ms	╔Received event [Home].time = 1595965342969 with a delay of -1741ms
+127ms	║RunTime Analysis CS > 22ms > PS > 76ms > PE > 29ms > CE
+130ms	║Runtime (37486 bytes) successfully initialized in 76ms (v0.3.110.20191009) (127ms)
+131ms	║╔Execution stage started
+166ms	║║Executed physical command [Outlet 2].on() (23ms)
+167ms	║║Executed [Outlet 2].on (26ms)
+169ms	║╚Execution stage complete. (39ms)
+171ms	║Setting up scheduled job for Tue, Jul 28 2020 @ 9:00:00 PM PDT (in 29858.602s)
+179ms	╚Event processed successfully (179ms)
7/28/2020, 12:42:12 PM +813ms
+1ms	╔Received event [Outlet 2].switch = off with a delay of 55ms
+113ms	║RunTime Analysis CS > 19ms > PS > 54ms > PE > 40ms > CE
+116ms	║Runtime (37483 bytes) successfully initialized in 54ms (v0.3.110.20191009) (113ms)
+117ms	║╔Execution stage started
+125ms	║║Comparison (enum) off is_not (string) on = true (1ms)
+126ms	║║Cancelling condition #7's schedules...
+127ms	║║Condition #7 evaluated true (6ms)
+137ms	║║Comparison (time) 45732941 is_between (time) 21600000 .. (time) 75600000 = true (6ms)
+138ms	║║Time restriction check passed
+139ms	║║Condition #8 evaluated true (11ms)
+140ms	║║Cancelling statement #8's schedules...
+145ms	║║Requesting time schedule wake up at Tue, Jul 28 2020 @ 9:00:00 PM PDT
+147ms	║║Cancelling condition #1's schedules...
+148ms	║║Condition group #1 evaluated true (state changed) (27ms)
+150ms	║║Cancelling statement #5's schedules...
+155ms	║║Executed virtual command [Outlet 2].wait (0ms)
+156ms	║║Requesting a wake up for Tue, Jul 28 2020 @ 12:42:22 PM PDT (in 10.0s)
+160ms	║╚Execution stage complete. (44ms)
+162ms	║Setting up scheduled job for Tue, Jul 28 2020 @ 12:42:22 PM PDT (in 9.995s), with 1 more job pending
+195ms	╚Event processed successfully (195ms)
7/28/2020, 12:40:35 PM +631ms
+1ms	╔Starting piston... (v0.3.110.20191009)
+289ms	║╔Subscribing to devices...
+319ms	║║Subscribing to Outlet 2.switch...
+400ms	║╚Finished subscribing (116ms)
+425ms	║Comparison (enum) on is_not (string) on = false (2ms)
+437ms	║Comparison (time) 45636058 is_between (time) 21600000 .. (time) 75600000 = true (8ms)
+438ms	║Time restriction check passed
+442ms	║Cancelling statement #8's schedules...
+447ms	║Requesting time schedule wake up at Tue, Jul 28 2020 @ 9:00:00 PM PDT
+466ms	║Setting up scheduled job for Tue, Jul 28 2020 @ 9:00:00 PM PDT (in 29963.903s)
+491ms	╚Piston successfully started (491ms)