1) Give a description of the problem
I get an error message when I try to log on to my webcore dahsboard in multiple browsers after clearing cache, changing password and loggin out. I see errors in my Samsung IDE log which is not helpful to me. Can you assist?
2) What is the expected behaviour?
(PUT YOUR INFO HERE)
3) What is happening/not happening?
(PUT YOUR INFO HERE)
**4) Post a Green Snapshot of the piston![image|45x37]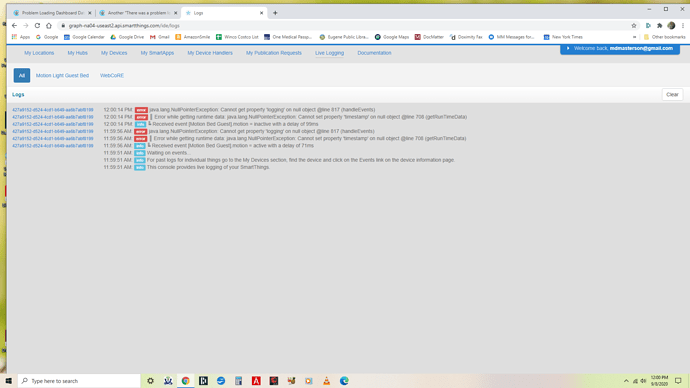 (UPLOAD YOUR IMAGE HERE)
5) Attach logs after turning logging level to Full
(PASTE YOUR LOGS HERE THEN HIGHLIGHT ALL OF THE LOGS AND CLICK ON THE </> ICON TO FORMAT THEM CORRECTLY)
REMOVE BELOW AFTER READING
If a solution is found for your question then please mark the post as the solution.