1) Give a description of the problem
Trying to add some holiday programming into my lighting. wrote the restrictions for if it was a holiday, and also for when it was not. For some reason it keeps assess the seemingly true restriction as false. Why?
2) What is the expected behaviour?
would like it to go through all the options of holiday lighting before settling on standard change otherwise
3) What is happening/not happening?
it is not doing the last (actual) action due to assessing the condition as false but its opposing condition earlier in the code is also assessed as false. Specifically condition #39 in condition group #38 versus its opposing condition #30
**4) Post a Green Snapshot of the piston!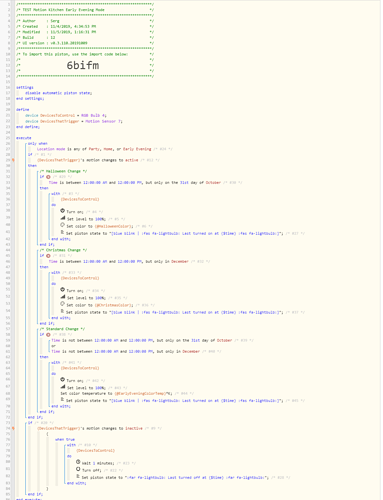 5) Attach logs after turning logging level to Full
11/5/2019, 5:56:15 PM +399ms
+2ms ╔Received event [Kitchen Motion Sensor].motion = active with a delay of 120ms
+107ms ║RunTime Analysis CS > 24ms > PS > 58ms > PE > 25ms > CE
+110ms ║Runtime (47785 bytes) successfully initialized in 58ms (v0.3.110.20191009) (107ms)
+111ms ║╔Execution stage started
+121ms ║║Comparison (string) :3f114d0b1da6aacabdf243a32a954c58: is_any_of (string) :7eedad3a0537521db57c95377480e0f1:,:37a713eb5d9b2033e116d6ab31053ef8:,:3f114d0b1da6aacabdf243a32a954c58: = true (3ms)
+123ms ║║Condition #24 evaluated true (6ms)
+124ms ║║Cancelling condition #1's schedules…
+125ms ║║Condition group #1 evaluated true (state changed) (9ms)
+132ms ║║Comparison (enum) active changes_to (string) active = true (1ms)
+133ms ║║Cancelling condition #12's schedules…
+134ms ║║Condition #12 evaluated true (8ms)
+135ms ║║Condition group #1 evaluated true (state did not change) (9ms)
+149ms ║║Comparison (time) 64575537 is_between (time) 0 … (time) 43200000 = false (8ms)
+151ms ║║Condition #30 evaluated false (12ms)
+152ms ║║Condition group #29 evaluated false (state did not change) (15ms)
+166ms ║║Comparison (time) 64575554 is_between (time) 0 … (time) 43200000 = false (9ms)
+168ms ║║Condition #32 evaluated false (12ms)
+169ms ║║Condition group #31 evaluated false (state did not change) (15ms)
+183ms ║║Comparison (time) 64575571 is_not_between (time) 0 … (time) 43200000 = true (9ms)
+198ms ║║Time restriction check failed
+200ms ║║Condition #39 evaluated false (27ms)
+212ms ║║Comparison (time) 64575600 is_not_between (time) 0 … (time) 43200000 = true (8ms)
+213ms ║║Time restriction check failed
+215ms ║║Condition #40 evaluated false (14ms)
+217ms ║║Condition group #38 evaluated false (state did not change) (44ms)
+225ms ║║Comparison (enum) active changes_to (string) inactive = false (1ms)
+227ms ║║Cancelling condition #9's schedules…
+228ms ║║Condition #9 evaluated false (8ms)
+229ms ║║Cancelling condition #20's schedules…
+230ms ║║Condition group #20 evaluated false (state changed) (10ms)
+233ms ║╚Execution stage complete. (122ms)
+234ms ╚Event processed successfully (234ms)