1) Give a description of the problem
Hi,
I'm stuck, I dont understand how I can colsolidate time and location to make this piston easier to read and without having to add alot of extra conditions or how to add a condition to check if a doors are open or not.
2) What is the expected behaviour?
Well, I would like to have different temperature depending on the time, if Im home or away and also to check if my kids doors are open if so I would like to increase the heat so they dont get cold during the winter months and to see if any windows are open in which case shut down the heat.
3) What is happening/not happening?
I use 3 of the same piston as Im using virtual thermostat to control my heat pumps but I lose alot of energy if I can't control them as I want, no point heating the house alot if my wife / kids or me are home.
**4) Post a Green Snapshot of the piston!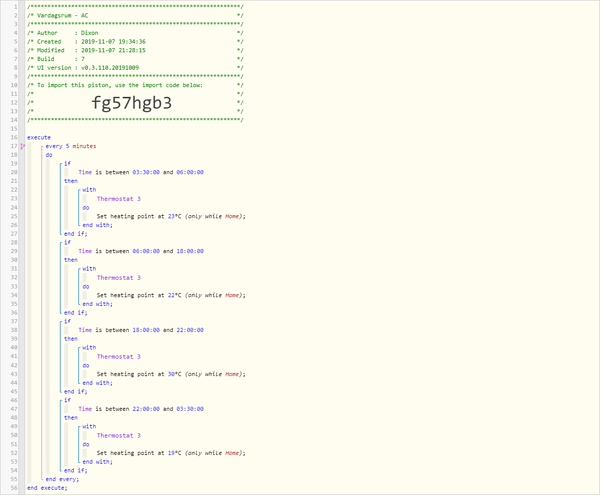 5) Attach logs after turning logging level to Full
No errors yet.
I would be very glad if anyone could help me setup time / location and sensor thingies to work with the above piston or point me in the right direction. Quite new so easy instructions would be awesome

Best regards,
Thanks